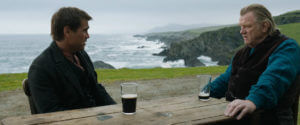 Zurich Film Festival Dispatch – Part 1
The 18th Zurich Film Festival runs from September 22 to October 2. Check here for the full lineup. Some films mentioned below will be reviewed separately in full-length writeups, but for now, here are some initial impressions.
Despite being a rather small country, Switzerland is blessed with several annual film festivals that are worth attending. The most famous and prestigious is the Locarno Film Festival, which was founded in 1946. There are also the likes of the Visions du Réel in Nyon, an internationally renowned documentary film festival, and the Neuchâtel International Fantastic Film Festival (NIFFF), which is dedicated to genre cinema.
However, it's the Zurich Film Festival (ZFF) that has always been closest to my heart. Founded in 2006 and taking place each autumn, the ZFF has become one of the largest film festivals in the German-speaking region—as well as a mainstay in my calendar. It hosts an international competition where first-, second-, and third-time directors can compete for a Golden Eye Award in three categories (Feature Film, Documentary, and Focus; the latter category is reserved for feature and documentary films from Switzerland, Germany, and Austria). This year, none other than the great Asghar Farhadi (A Separation, The Salesman) will be president of the jury for the Feature Film Competition.
In addition to its international competition, the ZFF also presents some of the year's best discoveries as so-called Gala Premieres, and it has thematically focused sidebars such as the Border Lines section that presents films dealing with human rights. The ZFF is a great place to watch films that created a buzz when they premiered at other film festivals earlier in the year (such as Cannes, Venice, or Toronto), and that might end up in the Oscars conversation. I was lucky enough to see the likes of The Father, Nomadland, Marriage Story, Shoplifters, and The Square at previous editions of the ZFF before they were officially released. Over the past few years, I also saw a bunch of great documentaries at the festival that I might not have been able to see theatrically otherwise (such as The Dissident, For Sama, and Welcome to Chechnya).
This year, the ZFF once again offers an intriguing mix that ranges from Hollywood blockbusters to arthouse and documentary films from around the world. As always, there are also several high-profile guests who will present their work at Zurich. I'm particularly excited to see Luca Guadagnino, Mia Hansen-Løve, and Cristian Mungiu at the festival this year. Below, you can find my initial impressions of some of the films that I saw at the 18th ZFF. Look for additional recaps in the coming days and weeks.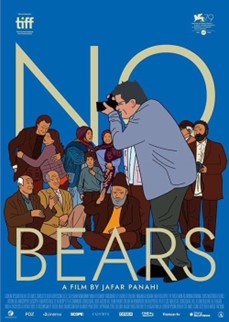 No Bears
Gala Premieres
The legendary Iranian director Jafar Panahi is a true artist, and I have a huge amount of respect and admiration for him. After his early masterpieces (such as The White Balloon, The Circle, or Offside) drew the wrath of the Iranian regime, Panahi was arrested in 2010, and later sentenced to six years in prison as well as a 20-year occupational ban. However, his prison sentence has not been enforced until recently (see below), and he has found bold and clever ways to defy his occupational ban. The films he has made since 2010 (such as This is Not a Film, which was famously smuggled out of Iran on a flash drive hidden inside a cake, or Taxi) are masterclasses on how to make the most out of limited means.
With No Bears, his most recent film, Panahi continues to defy his occupational ban in a highly inventive manner. As he has often done in his post-ban films, he once again combines fictional and documentary elements, and it is not always clear what is staged and what is real. Shot secretly in Iran, No Bears tells the story of an Iranian film director (played by Panahi himself) who travels to a small Iranian village near the border to Turkey to remotely direct a film that is being shot in the latter country. We follow both the director, as he becomes involved in the traditions and politics of the villagers, as well as the action of the film that is being made in Turkey. The scenes from the film-within-the-film aren't always as engaging as the scenes taking place in the Iranian village, but they ultimately reach a powerful conclusion that offers poignant parallels to the other storyline.
No Bears starts off in a deceptively simple and playful manner. Panahi, no stranger to humor despite his dire personal situation, presents several funny moments. A lot of them involve Ghanbar (Vahid Mobaseri), Panahi's simple-minded landlord. At one point, Panahi asks Ghanbar to shoot a local ceremony with one of his cameras, and after the latter declares himself a professional filmmaker towards the other villagers, he later returns to Panahi with shaky cam footage that is barely watchable. However, as No Bears goes along, it reveals layers after layers, and it ultimately amounts to a powerful meditation on borders (both physical and spiritual), superstition, and the fears that prevent people from challenging the status quo. Panahi also grapples with the cost (both to himself and to the people around him) and the limits of his ban-defying filmmaking in honest and heartbreaking ways, which especially becomes apparent in the film's stunning final shot.
The film deservedly won the Special Jury Prize at this year's Venice Film Festival, and it is among Panahi's best post-ban work. Sadly, it has been given additional poignancy by real-life events: Shortly after No Bears was completed, Panahi was once again arrested in July 2022 when he went to the prosecutor's office in Tehran to inquire about Mohammad Rasoulof (There is No Evil) and Mostafa Al-Ahmad, two fellow Iranian filmmakers who had been arrested a few days earlier. A week later, Panahi was ordered to serve the prison sentence that was handed to him in 2010, and he has been detained ever since. This most recent crackdown on Iranian independent cinema is ugly and shameful, and I can only second the calls for the immediate release of Jafar Panahi, Mohammad Rasoulof and Mostafa Al-Ahmad that have already been issued by several people and institutions from around the world. 3.5/4 stars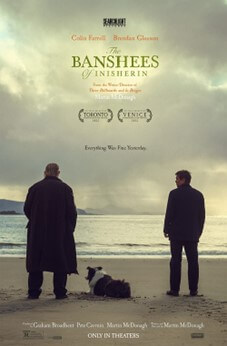 The Banshees of Inisherin
Gala Premieres
Martin McDonagh's highly awaited follow-up to Three Billboards Outside Ebbing, Missouri had a successful world premiere at the Venice Film Festival, where it received two major awards (Best Screenplay for McDonagh, and Best Actor for Colin Farrell), a 13-minute standing ovation, and rave reviews. Taking place in 1923 on a remote island off the west coast of Ireland, The Banshees of Inisherin tells the story of what happens after Colm (Brendan Gleeson) suddenly and unexpectedly ends his lifelong friendship with Pádraic (Colin Farrell). This puts Pádraic in despair and causes him to have an existential crisis.
The Banshees of Inisherin features outstanding performances across the board that will likely lead to further awards recognition. In addition to Farrell and Gleeson, Kerry Condon (as Pádraic's sister Siobhán) and Barry Keoghan (as the young and troubled islander Dominic, with whom Pádraic tries to fill the void left by Colm) also shine. Moreover, there are several scene-stealing animals in the film (especially Pádraic's miniature donkey, Jenny). The Banshees of Inisherin is beautifully shot by cinematographer Ben Davis, who uses the contrast between bright and dark images to convey the emotional state of the characters, and often shoots through stained windows to highlight the characters' isolation and loneliness. However, there are a few minor instances of unconvincing VFX that somewhat mar the film's otherwise stunning visual presentation, but this can be easily overlooked in the grand scheme of things. The film also boasts a beautiful score by Carter Burwell that significantly adds to its atmosphere.
Despite its high production values, I cannot fully join in on the high praise the film has received so far. This mostly has to do with the fact that I have never been the biggest fan of Martin McDonagh's humor and sudden bursts of violence. Although The Banshees of Inisherin provided me with a few good laughs, not all the film's funnier moments landed with me. Furthermore, I once again felt that these elements somewhat undercut the emotional resonance of the film, as well as the more serious themes McDonagh is grappling with. These themes include friendship, sadness, and the transience of our existence. As Colm later explains to Pádraic, he senses time slipping away from him, and he wants to use his remaining years to create music with his fiddle (i.e., something worthwhile that will last after he's gone) instead of what he describes as wasting his time with dull conversations with Pádraic. The viewer's sympathies constantly shift throughout the film, and I appreciated that McDonagh does not take sides in the conflict between Pádraic and Colm.
McDonagh also seems to be drawing parallels between the Irish Civil War and the conflict between Pádraic and Colm. Canon fire from the war that is raging on the mainland can regularly be heard and seen from the island, but the islanders do not seem to be overly affected by it (one islander even remarks that he cannot remember the exact reason why the war started). However, these parallels remain largely in the background of the film, and they are never fully developed and therefore only offer limited insight. There is also a hint of an other-worldly element towards the end that plays into the film's title (and contrasts nicely with earlier scenes in a church, as well as the Christian imagery that can be seen throughout the film), but this is again something that ultimately feels more like an afterthought.
Overall, there is a lot to like about The Banshees of Inisherin. I can understand the high praise the film has received at Venice and Toronto, even though I'm not quite as enthusiastic about it as most people seem to be. However, as mentioned above, my somewhat subdued reaction to the film is in no small part due to McDonagh's sense of humor not fully aligning with my own. Therefore, fans of McDonagh's previous work will probably respond more positively to the film than I did. 3/4 stars
---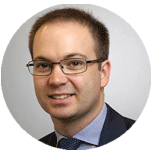 David Hill is a lawyer from Switzerland. He has long had a passion for cinema, and he uses most of his spare time to watch and research films. His main interest focuses on arthouse films, and he occasionally makes contributions to Deep Focus Review as a guest writer.
6 responses to "Zurich Film Festival Dispatch – Part 1"