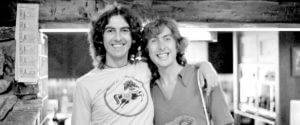 Very Naughty Boys: The Amazing True Story of HandMade Films
After almost a decade since its initial publication in 2003, Robert Sellers' Very Naughty Boys: The Amazing True Story of HandMade Films returns in a paperback edition courtesy of Titan Books. Sellers' book follows the independent production company's inception, beginning with the bailout of Monty Python's Life of Brian in 1979 and continuing through its last project under progenitor George Harrison, Nuns on the Run in 1990. Written with a sly, pointedly British humor, Sellers' entertaining historical account of the ex-Beatle's film company is a revealing history about a company whose creative freedom was only matched by its financial extremes, from its initial liquidity to its later woes.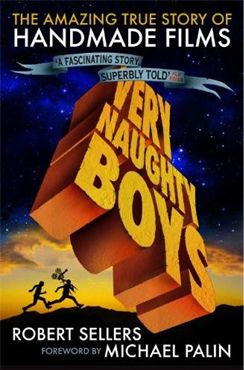 The story begins on the set of Life of Brian when the head of EMI, Britain's chief film company of the era, decides to withdraw his backing in the midst of pre-production. The Pythons were left to find financing elsewhere, but the racy material was determined to offend anyone and everyone, which left securing investors a thorny prospect. Meanwhile, Python Eric Idle was friends with the "quiet Beatle" George Harrison, who agreed to completely finance Life of Brian for a sum of $4 million. Harrison, a longtime Python fan acted from an enthusiast's point of view more than that of an investor. He just wanted to see the film made. He later called it "the most expensive cinema ticket ever issued." In short, the film went to production, it became a huge hit, and HandMade Films would go on to become one of Britain's most intriguing independent production companies.
Sellers' book offers the story of how Harrison's company swept in to save a number of trouble productions like Life of Brian, including The Long Good Friday (1980), which featured Bob Hoskins' breakthrough performance. Though, not all rescues were as successful. Other productions were not only financed but developed by Harrison's company, such as Terry Gilliam's first non-Python film Time Bandits (1981), a huge financial success. HandMade's other releases include the ribald comedy A Private Function (1984), Neil Jordan's neo-noir Mona Lisa (1986), the box-office debacle Shanghai Surprise (1986) starring Madonna and Sean Penn, and Bruce Robinson's blacker-than-black comedy Withnail And I (1987).
In addition to an 8-page color photo section and a foreword by Python Michael Palin, the book features exclusive interviews with Eric Idle, Terry Jones, John Cleese, Michael Palin, Neil Jordan, Bob Hoskins, Richard E. Grant, and several other talents who give their behind-the-scenes accounts. Very Naughty Boys at times feels like a book of anecdotes told from a series of very clever, very funny interviewees. There's not a full production history for each title released under the HandMade logo; rather, the author prefers to engage in an entertaining story about the studio's rise and fall. Indeed, Sellers could have easily loaded his pages with detailed accounts of the referenced financial misappropriations by Harrison's manager Denis O'Brien, but instead he keeps the writing light, comical, and always with a fascinating or hilarious story on the next page.
In the end, what we glean from these accounts is Harrison's character as a passionate, thoughtful individual who sometimes trusted the wrong people with his money. Moving along quickly from film to film and covering the broadstrokes of Harrison's involvement, Sellers' writing is concise and enjoyable. Readers need not be versed in denser volumes of film history to find the material accessible. Seller's style has a way of drawing us into a group of talented, likable artists and filmmakers whose passions were eventually, and tragically, undone by some shady business deals. Very Naughty Boys is essential reading—above all for readers with an affinity for The Beatles, Monty Python, and HandMade's unique contribution to cinema.
---
Thanks to Titan Books for sending a review copy of the book. Order it from Titan's website.