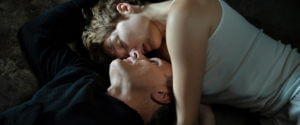 If you see enough movies, then there's never been a bad movie year. There's always plenty to make a Top 10 list. However, some years are better than others, and 2022 was a good year. This means, as ever, I struggled to finalize my list, leaving the result to feel somewhat random in my mind. I'm not married to the order of the top five or so titles, which are completely interchangeable. If I could justify to myself having five movies tie for the number-one spot, I would, but I can't—so accept this list with a certain amount of arbitrariness.  
For a more comprehensive list, join DFR on Patreon to see my list of the Top 25 Films of 2022. What made your list of favorite films from 2022? Share your list in the comments below.
HONORABLE MENTIONS: X & Pearl
2022 was a great year for horror, and Ti West's two films about fame, desire, repression, performance, and liberation were among the best. They're the first two parts of a soon-to-be trilogy released by A24, and together, they're greater than the sum of their parts. They're also West's best films yet, thanks in part to his close collaboration with star Mia Goth. Although West often proves overly interested in pastiche and homage—perhaps too much in his earlier films, which I have come to appreciate more over the years—his winks and nods at earlier genre films feel inspired rather than derivative in these examples. Whether he's blending The Texas Chainsaw Massacre and Boogie Nights for X, or he's parroting a Douglas Sirk melodrama with a touch of Psycho for Pearl, the result is stylishly composed and thoroughly entertaining. Not only were these titles some of the most fun moviegoing experiences of the year, they were two of my most often recommended titles for horror enthusiasts.
RUNNER-UP: Triangle of Sadness
Winner of the Cannes Film Festival's Palme d'Or, Ruben Östlund's smart satire of class adopts a Buñuelian narrative architecture to lampoon the super-rich, influencer culture, social hierarchies, and power dynamics in relationships. Told in three distinct parts, Östlund's film often feels like a series of sketch comedy vignettes strung together, starting with the strained relationship between two influencers (Harris Dickinson and the late Charlbi Dean) and ending with a Lord of the Flies scenario, where the maid (Dolly de Leon), the only one capable of surviving, takes charge. But it's the grotesque sequence of deplorable elitists vomiting up their haute cuisine on a luxury yacht, while the captain and a passenger battle with Marxist and capitalist quotes they've looked up online, that may be one of the year's most memorable passages. By the end, Östlund's view of the dog-eat-dog world and lust for power becomes both riotous and extremely dark, exploring how power invades every relationship, no matter how equal things may seem on the surface.
10. Return to Seoul
Cambodian-French filmmaker Davy Chou based this film—originally titled All The People I'll Never Be—on the experience of visiting South Korea for the first time with a friend and searching for her biological parents. He captures that uneasy process in Freddie (Park Ji-Min), a Korean-born Frenchwoman in her mid-20s, searching for some answers about her parents and identity. What Freddie discovers leads to mixed feelings of regret, anger, loss, and uncertainty on both sides. It's a beautifully acted and unsentimental film that never resorts to maudlin dramatics; rather, through Freddie, Chou explores how some language and cultural fissures cannot be fully reconnected. Shot in South Korea for the most part, the film sparkles with neon in the urban sprawl and quaint family dinners in rural spaces—all alienating factors for Freddie. Park, an unknown whose experience echoes that of her character, terrifically captures Freddie's search for identity and what she's supposed to be according to her parentage. But Chou's film acknowledges, through a story that finds Freddie searching for years, that growth and change never end; it's a nonstop evolution—a theme found in many of 2022's best films. 
9. The Banshees of Inisherin
Martin McDonagh reteams with his stars Colin Farrell and Brendan Gleeson from his debut film, In Bruges, for another cynical, often funny, occasionally morbid, and searching drama. Although the conflict between two Irishmen—involving one guy who doesn't want to be friends, and the other guy whose life crumbles at the notion—is initially comical, McDonagh's barbed script seems to be getting at something larger. It's set in 1923 against the backdrop of the Irish Civil War, which is a war about the degree to which Ireland would accept British rule, so perhaps there's a metaphor there. Soon enough, the bloody and contentious dispute between Farrell and Gleeson's characters leads to McDonagh's ponderous questions about how one chooses to live their life. Are you concerned with your legacy or your routine, or are you engaged in the world? Ultimately, I think the film supplies a parable for how people live today—how we can't seem to accept that everyone doesn't live their lives the same way, and how we're too busy being selfish and complacent and engaging in infighting to see what's happening all around us. With marvelous performances by Farrell and Gleeson, along with supporting performances from Kerry Condon and especially Barry Keoghan, the film contains some of 2022's best acting and writing.


8. TÁR
Todd Field's third film in 21 years, after In the Bedroom (2001) and Little Children (2006), tells the story of a well-regarded but narcissistic conductor who's eventually exposed for her pattern of using her power to give preferential treatment to young women, who she grooms to be in sexual relationships. This is the kind of movie that gets people talking, and everyone I talked to about  TÁR is certain of its meaning. Some say that it's defending problematic artists and championing the notion of separating the art from the artist. Some say the opposite—that it's condemning artists who abuse their power. The fact that people are so convinced of their opinion about the film, either way, is a testament to Field's skill as a director and screenwriter, and his ability to raise questions about predatory behavior and how we respond to it. Personally, I think it's encouraging the audience to talk and doesn't make declarative statements about Lydia Tár and her behavior. It's a prompt that gets these discussions underway and helps people determine how they feel, all while acknowledging that these are thorny issues that cannot be easily resolved. Beyond the film's interpretations, Field has delivered a masterfully conceived and executed film with ambiguities and perspectives that are ripe for analysis. The score by Icelandic composer Hildur Guðnadóttir is haunting. The experience is controlled and intense, reflecting the main character. Above all, Cate Blanchett gives possibly the year's best performance, and costar Nina Hoss isn't far behind her. 
7. One Fine Morning
Léa Seydoux gives the performance of her career thus far as a single mother taking care of her 8-year-old daughter and her father (Pascal Greggory), a former philosophy professor who's dying of a neurodegenerative disease. She has to oversee his hospitalization, moving him from one care center to the next, while also watching someone whose entire life was built around thinking be suddenly unable to use his mind. At the same time, she starts an affair with a married man, and that distracts her and helps her move on. A work of autofiction from writer-director Mia Hansen-Løve, the French filmmaker of last year's Bergman Island, the film explores the idea of moving on from pain and loss with a new love. There's always a deeply personal autobiographical element to Hansen-Løve's films. In this case, her father suffered from a similar disease. That personal experience proves achingly relatable and tenderly felt. Hansen-Løve's films often feel as though they capture the flow of life, how people move from one event to the next, adapting and healing over time—but rarely with big dramatic scenes. Her kind of subtlety is a magic trick, and her films never feel like grand statements but rather subtly detailed character studies and slices of life, so they're perhaps easy to overlook.
6. Nope
Nope is Jordan Peele's most fully realized and well-rounded feature. It's Blockbuster-sized, but in a form-follows-function way, it's also an investigation into our obsession with spectacle. The story seems simple enough—it follows two Hollywood animal wranglers (siblings played by Daniel Kaluuya and Keke Palmer) who suspect a UFO is flying above their isolated ranch. What it turns out to be, however, leads to a clever commentary on our obsession with looking—complete with the UFO in question functioning, and looking like, a giant floating iris that sucks everything into its black void. Nope is presented in a Spielbergian way, with hints of Jaws (1975) and Close Encounters of the Third Kind (1977), so it's entertaining. But there are also less obvious scenes involving flashbacks to an animal attack on the set of a TV show that incite the viewer to lean in and ask, "What's going on here, and why?" Also intriguing are its comments on the erasure of Black faces from cinema, remarking that Eadweard Muybridge's 1878 "The Horse in Motion," featuring a Black man riding on horseback (an image Peele reuses in the climax), was the first example of a motion picture. But after that, people of color struggled with representation for a century, until a true Black cinema emerged in the 1970s. So in a way, the film is a reclamation of that, which all sounds very lofty for something that's so much fun. Moreover, Nope was also my favorite theatrical experience of 2022. Seeing the film on a massive IMAX screen, where you had to move your head to search the vast sky scenes and look for the UFO, was the definition of big-screen filmmaking. 
5. Happening
French filmmaker Audrey Diwan makes her impressive debut feature adapting the novel by Annie Ernaux, about a French college student who, in 1963, comes down with what they call "the illness that only strikes women and turns them into housewives." The main character, Anne, played by Anamaria Vartolomei (a stunning performance), is a promising young literature student and writer who tries to obtain an illegal abortion. One doctor won't talk about it, and another promises to help but deceives her, leaving her no choice but to seek a procedure from a sort of underground abortionist—leading to a difficult scene. Diwan does incredible work to place us into Anne's subjectivity, experiencing how her independence, career, and the trajectory of her life are at stake. The film has much in common with Cristian Mungiu's 4 Months, 3 Weeks and 2 Days (2007) and Eliza Hittman's Never Rarely Sometimes Always (2020), in that it's grappling with the political stakes to a degree, but it's more about the humanistic stakes for Anne. I saw the film at the Minneapolis/St. Paul International Film Festival, just as news was breaking that the Supreme Court might be overturning Roe v Wade. The tension in the audience was palpable, and in the days and weeks that followed, I couldn't help but think about Anne and those women like her. It's one of 2022's most unshakable and urgent films. 
4. Bones and All
Based on Camille DeAngelis' YA book, Luca Guadagnino's film captures the spirits of Kathryn Bigelow's Near Dark (1987), Wim Wender's Kings of the Road (1976), and Julia Ducournau's Raw (2016)—except better. Here's a film that hit all of my pleasure centers and overwhelmed me with the tender romance between Taylor Russell and Timothée Chalamet; the delicate score by Trent Reznor and Atticus Ross; the soundtrack with selections from Kiss, Joy Division, and New Order; and the blend of grisly cannibal horror and coming-of-age drama. With tonally perfect direction from Guadagnino, who delivers his best film since A Bigger Splash (2015), the film is a composed and entrancing experience. It also boasts many excellent supporting performances, including scene-, if not movie-stealing turns from Mark Rylance, Michael Stuhlbarg, David Gordon Green, and Chloë Sevigny. Although there has been an outpouring of cannibalism movies lately—including Fresh, Platform, and others—this one is not only disturbing but resoundingly relatable and tenderly romantic. Indeed, cannibalism is secondary to this lovers-on-the-run tale, which has much to say about self-discovery and self-acceptance. Ultimately, eating human flesh becomes a metaphor for the characteristics that make us unique and different, what we take with us from our experiences, and how they help us grow as people.  
3. Everything Everywhere All at Once
An achievement of multiverse complexity, martial arts entertainment, mind-bending concepts, surrealist imagery, and absurdist humor, Daniels' chaotic multiverse movie makes Spider-Man: No Way Home and Dr. Strange 2 look minimal by comparison. The production is mind-boggling not only as a concept but to consider from a "How'd they do that?" perspective. But five years of planning led to this wild, albeit tender story about generational and cultural divides. It's about how we're all inundated with events in our personal lives, work lives, the 24-hour news cycle, a divisive culture, extremist politics, and our devices—all of them constantly blaring at us. It can feel like the whole universe is at our doorstep. But ultimately, its complex ideas (epitomized by the charmingly silly notion of an everything bagel black hole) can be reduced to a simple message about loving with everything you can give while you can. The love conquers all message may be typical, but it's delivered in a manner I've never seen before. Propelled by brilliant performances from Michelle Yeoh, Ke Huy Quan, and Stephanie Hsu that range from slapstick to dramatic, the film, like our lives, can be overwhelming. But it ultimately finds a very personal and human place to end things.  
2. The Fabelmans
Steven Spielberg's autofictional account of his upbringing, parental influence, introduction to movies, and his particular way of processing life through his art amounts to one of his best films. The director has been self-mythologizing and telling this story for years in interviews and books; he's been talking about making this movie for just as long. Now we finally get to see it on the big screen. The result is deeply felt, beautifully executed (with Janusz Kamiński behind the camera and John Williams delivering the score), and terrifically acted (by Michelle Williams, Paul Dano, Seth Rogen, Judd Hirsch, and Gabriel LaBelle in particular). 2022 featured a lot of films about directors looking back at their lives. Spielberg looks back in a sentimental way that will delight his ardent fans; yet, he never hesitates to cut into the darker, more complex, and personal side of his story in a way that will convince his detractors. And while many have described the film as a love letter to cinema, its author writes that letter from a personal perspective—so it's less about cinema than about how Spielberg uses, and has always used, cinema to understand the world. Along the way, the film also confronts elements that have been at work in his films since the beginning, from absent fathers to flighty mothers, and lovingly addresses that he's a composite of both his father's fastidious attention to technical details and his mother's expressiveness. It's Spielberg's best film since Minority Report (2002), his most emotional since AI Artificial Intelligence (2001).
1. Crimes of the Future
Canada's "Baron of Blood" and "King of Venereal Horror" returns to his roots for the first time in over 20 years. David Cronenberg's first original screenplay since eXistenZ (1999) bizarrely borrows the title from his own, otherwise unrelated 1970 short film. He weaves a story about evolutionary processes, artistic expression, and how our bodies are dealing with microplastics. It's a film with a lot on its mind, and so it has a way of implanting itself in your head. The narrative involves artists Saul and Caprice, played in strangely hypnotic performances by Viggo Mortensen and Léa Seydoux, as underground performers who attempt to turn their numbed bodies into sites of artistic expression, as part of reclaiming their bodies. But the twisting film uses the director's frequent themes—corporate espionage, revolutions of the flesh, and finding art through bodily transformation—to embrace the notion of evolving with the times. For all its many oddities, the film becomes a welcome acceptance of the natural evolutions of art, the body, and expression. Of course, it's also genuinely odd, featuring uncanny sights amid the director's wry sense of humor. Cronenberg also conjured an inspired performance out of Kristen Stewart, whose line, "Surgery is the new sex," became the most quoted takeaway for many viewers. At the same time, it villainizes traditions in a manner that says a lot about what's happening in the culture war (if that's what you want to call it) right now. Crimes of the Future is an unshakable film that I haven't been able to stop thinking about, and it's bound to keep growing with each subsequent viewing, as Cronenberg's films tend to do.