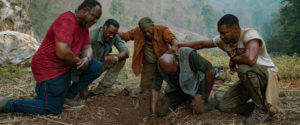 By now, you've read countless assessments of 2020 as a traumatic and unprecedented year. I won't bother recapping the numerous troubling developments the world over in the last twelve months, except to say that the film industry was dramatically reshaped as well. All of the changes—theater closures, release delays, and the new push toward streaming—didn't make compiling a list of the year's best films any easier. Some titles on my list resonated more because they reflect today's world in powerful ways. Other titles just struck me with their bold filmmaking. As always, it was a challenging list to compile. And if it's anything like most years, I'll probably wish I had changed the order or added something else by tomorrow. With that in mind, enjoy! 
What were your favorite films of 2020? Share your thoughts in the comments below.    
To see my list of the Top 25 Films of 2020, join Deep Focus Review on Patreon.
---
RUNNER UP: Never Rarely Sometimes Always
Reportedly, Eliza Hittman explored this story as a reaction to the Trump presidency and the increasing threat against women's health and reproductive rights in America. She tells it with an eye toward social realism, portraying how pregnancy resource centers have their own agendas, and how difficult it has become for some women to acquire an abortion. But it's borderline documentary-style is also soulful—an immersive aesthetic reminiscent of Italian Neorealism that makes every emotion feel immediate. Anchored by an incredible debut performance from Sidney Flanigan and scenes captured on location, the film makes the journey's emotional toll palpable. Although it's a deeply felt film, it's also a story that needed to be told.
10. The Invisible Man
From the first scene onward, you see all the trauma of a battered and psychologically abused woman on Elisabeth Moss' face. She slips away from her possessive husband, only to be stalked for the remainder of the film by a psychopath in an invisible suit. Moss gives a terrific performance that drives Leigh Whannel's inspired, modern retelling of H.G. Wells' original story. If only all remakes were so inventive. Instead of making another iteration of the same mad scientist scenario, Whannel shifts the focus onto Moss' character and delivers a relevant #MeToo statement. It's also a breathless thriller with stunning action scenes, grisly horror, and an inventive treatment of futuristic technology. And it compelled me to revisit his 2018 film, Upgrade, and realize what a blast it is. 

9. Soul
Pixar's second film of 2020 (after the fun Onward) blends a sophisticated narrative with animation to match. An average Joe with dreams of becoming a jazz musician finds himself in the afterlife, struggling to return to his body. The mechanics of the plot, familiar to Inside Out and Coco though they may be, give way to a marriage of design and theme. I was struck by the metaphor of a cold afterlife with electronic music by Trent Reznor and Atticus Ross; characters based on modernist art; and sequences in cold, geometrical space. But then you arrive on Earth, which is a vibrant, sensory-overloading experience that is animated in a photo-realistic style. This form-follows-function approach aligns with the film's message about appreciating the everyday experiences of life and not necessarily defining yourself by your ambitions—a challenging and unconventional message that few animation studios would dare to tackle.
8.
David Bryne's American Utopia
After seeing the show live, I was skeptical that the experience could be repeated, especially when viewed at home. Nevertheless, director Spike Lee delivers a concert film that doubles as performance art and urgent political statement—all captured in a beautiful aesthetic. David Bryne once again redefines the concert film after 1984's Stop Making Sense, made alongside his former band, Talking Heads. Even if it brings to mind a time before the pandemic, when people could safely gather for a concert, American Utopia showcases a brilliant unity of choreography, music, and theme. It's the rare concert film that does more than capture a live performance on camera; it becomes unique in that its images and emotions prove vital.
7. Ema
It's difficult to explain what it is about Ema that resonated with me. But the fact that it left me speechless is indicative of something significant. Ema moved me, challenged me, and to this day, leaves me thinking about it. Chilean director Pablo Larraín tells a story about reggaeton, the freedom of dancing, flame-throwers, and too-close-for-comfort motherhood that is unlike anything I've seen before. Mariana Di Girolamo stars as Ema, a dancer whose troubled history with her husband (Gael García Bernal) and adopted son give way to confronting behavior. At the center of the film's imagery and drama is a fierce burning sun—a powerful metaphor for the titular character as a volatile center of gravity. Those familiar with Larraín's brand of storytelling will know to expect boundaries of narrative and style to be pushed.
6. The Personal History of David Copperfield
Armando Iannucci and Charles Dickens might seem like strange bedfellows, but their combination of styles is oddly perfect—full of energy, wit, and detail. Iannucci's clever take on the classical novel finds color-blind casting and anachronisms emerging in a wild, riotously funny adaptation. Dev Patel stars alongside a cast that includes Peter Capaldi, Morfydd Clark, Hugh Laurie, Tilda Swinton, and Ben Whishaw—all giving somewhat ironic, yet no less genuine and affecting performances. It has all the self-awareness one would expect from the director of The Death of Stalin, even while it embraces Dickens' commentary on class and broadens it into a loving celebration of personhood. 
5. The Nest
Sean Durkin's second feature after Martha Marcy May Marlene in 2011, The Nest boasts two of the year's best performances by Jude Law and Carrie Coon. Law plays a seemingly successful businessman who uproots his American family and returns to his home in England for better opportunities. What unfolds is a story whose advertising suggested a horror film. From a certain perspective, I suppose that's true. Instead, consider how Durkin reveals the nature of his film through an intricate character study of two complex people. As the layers to the film continue to peel away, it recalled one of Ashgar Farhadi's dramas about middle-class people who remain privileged but oblivious to themselves. And like one of Farhadi's films, the material has an emotional rawness and leaves many lasting questions.
4. Wolfwalkers
The Irish animation studio Cartoon Saloon evokes Hayao Miyazaki treasures like Princess Mononoke in their latest fantasy, which makes their earlier work (The Secret of Kells and Song of the Sea) feel like a buildup to this. Set in the seventeenth century, the story follows a young girl who realizes everything adults have told her about the dangers of the woods is untrue. It's a timeless tale that considers how the so-called progressions of humankind (the building of cities, the formation of religions, etc.) tend to obliterate Nature's beauty and magic. Filled with wondrous ideas, dreamlike imagery, and an animation style that looks crafted by artisans, Wolfwalkers feels personal in a way few other animated movies do.
3. I'm Thinking of Ending Things
Like each of Charlie Kaufman's films, I'm Thinking of Ending Things has a quality of melancholy, regret, and self-absorption—a general sense that Kaufman, like his characters, spends too much time in his own head. Thank goodness he does; otherwise, we might not have thought-provoking films like this. To describe the film in any manner is to offer an interpretation. I saw a story about a person looking back at his life and trying to reconcile his memories, creative ambitions, and personal failures. Through a series of surreal scenes that feel like daydreams or incomplete memories working themselves out, Jessie Buckley and Jesse Plemons star as a couple on a nightmarish road trip. It's the sort of film that must be rewatched and decoded to be understood, and without question, it's bound to leave some viewers frustrated with its lack of answers. Still, I found it mysterious and devastating.
2. First Cow
The latest of many collaborations between Kelly Reichardt and author John Raymond, First Cow is based on Raymond's book, The Half-Life. It tells the story of two entrepreneurs on the Western Frontier, a Jewish cook and Chinese businessman (John Magaro and Orion Lee, both excellent), who steal milk from a cow to sell "oily cakes" to explorers in Oregon. The film's measured pace and sublime scenes of solitude in Pacific Northwest forests give way to a theme about how capitalism corrupts. But there's also a wonderful final moment that suggests humanity is just a blip in Nature's timeline, and soon enough we'll be gone, and then Nature will restore itself. Shooting in predominantly natural light, Reichhardt and cinematographer Christopher Blauvelt evoke the period with convincing historical detail. One of Reichart's most pleasant and gorgeous-looking films, it's also a touching story about finding balance between humanity and Nature.
1. Da 5 Bloods
What a year for Spike Lee. Although I contemplated combining American Utopia and Da 5 Bloods into a single entry, no other film in 2020 hit me like his film about the lasting implications of "America's war" in Vietnam. Reflecting today in countless ways, Lee's sprawling yet personal epic makes connections between how America treated Black soldiers in Vietnam and how that treatment continues to this day. It's also tragic and timely, and rather amazing, that Lee's film was released amid the George Floyd riots in 2020 and captured so many feelings of the Black Lives Matter movement.
Four veterans played by Delroy Lindo, Clarke Peters, Norm Lewis, and Isiah Whitlock, Jr. return to Vietnam to find a gold loot they buried, and with touches of The Treasure of the Sierra Madre and Apocalypse Now, they gradually turn on one another. In many ways, it's a film about how we deal with anger: Do we embrace Trumpism and nationalism like Lindo's MAGA-hat-wearing radical, easily the best single performance of 2020? Or do we attempt to reconcile with our past to build a better future? As ever, Lee blends style upon style that, to a certain kind of viewer, feels messy. But there's a method to his sometimes discordant way of shooting and editing—confronting history and the present, blending tones and genres—that aligns this film with his best works from Do the Right Thing to Bamboozled to BlacKkKlansman.