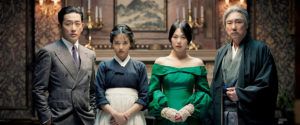 Top 10 lists always seem a little silly if only because, in a year or so, I will probably look back and think to myself, Number 6 should have been in the Number 3 spot, or I really should have included this film instead of that film. It happens every year. With that in mind, I have tried to make my (better-late-than-never) Top 10 Films of 2016 into a list that I will be able to look back on and not regret.
2016 was a solid year for film. I saw around 160 films and, as you can see by the loaded "Honorable Mentions" section below, I was enthusiastic about a little more than fifteen percent of them. To whittle down my list and make those sometimes difficult decisions about which film to cut, I often considered the length of time a film stuck with me. Some films could be argued as technically better than others (however you define "better"). But if I thought about a film for several days, weeks, or even months afterward, chances are it appeared on the list. Even so, there were titles like A Bigger Splash, Green Room, Knight of Cups, and 10 Cloverfield Lane that remained in my mind for months, but didn't quite make it. Consider those "Runners Up" to the Top 10.
Feel free to offer your critique of my list or share your own list in the discussion section below.
---
HONORABLE MENTIONS
Arrival, A Bigger Splash, Captain Fantastic, The Edge of Seventeen, Everybody Wants Some!!, Finding Dory, Green Room, Hail, Caesar!, A Hologram for the King, Hunt for the Wilderpeople, Knight of Cups, The Little Prince, Love & Friendship, The Meddler, Manchester by the Sea, Midnight Special, Pete's Dragon, Silence, Star Trek Beyond, 10 Cloverfield Lane, Train to Busan, The Witch, Zero Days
---
10. The Nice Guys
Quite unapologetically, I am including The Nice Guys on my Top 10 list because I loved this underrated film. But really, there's nothing for me to apologize for. Director Shane Black, who writes a punchy, dependently hilarious script alongside Anthony Bagarozzi, stylishly made a fun, surprisingly relevant piece of entertainment. The film teems with subtle nods to L.A. of the 1970s, and yet it remains germane in its themes about gas-greedy politicians ignoring environmental consequences for the sake of the almighty dollar. It's also incredibly funny; I've watched it again since its release in the theater and I laughed just as much. And I haven't even mentioned its leading men, Ryan Gosling and Russell Crowe. Is there anything they can't do? Gosling is charming, wonderfully deadpan, and demonstrates his pitch-perfect comic timing here, while Crowe's charisma and humor turns him into a brutal teddy bear. Newcomer Angourie Rice also makes a snarky, impressive turn. Despite the film bombing in theaters, it's finding its audience on home video, and hopefully, it will be remembered in the years to come as an essential Shane Black film.
9. Elle
An acidic, often funny, and always confronting character study, Elle comes from director Paul Verhoeven, best known for sci-fi blockbusters in the 1990s. Since taking a step away from Hollywood, Verhoeven's recent string of foreign-language films have demonstrated his depth and skill behind the camera. His latest features Isabelle Huppert, giving what must be one of the best performances of 2016, as a recent rape victim who uses the incident in surprising, disturbing ways. Verhoeven gradually reveals the layers to Huppert's character, and she's slowly built up into the most outwardly normal psychopath ever depicted in a motion picture. Though she's anything but normal. It's a complex performance in a French-language film that will not appeal to everyone (rumor has it Oscar voters hated the film, but nonetheless gave Huppert a nomination in acknowledgment of her excellent performance). But the film remains one of the most challenging pictures in recent memory, not only from an ethical perspective but also the turns of character along the way.
8. Allied
On the surface, Robert Zemeckis' Allied seems like a glossy ode to romantic, Golden Age filmmaking, with several nods to Casablanca, both the place and the timeless film. Though it may have been ill-timed to follow star Brad Pitt's personal life in the tabloids, the film itself remains a confronting wartime thriller about spies in love. Pitt stars as a Canadian spy alongside his French counterpart, Marion Cotillard. After completing a daring mission, they fall in love and move to England only for Pitt's trust and love in his fellow-spy-turned-wife to be tested. Dreamily romantic at times, Zemeckis also delivers a suspenseful, Hitchcockian story reminiscent of Suspicion and Notorious. Moreover, it's a beautifully shot and executed piece of filmmaking on a formal level. But in the end, the emotional, complex, and unforgiving wallop delivered by the climax of Allied left me thinking about it and savoring in my mind for weeks to come. In some ways the film is exactly what you would expect; in other ways, you are not prepared for this at all.
7. American Honey
A nearly three-hour odyssey into a strange underground found on U.S. highways, cheap motels, and forgotten small towns, Andrea Arnold's American Honey follows a group of unfortunate teens as they sell magazine subscriptions throughout the Midwest. The film follows first-time actor Sasha Lane as Star, one of several lost and dejected young people who are at once completely free and yet victims of a rigid system designed to take advantage of them. Indeed, Arnold, the British director of Fish Tank and Red Road, makes the best use of an "American" title in recent memory. This sprawling arthouse wonder breezes by, even as it confronts the viewer with uncomfortable and squirm-inducing scenes of rawness. Shia LaBeouf also stars, giving perhaps the best performance of his career thus far as a magnetic top-seller whose cagey, possessive attitude conflicts with his outward charm. Formally engaging with its crisp photography, presented in the same boxy frame Arnold used in Wuthering Heights, the film is the most underseen essential film of 2016.
6. La La Land
Damien Chazelle's La La Land riffs on Los Angeles and the Hollywood dream with all the effervescence of Singin' in the Rain. In a year marked by political and social division, the film defies utter seriousness in a seeming bid for escapist entertainment. Some have even faulted it for being too inconsequential in a time when Big Issues like racism, sexism, and disturbing political trends dominate the headlines. Those same critics consider the film damnable for being about an almost entirely white, heterosexual cast of characters, despite being in part about the largely African-American artform of jazz. But I urge you to set aside such extratextual elements. There are a raw emotional center and depth in the film that many overlook, suggesting that two people (the amazing stars, Ryan Gosling and Emma Stone) can spend time with one another, split up, and then look back fondly on how they met and separated at the right time in their lives. At once effortless and sophisticated in its blend of entertainment and art, the film boasts memorable music and gorgeous production design. And despite the usual backlash for such highly praised films, there's a lot to love and appreciate here.
5. The Lobster
Yorgos Lanthimos's The Lobster was excruciating and funny. It exudes ache and longing. The stifled yearning the writer-director captures in his surreal, Buñuelian satire oozes from the screen, and it only gets weirder, funnier, and more painful as it goes on. Colin Farrell goes beyond deadpan in his turn as a recently single man doomed to find a mate at a matchmaking sanitarium. If he and fellow inmates John C. Reilly and Ben Wishaw don't find someone, they'll be turned into an animal of their choosing. A reflection of our society's pressure to achieve some manner of illusory status through romantic pairing, the story seems like it would be a romantic ode to Orwell, except it's more Gilliam-esque in its commentary on the here and now. The film takes increasingly dark and unflinching turns, especially after Farrell's character escapes into a rebel group that refuses to allow romance of any kind. Rachel Weisz and Lea Seydoux offer superb supporting performances in a sometimes cryptic assessment of modern romance.
4. Moonlight
For those who think La La Land is the wrong film for the wrong time, consider Moonlight the artful, appropriately diverse, and deeply human alternative. Writer-director Barry Jenkins delivers a triptych about a young boy growing up in the housing projects of Liberty City. Some would identify him as poor, black, and gay, but such labels, as I wrote in my review, "would be reductive… as his character defies categorization, just as the film does." Constructing a lyrical cinematic poem, Jenkins portrays the life of protagonist Chiron in three stages: preteen, teen, and young adulthood. At each stage, Chiron is played by a different actor, none of whom look much alike, and yet Jenkins somehow makes the character feel omnipresent throughout the film. Naomie Harris and Mahershala Ali deliver incredible supporting performances as well. Shot in lovely, mesmerizing light and decorated by Nicholas Britell's score of strings, this is a necessary, humanist film that investigates a complex human being as he finally emerges from a shell long imposed on him by his surroundings. It's the kind of film that leaves you in tears for the pleasure of its emotional power and sheer artistry.
3. Paterson
Now in his sixties, arthouse auteur Jim Jarmusch still approaches filmmaking like a recent film school grad willing to experiment. His shots linger, lasting much longer than moviegoers are accustomed to seeing; his characters speak in intones, while their dialogue is spare; and his viewer must be open to experience something internal. He once told an interviewer that he would rather make a film about a guy walking his dog than any grandiose subject. And in Paterson, some of the more charmed moments involve Adam Driver walking his English bulldog. Jarmusch creates a film that is organized like a poem, with each day representing a stanza of familiar rhythms and variations. It's a beautiful kind of filmic poem in how it's about creating something, and how some people create for themselves while others create to be acknowledged. But it's also about love, as Golshifteh Farahani plays Driver's onscreen significant other in a quirkily endearing role. The beats of their central relationship help build the structure of the film, but they're also lovely and endearing. Ruminating on love and art in ways that beckon the viewer to settle into the passages of the film with ease, Paterson proves to be a transcendent experience for anyone who creates or loves. Hopefully that's everyone.
2. 20th Century Women
Somewhere between the Talking Heads on the opening credits and Jimmy Carter's "Crisis of Confidence" speech, Mike Mills' profound 20th Century Women made me swoon. A pastiche of playful artistic and narrative touches, this 1970s-set drama anticipates and reflects our current era, suggesting how, as much as times change, people still feel lost and ever-obsessed with right now. The film's incredible ensemble (Annette Bening, Elle Fanning, Greta Gerwig, Lucas Jade Zumann, and Billy Crudup) comprises a family of rejects and hippies, each occupying a temporary place that the film explores inwardly and outwardly—the theme being that things change, and while each moment is vital, it is not permanent. Themes about the transience of time and the impact of loved ones are communicated by Mills through a series of psychedelic and dreamlike flourishes, each augmented by the film's killer soundtrack. 20th Century Women affected me on an incredibly personal level, even though Mills was making a film about his own mother. Regardless, it also shares a worldview that is rooted in the understanding that people are temporary in our lives and permanent in how they shape us.
1. The Handmaiden
Anyone who watches South Korean auteur Park Chan-wook's film The Handmaiden will not be able to dismiss the energy of its storytelling, the heightened nature of its aesthetics, and the undeniable power of its narrative. Park delivers a true adaptation, in that he moves Sarah Waters' 2002 novel Fingersmith set in Victorian England to the 1930s during the Japanese occupation of Korea. Told in a distinct three-part structure in which each section is relayed from a different perspective, the film contains elements of a con game, a romance, and a disturbing revenge story—all wrapped together in an urgent postmodern approach. Without discussing the story (I'll leave that for you to discover), The Handmaiden is beautiful in its structure and breathless pace, despite being a nearly two-and-a-half-hour costume drama. It's also erotic and repulsive; it's funny and disturbing; it's the kind of film that warrants a discussion of dozens of other films and how they're evident throughout, yet at the same time it never feels derivative—rather, it's completely original. The film has stuck with me since seeing it in October of last year, and I'll likely be talking about it for the months and years to come. It was unquestionably the most vital filmmaking on display in 2016.