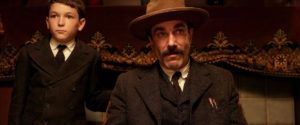 With early 2008 initiating and doing little to impress, I don't see how the coming year can live up to the incomparable invigoration of quality cinema brought to us in 2007. Perhaps I gave out four-star reviews too easily, or, perhaps, last year's volume of fine cinematic art and escapism remains unrivaled in the last decade. After a string of blockbuster disappointments last summer (Fantastic Four 2, Pirates of the Caribbean: At World's End, andSpider-Man 3), third and fourth quarter titles delivered like no one expected. Every week it seemed another brilliant piece of filmmaking hit theaters, only to be followed by another week of fine titles, and then another, and another.
My great joy this year was the renaissance of underdog genres like the musical and the Western. The former brought us the colorful Across the Universe, unique Once, and macabre Sweeny Todd. And of course, Deep Focus Review readers have heard no end to my love of 2007's Westerns, which have deeply satisfied this devout fan of the genre (but also left thirsty expectation for more). As you can see from the list below, including the "honorable mentions" section at the bottom, the Western titles dominated my favorites list with an incredible mix of artistry and entertainment.
This list of titles is by no means absolute. It's rather interchangeable, actually, as almost any of the honorable mentions (which, as you can see, are numerous) could be interspersed into the top ten. My only absolute committal is to the top four titles, as I am utterly dedicated to their high placement; though they could be moved around within their own quartet, they are the best in a year overflowing with bests.
---
Honorable Mentions:
(came this close to entry in the Top 10)
American Gangster, Atonement, Before the Devil Knows You're Dead, Breaking and Entering, Death Proof, The Diving Bell and the Butterfly, Gone Baby Gone, Hot Fuzz, The King of Kong: A Fistful of Quarters,  La Vie en Rose, Margot at the Wedding, Michael Clayton, Once, Rescue Dawn, The Savages, Sunshine, Sweeny Todd, 3:10 to Yuma, and 28 Weeks Later
---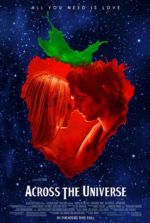 10. Across the Universe
Being the biggest surprise of the year, I originally expected to despise Across the Universe, which combines the joyful and archetypal rock-and-roll of The Beatles with director Julie Taymor's flourishing, colorful visuals. And while I realize I represent the minority opinion by including this title on my Top 10 list (or even giving the picture a favorable rating), I was nevertheless floored by how well my favorite Fab Four tunes blossomed via a tumultuous 1960s narrative or maybe vice versa. The production recalled segments from the more fanciful musicals of yesteryear, where reality bends in support of the musical numbers. Accordingly, we see fantastical imagery popping off the screen with all of Taymor's incredible visual energy. This film is an absolute joy for any fan of The Beatles or the musical genre.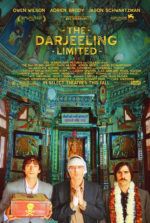 9. The Darjeeling Limited
Those claiming comedic dramatist and auteur Wes Anderson repeated himself with The Darjeeling Limited forget that habitual themes and filmic styles are what make him an auteur. That said, this film is Anderson's most emotionally satisfying work next to The Royal Tenenbaums, involving three brothers literally dumping their emotional baggage. Played by Adrien Brody, Jason Schwartzman, and Owen Wilson, the brothers wander about India, which is filmed with splendor recalling Three-Strip Technicolor, to find themselves. Unfortunately, the train gets lost. Shot by Robert Yeoman, who has filmed all of Anderson's works since Bottle Rocket, our eyes are given delicacies of color upon which to feast, thanks heavily to on-location filming. With a commendable cohesiveness for his own kind of idiosyncratic uniformity, Anderson and his films are true originals, worthy of recognition.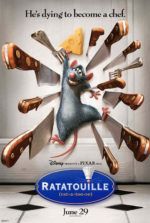 8. Ratatouille
Pixar and writer-director Brad Bird (The Incredibles) reteamed for this beautifully animated comedy about a gourmet food-obsessed rat (voiced by Patton Oswalt) who uses a human as a puppet to become France's leading chef. (Prior to the film, the traditional pre-show Pixar short, entitled Lifted, offered plenty of laughs.) In spite of a confused marketing campaign (including a Ratatouille-brand wine in the works, halted to prevent promoting underage drinking) and the lowest Pixar opening yet, with high critical reception and positive word-of-mouth, Ratatouille went on to become Pixar's 3rd most successful film. With good reason too; the animation of Food Network-worthy cuisine made my mouth water and my stomach grumble with hunger; even if they were computer generated meals, they looked tangible enough to nosh. And the characters were even more three-dimensional than the food, making this cartoon not just a cartoon, but art in its most consumable form.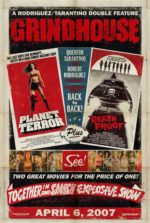 7. Grindhouse
Despite flopping financially, Grindhouse was 2007's ultimate theatrical feature (double-feature, in fact); a pure cinematic experience that was not to be missed. And so why did most audiences skip this one? Blame The Weinsteins, whose poor advertising confused Average Joe moviegoer. Opening with Robert Rodriguez's gloppy Planet Terror and closing with Quentin Tarantino's brilliant car-chase/slasher yarn Death Proof (which in its two-hour Cannes cut challenges Grindhouse's spot in my Top 10), the two features were linked by a few hilarious, campy faux trailers by other filmmakers (my personal favorite was Edgar Wright's Don't; if you missed it in theaters, check it out on YouTube HERE). Subsequently split for DVD, home video viewings don't compare to the three-hour-plus theatrical experience, complete with missing reels, audio pops, and grimy moviehouse connectivity. Few films have made such splendid art out of filth.
6. Zodiac
Don't be fooled by the appearance of David Fincher's Zodiac; this is no rehash of the director's own Se7en, not a portrait of a serial killer, but rather an enthralling examination of fanatical obsession. Available on DVD is a Director's Cut with 7-minutes inserted back into the picture, which is well worth a look. Fincher's awe-inspiring camerawork and flawless period mise-en-scene are enhanced by his delicate use of CGI. Backgrounds and impossibly placed shots are constructed with seamless specificity, allowing the viewer's full attention to be immersed in the case details. Dealing with the media exposure and cultural anxiety around San Francisco's most notorious killer, we follow a group of reporters and detectives, represented by a stellar cast (Jake Gyllenhaal, Robert Downey Jr., Mark Ruffalo, Anthony Edwards), analyzing every facet of the Zodiac killer's case. We become as caught up as the film's characters, so when the logical, closure-less ending arrives, we realize how well Fincher's film did its job.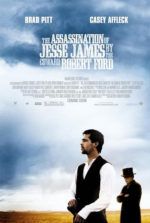 5. The Assassination of Jesse James by the Coward Robert Ford
Andrew Dominik's beautiful meditation on the curious relationship between legendary outlaw Jesse James (Brad Pitt) and Robert Ford (Casey Affleck) reaches epic heights of pensive storytelling, matched in its pondering only by the atmospheric photography by Roger Deakins, who also shot No Country for Old Men. Through a window pane we watch James, embodied by Pitt's best performance in years; we see him emerge like a god from a train's hazy steam, or from afar playing with his children, always with a distant expression, adding to the picture's unearthly air. The highlight of this involving Western is Affleck' performance a subtle, complicated portrayal concerning admiration, resentment, jealousy, and perhaps love. I was amazed how The Assassination of Jesse James by the Coward Robert Ford made the traditional antagonist into a sympathetic character, so the saddening aftermath of Jesse's murder is strangely compassionate for the assassin. Affleck (who gave another strong performance in his brother's Gone Baby Gone) deserves an Oscar nod and professional esteem for his performance, an exercise in nuanced frailty.
4. The Mist (B&W "director's vision" from 2-disc DVD)
Forgotten by audiences overwhelmed with commercial holiday titles, the unfortunately-scheduled release of The Mist will not likely affect its newly growing cult fanbase—thanks in part to the new "director's vision" feature on the film's 2-disc DVD, which, after seeing, I was inspired to include the film on my Top 10 of 2007 (depite initially compiling the list months ago). Writer-director Frank Darabont adapted Stephen King's novella (one of the writer's best), bringing his penchant for classy productions and literary airs to the picture; but rather than offer a temperate prison drama like his King adaptations The Shawshank Redemption or The Green Mile, Darabont's film embraces visceral psychological horror (notably the novels of H.P. Lovecraft). Shot and released in color, the director always intending to distribute his film in Black & White, but studio bosses refused. Via a dazzling post-production process, the same used by the Coen Brothers on The Man Who Wasn't There, Darabont went back and remastered the image into B&W, avoiding any unnatural gradations. As a result, CGI monsters look more believable, the tone resonates with 1950s-60s horror classicism, and the ominous dread throughout is given a harsh exclamation point. One of the best horror films in decades, The Mist plays on our fears of the unknown, resulting in an unforgiving exploration of human nature, now attaining the mastery of horror greats like John Carpenter and George A. Romero.  This could easily be my favorite, as opposed to best, movie of 2007.
3. Eastern Promises
Having worked together brilliantly on A History of Violence, director David Cronenberg and actor Viggo Mortensen once again brought an expert drama to the screen. Eastern Promises offers Cronenberg's most palpable emotional core, far exceeding his previous work in terms of commercial appeal. But even marketable Cronenberg is great Cronenberg. Fitting into the director's constant bodily themes, the film's narrative flows by way of metaphor and suggestion. We read into characters that the director so gracefully allows depth. Mortensen delivers a performance worthy of an Oscar, with his thoughtful, inner-struggling expressions just under the surface of every scene. And let's not forget his dedication in the bloody-yet-celebrated bathhouse scene, where Mortensen literally bears all to give us a truly Cronenbergian exploit of violence. Naomi Watts, Vincent Cassell, and Armin-Mueller Stahl all reverberate off the screen with a brooding intensity about them.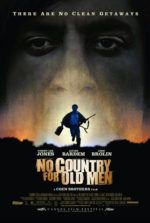 2. No Country for Old Men
The Coen Brothers are back, after two rare disappointments in a row, with their best film to date. Based on Cormac McCarthy's novel, No Country for Old Men keeps with the oblique world outlook offered by Cormac McCarthy's novel, complete with the madman killer Anton Chigurh to personify it. Javier Bardem plays Chigurh with frightening, appropriate coldness, carting around his cattlegun for a sadistically-conceived method of death. The heart of the movie resides in Tommy Lee Jones' role as Sheriff Bell, a wise but now crestfallen man who's been passed up by the world, leaving him in a dust along with curious dreams and inconceivable crime. And Josh Brolin, whose strong supporting role in Ridley Scott's American Gangster this year is also worth mentioning, excels as the desperate and somewhat naive, single-minded hero-type Llewelyn Moss. Roger Deakins' expansive cinematography makes Texas into an unsympathetic wasteland, however picturesque it may appear. With themes of The Cruel World mirroring the Coens' Fargo, some audiences were baffled by the finale, which plays against the straight-lined beginning. And yet, the finale as it is remains perfect, underlining the poignancy of everything before it.
1. There Will Be Blood
Ever-surging throughout Paul Thomas Anderson's There Will Be Blood, an electric sense of dread births a monster, or perhaps unleashes it. That monster is Daniel Plainview, an oil man played with genius bravado by Daniel Day-Lewis. Anderson's Western character study presents itself as an American allegory, with our country personified through a greedy and capitalistic man driven toward victory and money and self-sufficiency via black gold. Though not a caricature, Day-Lewis' performance is certainly over-the-top, in the same way anyone with power or the means to live without consequence seems beyond grasp. His method acting approach booms onscreen, twisting as the movie goes on in one of cinema's greatest and most complicated performances in years. I would be shocked if he doesn't receive the Best Actor Oscar. Shot with full attention to Western scope, Anderson's photographer Robert Elswit gives the picture epic range to match its artistic, allegorical objective. And Jonny Greenwood's eerie score gives it all a shrill foreboding. Most critics and critic institutions were evenly split between this picture and No Country for Old Men; I lean toward this one for its inventiveness, Day-Lewis' applause-worthy performance, and the flawless upkeep of pace during this grandiose assessment of American greed.