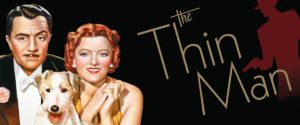 More than Fred Astaire and Ginger Rogers, more than Spencer Tracy and Katharine Hepburn, and more than Humphrey Bogart and Lauren Bacall, no two screen legends ever starred in as many motion pictures together as William Powell and Myrna Loy. They appeared in fourteen films opposite each other, with The Great Ziegfeld (1936), Libeled Lady (1936), and Manhattan Melodrama (1934) among their finest collaborations. Six of those fourteen belong to Metro-Goldwyn-Mayer's landmark Thin Man series, which was originated in author Dashiell Hammett's hard-boiled crime novel and transformed into a winning mystery-comedy franchise by Hollywood. This Thin Man Retrospective celebrates the legacy and sheer pleasure of these pictures.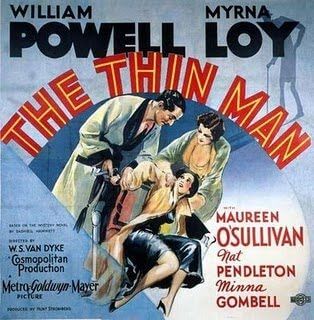 Released from 1934 to 1947, The Thin Man and its five sequels solidified Powell's reputation as a gentlemanly actor and launched Loy's screen persona as the "perfect wife". Offscreen the two actors were close friends (although audiences wanted them to be more), while onscreen, playing their quintessential roles as Nick and Nora Charles, they were an ideal couple. Along with their wire-haired terrier Asta, Nick and Nora, the debonair detective and his high-society wife, enjoy an untroubled lifestyle of sophisticated domesticity. What a cinematic rarity—a happily married couple without a care in the world. Though they occasionally find themselves thrust into the dark workings of a murder mystery, the fashionable and deeply loving Nick and Nora retain their playful banter, light physical comedy, and charming romanticism (often tipsy or with a martini shaker not far out of reach).
Over six entries and thirteen years, Nick and Nora delighted audiences with case after case, and not because the plots themselves were all that original. In fact, despite a few unexpected twists, the plots themselves are formulaic and less important than the joy found in these characters. Every Thin Man film is basically the same. Unexpectedly, Nick and Nora are dragged into a case, and though Nick wants only to retire, Nora is hungry for adventure. Nick reluctantly agrees to investigate and sleuths his way through his underworld associates and Nora's more chic acquaintances. The whodunit proceeds with plenty of red herrings, some gunplay, labyrinthine motivations, and without fail, ends when Nick gathers the usual suspects together for a tense climax where he unmasks the killer. But nevermind the standardized plotlines. What was so irresistible about the Thin Man series then, and remains so today, are Nick and Nora, their witty repartee, their dog's oh-so-cute antics, and their adorable affection for one another. Powell and Loy make it all look so graceful and wonderfully charismatic—they're an immeasurably charming onscreen couple.
In this Retrospective, each one of the Thin Man films is written about from a historical and critical viewpoint, but in effect these are appreciations. The articles and reviews were primarily informed by Charles Tranberg's The Thin Man Films: Murder Over Cocktails, Myrna Loy's autobiography Being and Becoming, and Charles Francisco's biography Gentleman: The William Powell Story. A complete listing of the resources used can be found below. With any luck, this showcase will either heighten your already deep appreciation for these indisputable classics, or expose you to something great you never knew was out there. Once you've seen them, you'll never forget them.
Click the poster to read the essay:
---
Bibliography:
Behlmer, Rudy (editor). W.S. Van Dyke's Journal. The Scarecrow Press, 1996.
Bryant, Roger. William Powell: The Life and Films. McFarland & Company, 2006.
Francisco, Charles. Gentleman: The William Powell Story. St. Martin's Press, 1985.
Goodrich, David L. The Real Nick and Nora. Southern Illinois University Press, 2001.
Johnson, Diane. Dashiell Hammett: A Life. Random House, 1983.
Loy, Myrna (with James Kostsilibas-Davis). Being and Becoming. Alfred A. Knopf, 1987.
Tranberg, Charles. The Thin Man Films: Murder Over Cocktails. BearManor Media, 2008.