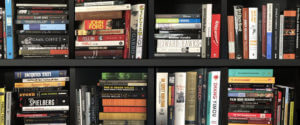 Deep Focus Review is an independent film criticism website, and I hope to keep it that way. When I started DFR back in 2007, I began by writing for myself. My goal was simple: create a balance of movie reviews and the occasional hint of academia in The Definitives. After 15 years, I'm still writing for myself, which allows me incredible freedom to explore what I want, how I want. I have maintained that balance with the help of ad revenue and, above all, memberships on Patreon.  
Patreon has given me some financial stability for DFR. Although I have yet to reach my personal goals for the site with Patreon, it has made following my passion for film easier. Over time, I hope that the increased freedom provided by Patreon will allow me to focus on DFR's growth, increase the number of reviews and essays I post, and even hire additional writers. 
If you're a regular reader of DFR and want to show your support, I would love it if you joined us on Patreon. My favorite thing about it, actually, is engaging with and getting to know readers in the DFR community.
What You Get
Patrons who support DFR receive a significant amount of exclusive content. On average, I post something on Patreon at least three times a week, often more. Best of all, I am consistent. Around 8 am CST most weekdays, I deliver the writing and features that Patrons expect, right to their email. 
Here's an overview of the most commonly posted items: 
Weekly Updates: Every Monday, I share a newsletter-style recap of what I've written about recently and what I'm working on in the days or weeks to come.
Polls: Almost every week, I offer a poll that gives members a voice in what I write about. Sometimes, it's to choose the new release that I'll review for DFR. Other times, Patrons choose the next Patreon-exclusive review or the next essay in The Definitives.
Streaming Recommendations: Every Friday, I share hand-picked streaming recommendations from these subscription services: Netflix, The Criterion Channel, HBOMax, Prime Video, Shudder, and Hulu. And I pride myself in seldom picking the same recommendation twice.
Exclusive Reviews: In an average month, I usually produce two or three reviews exclusive to Patreon. Here are some recent examples from the last month or so: The Skin I Live In (2011), The Worst Person in the World (2021), The Lost Daughter (2021).
Early Top 10 Access: Throughout the year, I share the running list of my Top 10 films of the year on Patreon. At the end of the year, I post my Top 25 films exclusively to Patreon (the rest of the world only sees my final Top 10).
Top Discoveries: Every month, I share a list of the best films that I discovered for the first time during the previous month, such as classics or titles I missed in theaters over the years. 
In addition to these features, I also write the occasional editorial or showcase DFR's members in a Patron Spotlight. 
Moreover, look at the Reader's Choice section of the website, which houses reviews that Patrons either personally commissioned or voted for in a poll. You'll see a wide variety of selections—everything from Ashgar Farhadi to The Toxic Avenger to Christian Petzold. 
Depending on your membership level, you can even commission an essay in The Definitives. Some of my favorite writing in recent years comes from Patron suggestions, such as Terrorizers (1986), The Celebration (1998), and White Material (2009). One of the things I love about Patreon is how members have challenged me to write about films I might not have otherwise. 
Levels of Support
When you decide to join, you have four membership options (though, if you wish, you can contribute an amount of your choosing each month): 
Star ($2 per month): Patrons receive access to weekly content, such as blogs, streaming recommendations, and Patreon-exclusive reviews.
Screenwriter ($6 per month): Patrons receive everything in the "Star" level. Plus, after three months, you can pick a movie, and I'll review it on DFR. You will also receive a sharp-looking DFR mug shipped to your home after a month (US members only due to international shipping rates).
Director ($12 per month): Patrons at this level receive all the "Star" perks and the mug. Plus, you can pick a movie, and I'll review it on Deep Focus Review—and once every 12 months, you can select another movie for me to review.
Mogul ($20 per month): At this generous level, Patrons receive all the "Star" perks and the mug. Best of all, you can pick a new entry in The Definitives every year: You and I will agree on a film that deserves a place in The Definitives, and I'll publish an essay for you of 3,500 words or more.
Patreon Goals
My goals with Patreon are twofold. First, when I reach $500 a month, I will remove the pop-up/page transition ads from DFR, which I know can be a pain for some readers. When I reach $1,000 a month, I will start publishing an annual volume of essays. All Patrons will receive a digital and print copy of the book (shipped to you for free), which will include an original introduction, essays, and several entries of The Definitives exclusive to the book.
To Close My Pitch
Joining DFR's Patreon membership blends the appeal of a newsletter with a community atmosphere. Some readers join out of altruism—just to show their support for what I do. Others join to participate in discussions and debates about film. And others still want those rewards, such as the ability to vote in polls or commission a review. 
Whatever your reasons, I give my warmest thanks to anyone who decides to join. If you have any questions, feel free to reach out at the email below. Thanks for reading.  
All the best, 
Brian Eggert
Film Critic and Owner | Deep Focus Review
brian@deepfocusreview.com