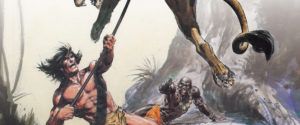 Tarzan: The Centennial Celebration
As a young reader exploring my rather limited elementary school library, my choices often rested on J.R.R. Tolkien's Middle Earth saga and short stories "to be read with the door locked" presented by Alfred Hitchcock. Not a bad lot. The library also had a vast selection of Edgar Rice Burroughs' stories, many from his Barsoom series and several assorted adventures featuring Tarzan. Opening the new book Tarzan: The Centennial Celebration by Burroughs scholar Scott Tracy Griffin, like a long forgotten smell that channels a vibrant memory I was instantly transported back to my youth, where stories about the fabled jungle hero felt wonderfully escapist in a way best suited to childhood innocence. This massive coffee table book, measuring 10" x 12¾" and filled with gigantic color photos of art and archival photographs, celebrates Tarzana and the character's creation in 1912 by offering a detailed history of his hundred-year legacy.
Everyone knows the basic story of Tarzan and perhaps takes for granted Burroughs' power to instill Tarzan's presence into our pop-culture awareness. Whether exposed to this jungle titan through Burroughs' original source novels, one of the risqué pre-Code films of the early 1930s, or even Disney's 1999 animated picture, the broadstrokes of his tale are known the world over. Born to a privileged British couple who died in the wilds of Africa, the young orphan is raised by a humanish race of apes (called the Mangani) into a great warrior swinging from the vines. He marries bride Jane and together they toss away the constraints of civilization to explore, in a peripheral way, the animal nature of humankind. This scantily clad hero behaves ever nobly, always facing some incredible beast or some equally scantily clad queen of evil. Indeed, the rampant sexuality and raw violence running through this series remains fascinating and allows readers (and Burroughs himself) to escape into a world where there's no punch-clock, no traffic jams, no asphalt, and no sense of society except that intrinsic morality which Burroughs deemed instinctive in Tarzan's human being-ness.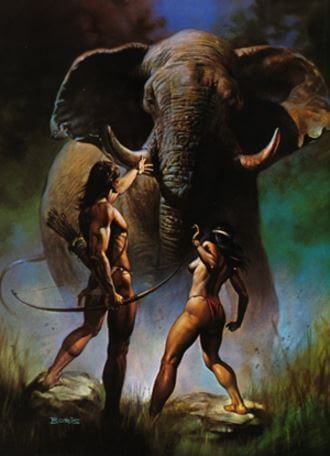 Over 320 pages, Griffin's book covers the countless incarnations that followed Burroughs' first novel, Tarzan of the Apes, published in 1912, only a year after he had begun writing professionally. He wrote 24 Tarzan books in all; his pseudo-official final piece, number 25 titled Tarzan: The Lost Adventure, was based on an unfinished manuscript and completed by author Joe R. Lansdale for release in 1995. Burroughs himself passed in 1950. Griffin's early pages chart the author's life and what drove this lowly laborer to begin writing fantastical stories for pulp magazines. The book also charts the progress of Tarzan himself, beginning with Burroughs' description as a dignified, pointedly Caucasian warrior taming the feral jungle with his inborn racial superiority (without a doubt, there are outdated prejudices at play within these pages). Only later would Tarzan become the animalistic grunter of "me Tarzan, you Jane," while other interpretations (mostly in Golden Age cinema) depict Tarzan as a clean-cut, well-groomed hero who, despite his jungle ways, seems pointedly American (Tarzan fought Germans in both World Wars). Tarzan: The Centennial Celebration is broken down into multiple sections, each detailing various manifestations of the Tarzan character over virtually every medium, the most extensive focus being on Burroughs, his books, and the long history of comic book adaptations. But then Griffin also considers Tarzan's radio days, each film series (with special attention paid to MGM's series starring Johnny Weissmuller and Maureen O'Sullivan), television shows, spinoffs, cartoons, and some best-forgotten variations.
Each section features full page images of promotional artwork and official archival movie studio stills; the best images feature comic book and paperback covers. But Gold Key and DC comic art looks like child's play next to the grand work by painters Neal Adams, Frank Frazetta, Burne Hogarth, Joe Kubert, Russ Manning, and Boris Vallejo on display here. Each artist showcased demonstrates Tarzan's visual tradition as a paperback hero and cultural icon of adventure, savagery, and erotica. (To be sure, what could be more suggestive than a near-nude man running about with a spear or knife protruding from his loin cloth?) How wise that Griffin has constructed such a large, eye-popping body of art to adorn his book, as print somehow fails to capture Tarzan's awesomeness in words alone. Or perhaps it's just my own love of this imagery—particularly the works of Franzetta and Vallejo, who brought Burroughs' John Carter and Robert E. Howard's Conan the Barbarian to vivid, muscular, sexual life. Their work gives even the casual reader of Griffin's book issue to pause and soak up the commanding iconography.
In covering Tarzan's legacy over the last century, Griffin reminds us of failed television shows and flopped movies that had been otherwise happily deleted from our memory banks (Casper Van Dien in 1998's Tarzan and the Lost City comes to mind), and we begin to wonder where Tarzan fits into our contemporary, technology-obsessed world. Perhaps the need for a stark contrast makes Tarzan more relevant than ever. We may find out in the next few years whether or not Tarzan can still connect with audiences—Warner Bros. has hired director David Yates, who helmed four installments of their Harry Potter franchise, to bring Tarzan to the screen once more, and Melancholia's Alexander Skarsgard is rumored to star. Nevertheless, as the years go by, Tarzan has remained a constant figure flourishing in some form or another, but never so powerfully articulated as in Burroughs' original stories. That said, admittedly Griffin's inclusion of such bright, full page artwork temps one to forgo his writing and lose oneself in the pretty pictures; I'd recommend paging through the book before you start reading. For lifelong devotees to Burroughs' myth, for casual fans like myself, or even for the uninitiated, Tarzan: The Centennial Celebration is an all-inclusive and must-own appreciation of what is in today's superhero-obsessed mainstream an underrated landmark hero.
---
Thanks to Titan Books for sending a review copy of Tarzan: The Centennial Celebration. You can order it from Titan's website.