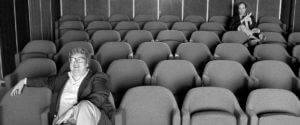 Roger Ebert has died. Over the last decade, he had battled cancer in his salivary and thyroid glands. On his blog on Tuesday, he announced a recurrence of his cancer and said it would mean a "leave of presence" on his website and fewer movie reviews. As always, he sounded optimistic about the future of rogerebert.com and his health. He wrote a lengthy blog entry about his career and his future and, in a way, almost seemed to be saying goodbye. He died on Thursday, April 4.
The celebrated film critic began writing movie reviews for the Chicago Sun-Times in 1967, and over the next 46 years became the most influential figure in his field, popular with moviegoers and respected among his colleagues. In 1975, he became the first film critic to win a Pulitzer Prize. Along with critic Gene Siskel, he pioneered the "thumbs up" and "thumbs down" rating system. An incomparable pair, he and Siskel also developed the first regularly televised program for film reviews, at the outset called Sneak Previews and later renamed Siskel & Ebert & The Movies. For years the term "two thumbs up" represented an unrivaled mark of approval.
Born in Urbana, IL in 1942 to father Walter and mother Annabel, Roger Ebert became interested in journalism at a young age. He later attended the University of Illinois and the University of Chicago, but left his doctoral studies to become the film critic for the Chicago Sun-Times. Ebert's evident talent resided in his ability to define a film's quality within a few short, astutely observed paragraphs. His witty and insightful reviews lauded quality filmmaking and sometimes harshly degraded bad movies. Each year, he published his Movie Yearbook, containing his nearly 300 annual reviews. Amid his many published works, selections from his regular column Great Movies were published in several volumes and include some of the finest pictures ever made, while his books I Hated, Hated, Hated This Movie and Your Movie Sucks contain some of Ebert's most scathing reviews. Only two years ago, Ebert published his autobiography, Life Itself: A Memoir.
With Ebert's death, the world of film criticism becomes less interesting. During his battle with cancer, his attempts to find a stable replacement meant several "guest critics" filling in as he received treatment, but it quickly became clear no critic could ever fill his shoes. How could they? No other film critic sits atop a legacy like his.
On a personal note, Roger Ebert was hugely significant to me. I grew up watching Siskel & Ebert & the Movies and reading his reviews, and in recent years I've continued to follow his reviews and enjoy his blog, which is so often filled with rational observations and admirable, even-minded humanism. Few modern film critics could claim they were not influenced by Roger Ebert. My own column The Definitives was in part trying to capture what Ebert was doing with his Great Movies. But his influence is immeasurable. He will be sorely missed.