Director

Cast

Ben Stiller

,

Owen Wilson

,

Will Ferrell

,

Penélope Cruz

,

Christine Taylor

,

Kristen Wiig

,

Milla Jovovich

,

Benedict Cumberbatch

,

Billy Zane

Rated

PG-13

Runtime

102 min.

Release Date

02/12/2016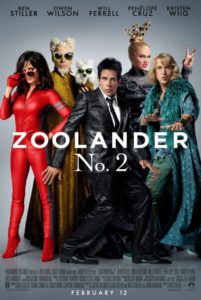 Arthouse maestro Terrence Malick may love Zoolander, but he probably won't feel the same way about Zoolander 2, the fifteen-years-after-the-fact sequel that relies too heavily on the original's jokes. As edgy and hypercritical of the fashion industry as Ben Stiller's 2001 hit was, the sequel has less to say about developing trends over the last decade-and-a-half. Instead, it has a bad case of sequelitis, cannibalizing the original's best gags to most unfunny effect. Once again, a series of celebrity cameos and remarks about the stupidity of male models saturate the material, but none of it feels fresh or particularly defiant. Rather than a funny slam of the fashion industry, Zoolander 2 proves to be box-office grab, and a failed one at that.
Stiller starred, directed, and co-wrote the highly-quotable original, and he resumes those duties for the sequel, along with writers Nicholas Stoller, Justin Theroux, and John Hamburg. This group of considerable talent behind I Love You, Man and Forgetting Sarah Marshall nonetheless delivers a tepid and lifeless rehash. One of the movie's rare pleasures arrives early on when Justin Bieber appears as he's chased through Rome, only to be riddled with bullets by his assailant (a scene the movie later, rightly, congratulates itself for). Before he dies, Bieber takes a selfie of a signature Zoolander look, just as several fashion icons have done in a recent rash of killings. An agent of Interpol's "Global Fashion Division", Valentina Valencia (Penélope Cruz), investigates, and soon must team with Zoolander and Hansel (Owen Wilson) to learn who's killing off the world's most beautiful people.
Alas, Zoolander and Hansel have been out of the scene for years, after the "Derek Zoolander Center for Kids Who Can't Read Good and Wanna Learn to Do Other Stuff Good Too" collapsed, killed Zoolander's wife Matilda (Christine Taylor, appearing in a few brief scenes) and left Hansel scarred. Afterward, Zoolander's child Derek Jr. was taken away by Child Protective Services and our would-be heroes each disappeared into self-imposed seclusion. Only Billy Zane can coax them back with an invite to a new show in Rome that promises to revive their careers. The plot quickly forgets about the world's beautiful people being assassinated and becomes another James Bond setup involving the return of Mugatu (Will Ferrell), and his Master Plan to find the Fountain of Youth for himself and his devoted band of old designer-evildoers (Tommy Hilfiger, Marc Jacobs, Valentino, Vera Wang, and Anna Wintour). Each of these real-life designers offers an even worse performance than the last, which is less funny than pathetic.
Much of the story relies on whether Zoolander can pull off his signature look… again. He's not trying to master a new look, he's trying to rekindle Blue Steel. It's sort of a metaphor for the entire existence of Zoolander 2: Can Stiller make the character relevant and funny again? And while Zoolander may eventually accomplish his look, Stiller isn't as fortunate. The story has annoyingly introspective questions for its characters. Zoolander tries to reclaim a relationship with his estranged son (Cyrus Arnold), now an orphan whose plus-sized measurements that Zoolander finds difficult to accept ("I'm seriously thinking my fat son might be a terrible person"). Meanwhile, Hansel works through his daddy issues; fortunately, rock star Sting shows up to help.
If there's a critical bone Zoolander 2 has to pick, it's with our current hipster culture, embodied by douchebag designer Don Atari (Kyle Mooney), who finds everything "stupid" and "awesome" at once. Nothing is cool, everything is dumb. For Atari, having a fashion show at an industrial waste facility is more chic than using a notable Roman landmark. On paper, this is hilarious. In practice, it's more annoying and eye-rolling. But not more so than the movie's dependence on jokes from the original. Repeated appearances by Theroux's Evil DJ, Mugatu's latte-making subordinate, and Milla Jovovich's Katinka Ingabogovinanana (a name the movie thinks is very funny, but is not) are supposed to produce fond memories but do little to create new ones.
Intermittent laughs can be had over Kristen Wiig's horrifying turn as Alexanya Atoz, a sickening mirror image of Donatella Versace (actually, Donatella is much scarier). An amusing aside about an all-encompassing sexual being named All, played by Benedict Cumberbatch, would have been funnier if not spoiled by the trailers. But in the end, Zoolander 2 is more a comedy sequel than an effective satire, and the audience leaves the theater thinking, "It took them 15 years to come up with this?!" Even more belated and pointless than Anchorman 2, the movie is easily Stiller's worst, and may require enthusiastic viewings of Stiller's The Cable Guy or Tropic Thunder just to cleanse the bad taste left on the moviegoer's palate.