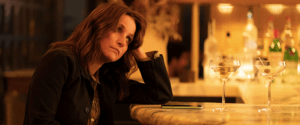 You Hurt My Feelings
4 Stars
Director

Cast

Rated

R

Runtime

93 min.

Release Date

05/26/2023
(Note: A24 will release You Hurt My Feelings in theaters on May 26, 2023.)
Is honesty the best policy? In most cases, yes. But those of us who have been in long-lasting relationships know it's not that simple. There's sometimes an internal negotiation between the absolute truth and the white lies we tell to spare our partner's feelings. Should I tell my partner that the designer shirt she gifted me for my birthday isn't my style? Or should I wear it a few times so she feels good about her choice? Does she really like that watch I bought her, and if so, why doesn't she ever wear it? Similar questions reside at the center of Nicole Holofcener's You Hurt My Feelings, a comedy that follows a few New Yorkers dealing with their marriages and careers in a manner that might be perceived as neurotic. It's the kind of comfortable sweater film that takes place in cozy apartments, where affable people whom you'd like to meet live their relatable lives and eat food that makes you hungry. The story unfolds over casual walks on New York City streets, sessions with a therapist, and often hilarious conversations between friends and family members, all disseminating from minor misunderstandings, often blown out of proportion. The approach may be familiar, but Holofcener delivers an insightful, funny film about modest deceptions and realizing that they're meant not out of dishonesty but love. 
You Hurt My Feelings recalls the work of Woody Allen at his most low-key but sneakily profound. (Incidentally, Holofcener's mother worked as a set decorator on Allen's Hannah and Her Sisters from 1986, and her stepfather produced 50 years of Allen's cinema.) But the result isn't a parroting of Allen's themes or aesthetics. Rather, it's the second collaboration between Holofcener and Julia Louis-Dreyfus after Enough Said (2013), and it's the writer-director's first original screenplay in a decade. Holofcener has been busy writing adaptations of other people's work, such as The Land of Steady Habits (2018), her take on Ted Thompson's book; her Oscar-nominated screenplay of Lee Israel's book Can You Ever Forgive Me?; and her underrated contributions to The Last Duel (2021) script, alongside Matt Damon and Ben Affleck. But if we're lucky, Holofcener will continue to work with Louis-Dreyfus on as many projects as she made with Catherine Keener in her early career—which started in 1996 with her indie debut Walking and Talking and has continued for nearly two decades.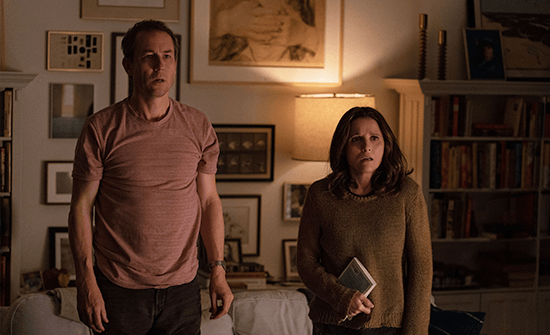 In You Hurt My Feelings, Louis-Dreyfus plays Beth, a writing instructor at the New School. Beth has a well-received memoir to her credit, though her mother (Jeannie Berlin, great in a scene where she confuses TMZ for TCM) thinks it should have done better. This leaves Beth wishing she had more drama to write about than an account of her late father's verbal abuse. Her latest project, a novel, has not been met with enthusiasm by her agent, despite Beth writing umpteen drafts, so she is considering a different agent. Fortunately, she has a supportive relationship with her husband, Don (Tobias Menzies), a psychiatrist, who claims to love her recent draft. Don has career uncertainties, too. A couple (David Cross and Amber Tamblyn) he guides through marriage counseling complains of their relationship not improving. Another dour patient (Zach Cherry) ends every session with a disparaging remark ("fucking pointless") about Don's abilities as a shrink, only to deny his disillusion when Don asks about it. This has prompted Don to reflect on his age, abilities as a therapist, and whether he's starting to show signs of wearing down. His eyes look tired, so he questions whether cosmetic surgery will help him feel better about getting older.
The average movie switches from the first act to the second at about 17 minutes. Hollywood has it down to a science. But Holofcener gives her characters more time to breathe than that before injecting conflict. On the surface, Beth and Don seem almost annoyingly in alignment. They live in an impossibly cushy Manhattan apartment and share food from their plates like young lovers, much to the frustration of their son, Elliott (Owen Teague), who's an aspiring playwright currently vacillating at a pot dispensary, much to the chagrin of his current girlfriend. Also on the periphery is Beth's sister, Sarah (Michaela Watkins), an interior decorator who has fallen out of love with her career. "I hate people," Sarah resolves. "I don't want to decorate their houses anymore." But Sarah has a pleasant relationship with her partner, Mark (Arian Moayed), a struggling actor with a penchant for fine socks. Holofcener delights in following these couples around the city as they volunteer at a clothing charity, eat ice cream, and talk about their lives. Gradually, she reveals the common problem among them. 
So just when you think You Hurt My Feelings is about nothing at all, Beth and Sarah spot Don and Mark in a store, and the sisters innocently sneak up on them. That's when they overhear Don complaining to Mark about Beth's novel. Despite what he's said to Beth, Don tells Mark he doesn't like her manuscript and feels strained by having to support her work on it. With Beth crushed by this, the sisters back away without being noticed. Beth is left feeling lied to and not respected by her partner. How could she have confidence in her writing after this? How could she ever trust Don again? Louis-Dreyfus' performance in the scenes detailing her initial shock over Don's comments is raw and affecting, enough to bring you to tears. It's a career-best portrayal, grappling with a situation that cannot be resolved with an "I love you." Still, Holofcener doesn't make Beth a victim. It's more complicated than that. For instance, Beth's ego about her writing reveals some petty tendencies, such as moving a copy of her memoir to a better display at a bookstore or feeling disbelief that her writing students haven't read her published work.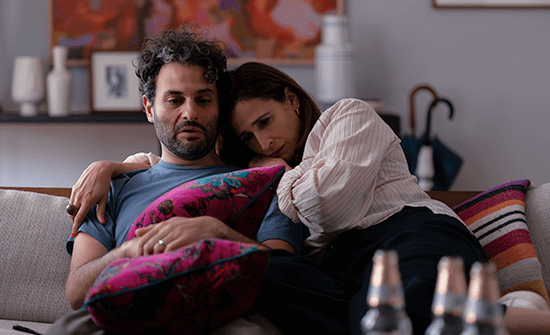 Holofcener uses her well-developed characters and slice-of-life dramaturgy to investigate a complex issue that could be seen as supportive on Don's part and purely out of love, or it could be seen as a betrayal. The irony is that Beth does the same thing in different situations. She supports Don's decision to get cosmetic surgery but doesn't express her true feelings about it. She also encourages Elliot's writing, promising it will be "brilliant" no matter what—because he wrote it, and she loves him, so how could it be bad? But what if it is bad? Sarah has a similar experience with Mark, encouraging him even though he was fired from his latest acting gig. As a writer who has yearned for honest opinions about my work, I could identify with both Beth and Elliot's desire for unfiltered feedback, but I could also understand Don and Sarah's desire to support and feel supported by their partners no matter what. Of course, there's no perfect solution to this dilemma. Both couples clearly love one another. However, the degree to which they want and need honesty over loving encouragement varies from one situation to the next. 
Holofcener is also smart enough to have her characters note that the world seems chaotic, so why should such petty conflicts be important? To be sure, the stakes seem relatively small compared to other films. After debuting at this year's Sundance Film Festival, You Hurt My Feelings will arrive on Memorial Day weekend courtesy of A24's welcome counter-programming. The result is refreshingly devoid of explosions, journeys into space, robots, or superheroes. The film offers no more melodrama than its title suggests, deploying only accessible situations imbued with three-dimensional characters that feel like lived-in personalities, not manufactured types. Holofcener's characters remain realistic, likable, and self-aware enough to work through their conflicts in a manner that never resorts to broad, sitcom-worthy antics or farcical situations. Meanwhile, cinematographer Jeffrey Waldron's subtle work finds several simple but evocative compositions, offering a beautifully shot scene of Beth and Don reconciling on the couch or the discerning final shot that leaves us wondering if the characters have learned anything. Otherwise, a restrained and comfortable energy eases the viewer into the proceedings and makes its 93-minute runtime flow effortlessly. 
Enough Said asks similar questions as You Hurt My Feelings about being honest, and how not practicing honesty can hurt your partner. But Holofcener also understands why we feel the need to be dishonest. Sometimes it's about wanting to be supportive; sometimes, it's about avoiding unnecessary conflict. The alternative, I suppose, is to be like the couple played by real-life spouses Cross and Tamblyn, who berate each other and eventually ask Don for a refund for his services. Louis-Dreyfus and Holofcener complement each other's sensibilities with natural charm and warmth, doing some of their best work by exploring the lives of middle-aged couples. Louis-Dreyfus and Menzies have ideal chemistry, too, as do she and Watkins as sisters—but then, so do Watkins and Moayed. The perfect casting makes Holofcener's script and endearing characters come to empathetic life, rarely feeling like staged roles in a formulaic indie. But above all, Holofcener accesses moving material that will make you laugh, possibly cry, and come away feeling a little wiser for it. Such modest pleasures at the cinema feel rare but vital.