Director

Cast

Natalie Brown

,

Jonathan Watton

,

Peter DaCunha

,

Peyton Kennedy

,

Melanie Lynskey

,

Sheila Vand

,

Sanai Victoria Cunningham

,

Lindsay Burdge

,

Seth Duhame

,

Casey Adams

,

Breeda Wool

,

Angela Trimbur

,

Morgan Krantz

,

Christina Kirk

,

Kyle Allen

,

Mike Doyle

,

Brenda Wehle

Rated

R

Runtime

81 min.

Release Date

02/17/2017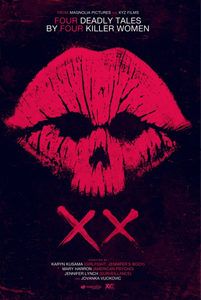 Horror anthologies are usually a mixed bag. String together a bunch of short films and one or two are bound to stand out amid the others, whereas the lesser few decrease the appeal of the whole. With XX, four women directors assemble to each helm one-quarter of the film's brief 81-minute runtime. The range of perspectives, not only among women in the horror genre but among four individuals each with distinct voices, offers the potential for something novel in an otherwise standard structure. As you might expect, the outcome has both high and low points, while overall the experience leaves the viewer appreciative that it exists, but also indifferent. Nevertheless, the promising concept behind XX draws our interest from start to finish, and the arrangement assures that, if we don't like the current segment, a new one is just a few minutes away.
Animated interstitials by Sofia Carrillo feature creepy dollhouse imagery filled with dead faces, blinking eyes, fluttering moths, and doors that open into fleshy rooms. It looks like footage Coraline cut for being too frightening. Carrillo's transitions do not, however, create a connective tissue that lends XX a conceptual throughline, nor do they introduce the respective short films. Each segment comes with its own red titles on a black background. Three established filmmakers and one artist making her debut behind the camera direct: Jovanka Vuckovic is a well-versed short-film-maker; Roxanne Benjamin co-produced the V/H/S series; and the most well-known of them, Karyn Kusama, is best known for Girlfight and last year's The Invitation. The oddity among them is Annie Clark, better known as the (rather amazing) musician St. Vincent, who helms the quirkiest of the four parts.
Vuckovic directs the first entry, "The Box," from a Jack Ketchum short story. On the subway with her children, Susan (Natalie Brown), along with her young son Danny (Peter DaCunha) and daughter Jenny (Peyton Kennedy), meet a mysterious man (Michael Dyson) with a gift-wrapped box. Danny looks into the box and claims he doesn't see anything. But afterward, he has no appetite. (It's a shame, too, because Susan's husband Robert, played by Jonathan Watton, makes some tasty-looking meals for the family.) As days go by, Danny still refuses to eat; he doesn't feel sick and the doctors can't find a cause. Danny just says he's "not hungry." Worse, whatever was in the box seems to pass like a secret between family members, spreading the loss of appetite among them. Some flat narration and an inconclusive ending hamper "The Box," but the effect of Susan watching her family suffer from starvation is unsettling.
Clark's short "The Birthday Party" could be described as social horror, as Mary (Melanie Lynskey), a well-to-do but stressed wife and mother, bends to the demands of keeping up a social pretense. She's trying to throw a simple cake-and-presents party for her daughter Lucy's (Sanai Victoria) birthday, except she finds her husband dead. And so, Mary scrambles from one absurdist situation to the next, trying to hide the corpse from Lucy, the guests, and their family assistant (Sheila Vand). Clark's largely comic entry calls out many of the same themes as her music—beautifully articulated in Love This Giant, her collaboration with David Byrne—which suggests that popular social conformities are gross distortions for a superficial cause.
"Don't Fall" is the most conventional short of the bunch. Directed by Benjamin, the segment could easily have a place in Southbound (she also directed a piece for that 2016 horror anthology, about a stretch of hellish desert). Here, Benjamin's story follows a vacationing foursome (Casey Adams, Breeda Wool, Angela Trumbur, and Morgan Krantz) who stumble upon cursed ancient paintings and unknowingly release some manner of demon. Of course, the demon possesses one of them and turns them into a monster, which proceeds to kill the others in short order. There's not much going on beyond that because Benjamin works in the well-worn genre of teen slasher and creature feature of the Jeepers Creepers variety. It's diverting, if pointless.
The final short called "Her Only Living Son" comes from the confident direction of Kusama, who riffs on Rosemary's Baby in her slow-burning thriller. Loving and doting single-mother Cora (Christina Kirk) ignores evidence that her nearly 18-year-old son, Andy (Kyle Allen), may be a psychopath. He tortures small animals, belittles her, and acts out at school (he rips out the fingernails of a fellow high-schooler!). While We Need to Talk About Kevin comes to mind, something more cultish and pointedly devilish seems to be going on. You can guess where the short ends up. And though Andy eventually turns into The Beast, the journey there is tense, with Kirk capturing the frantic naiveté her character requires. Nevertheless, it's a somewhat anti-climactic end for XX overall.
Mary Harron (American Psycho) and Jennifer Lynch (Surveillance) were also on the slate to direct their own entries when the film was first announced, but they eventually dropped out, leaving XX shorter and perhaps less substantial than it could have been. Each of the stories boasts production values better than your average low-budget horror anthology entry, with crisp lensing and some effective practical makeup FX (particularly in Vuckovic's bloody segment). And while most of the entries leave the viewer unsatisfied or somewhat disappointed with the outcome, the whole is greater than its parts. Though by their nature horror anthologies are disappointing, here's hoping the producers of XX continue making female-directed collections alongside ongoing series like V/H/S and The ABCs of Death.