Director

Cast

Jim Cummings

,

Jack Boulter

,

Travis Oates

,

Bud Luckey

,

Tom Kenny

,

Craig Ferguson

,

Kristen Anderson-Lopez

,

Wyatt Hall

,

Huell Howser

Rated

G

Runtime

69 min.

Release Date

07/15/2011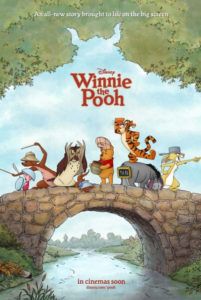 Gentle and lovingly made, Winnie the Pooh harkens back to a time when children's movies didn't require 3-D glasses or pop-culture references, just attractive hand-drawn animation and tender storytelling. Walt Disney Animation Studios retains its grasp on a franchise that, beginning in the 1960s with a series of short films, values the effortlessness of A.A. Milne's original storybooks in all their delightful simplicity. Eight credited screenwriters condense three Milne stories into one 69-minute feature, whose length is perfect when considering the limited attention spans of the antsy youngsters to whom this material is marketed, as well as parents who won't find your standard winking in-jokes specifically written for adult viewers.
Preceded by The Ballad of Nessie, a cute animated short narrated by Billy Connolly about the Loch Ness Monster and her rubber duck friend named McQuack, the feature opens with Zooey Deschanel's lovely version of the Sherman Bros.' title song. John Cleese narrates as Pooh, voiced by none other than Jim Cummings, wakes up per usual with an empty stomach, hungry for "hunny." As the tale proceeds, elements of the three Milne stories emerge. Out searching for his breakfast in Hundred Acre Wood, Pooh, the bear of little wit but a massive heart, stumbles upon Eeyore, everyone's favorite depressed donkey, who has lost his "tael." Gathering everyone (Tigger, Rabbit, Piglet, Owl, Kanga, and Roo) together, dear friend Christopher Robin holds a contest to find Eeyore a replacement.
Just as the absent-minded Pooh does occasionally, the story meanders off elsewhere when the company, misinformed thanks to Owl's inability to read a "back soon" note (of course, Christopher Robin's typically awful spelling doesn't help), comes to believe that Christopher Robin has been kidnapped by the Backson, a creature responsible for putting holes in our socks and stealing our do-dads. Despite this opportunity for peril, directors Stephen J. Anderson and Don Hall, respective helmer and writer on Disney's best-forgotten Meet the Robinsons, maintain a light tone by informing the audience it was simply Owl who misread, and letting us laugh as this cast of characters prepares themselves for the worst in increasingly silly ways. The Backson also gives way to a most inspired segment of animation, as a black-background chalkboard-animated interlude set to Kristen Anderson-Lopez and Robert Lopez's "The Backson Song" recalls the surreal "Pink Elephants on Parade" sequence from Dumbo.
Animators, under Paul Felix's art direction, embrace illustrators E.H. Shepard and Stephen Slesinger's styles in keeping with the classic Pooh design Disney has helped make so iconic. Hand-drawn characters fill watercolor backgrounds and instill a sense of nostalgia in adult viewers who grew up watching Disney classics, before the computer-animated days of Pixar and Dreamworks rendered the style all but archaic. However, a few obvious deviations of CG-enhanced animation occur: A storybook frame effect shows illustrations interacting with moveable sentences of dialogue and prose with seamless results; but the entire "Everything Is Honey" number, where Pooh's hunger transforms Hundred Acre Wood into a honeyworld hallucination, unfortunately, dates the material as a product of today.
Nevertheless, while no one will mistake the film as a lost segment from The Many Adventures of Winnie the Pooh, its appeal has the same degree of enchantment. Far more than their recent efforts with The Princess and the Frog or Tangled, Disney's film boasts a near-timeless simplicity that goes along nicely with their previous excursions into Milne territory. And, aside from the threat of teaching children to misspell "hunny" and "tael," Winnie the Pooh contains all the joys and innocence one would hope for from a G-rated Disney release. In these days of over-stimulated animation, what a deliverance this calm and joyous experience proves to be. And yet, the sad truth remains that hyperactive youngsters accustomed to the zippy, flashing, bonkers animated entertainment so popular at present may not appreciate something this sweet and kindhearted and calming.