Director

Cast

Rated

R

Runtime

115 min.

Release Date

12/19/2014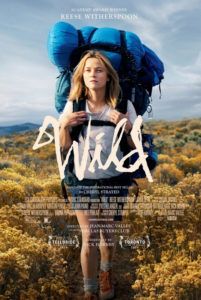 Getting into Jean-Marc Vallée's film Wild requires one to move beyond its obvious parallels to Sean Penn's 2007 feature Into the Wild. The former was based on Cheryl Strayed's best-selling memoir from 2012, Wild: From Lost to Found on the Pacific Crest Trail, whereas the latter was based on Jon Krakauer's 1996 book. The former follows one woman's journey to find and redeem herself in Nature during a 1,100-mile hike across the United States from the Mexican border to Canada. The latter followed Christopher McCandless on his trek to Alaska, where he attempted to escape his life's troubles and died trying in the wilderness. Vallée's film does not end on such a grim note; rather, it's far more hopeful and therefore audience-friendly in how its protagonist never really loses herself to the wilderness but uses the wilderness to find some lost piece of herself.
Wild is a wonderful showcase for the acting talents of Reese Witherspoon, who also produced the film. It's a challenging role orchestrated by a director whose last film, Dallas Buyers Club, earned two Oscars for its male leads (Matthew McConaughey and Jared Leto). Witherspoon plays Strayed, a smart, strong-minded character whose feminism and hardened exterior give way to self-destructive anguish after the death of her mother, Bobbi (Laura Dern). But the film's structure isn't so straightforward; it jumps from the author's 1995 journey back to remembrances from her past, often troubled. Although screenwriter Nick Hornby (An Education) copies the structure from Strayed's book, which is episodic and somewhat too dramatically convenient, especially since Strayed seems to work up to a natural climax in her memories as she gets further along.
As Strayed walks the trail and quickly learns that she could have been better prepared for its physical hardships—a heavy pack leads to strap bruises, and too-small shoes cause the loss of a toenail or two—her progress is kept by "Day" titles as a transitional device. She's also followed, either by an apparition or in reality, by a curious red fox (that does not say "Chaos reins," thankfully) whose meaning resides in some metaphoric mumbo-jumbo. She meets mostly kind male strangers on the trail, while she remembers her recently divorced husband (Michiel Huisman), how she cheated on him countless times, and how her trusted friend (Gaby Hoffmann) could do nothing to get her off drugs—all as a reaction to her mother's unfortunate death. On her downward spiral, Strayed resolves to walk the Pacific Crest Trail to become the woman her mother wanted her to be.
The film was beautifully shot by cinematographer Yves Bélanger, who captures a myriad of natural locations from the Mojave desert to cloudy peaks in the Sierra Nevada mountain range. His camerawork, combined with the patchwork editing styles of Vallée and Martin Pensa, creates an attractive nonlinear look that's arty without being pretentious. And again, this is just what audiences, namely Oscar voters, love to see. Indeed, viewers will sense early on that this film was made as award bait, and perhaps Witherspoon deserves attention for her intrepid role. We see flashes of her character delve into low sex acts and drugs, among them heroin; we see her as a young and impetuous daughter; we see her weak yet determined to go onward. It's a courageous role ripe with both psychological and physical transformations, and it's the primary reason to see Wild.
Unlike Into the Wild, the sense of danger feels less prevalent throughout (despite some apprehensions about men gawking at a young, perdy female all alone in the woods). After all, Strayed survived, limbs intact (unlike, say, Aaron Ralston of 127 Hours fame) to tell her own story. She was walking on a trail with a set destination, whereas McCandless went aimlessly into Nature and wasn't so fortunate; he died out there after truly exploring the wilderness. Moreover, Vallée never convinces us that Strayed is in any real danger, leaving the walking scenes in-between flashbacks to her past seem more akin to filler than compelling pieces of the narrative. Likewise, many of Strayed's most personal revelations are told via voiceover, which adds to the patchwork feeling of the film and, in some ways, also feels like a cheap way to tell this otherwise visual story. As a result, Wild does not engage as thoroughly as it should, but Witherspoon's performance is outstanding in an otherwise admirable effort.