Director

Cast

Richie Merritt

,

Matthew McConaughey

,

Bel Powley

,

Jennifer Jason Leigh

,

Brian Tyree Henry

,

Rory Cochrane

,

RJ Cyler

,

Jonathan Majors

,

Eddie Marsan

,

Bruce Dern

,

Piper Laurie

,

YG

Rated

R

Runtime

116 min.

Release Date

09/14/2018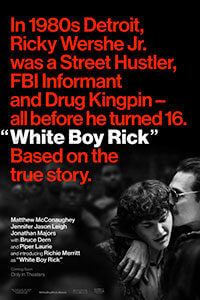 In 1980s Detroit, the 14-year-old Richard Wershe Jr. became the FBI's youngest informant, providing them with details about local drug rings. After the FBI was done with White Boy Rick, as he was called, the teen began selling drugs himself. Following Michigan's stringent policy at the time, Rick was arrested and received life in prison without parole. He spent nearly three decades behind bars as a nonviolent drug offender before his release in 2017. White Boy Rick tells the pre-arrest story of Rick's emergence in the criminal underworld, treating him somewhere between Henry Hill and Bumpy Johnson, yet with a curious strain of sympathy for this mostly unsympathetic character. Directed by Yann Demange, the French but London-based filmmaker behind the excellent television miniseries Dead Set (2006) and the feature '71 (2014), White Boy Rick attempts to be the next great Hollywood film about the criminal underworld. But with its slow pacing and rather unpleasant cast of characters, the crime drama fails to achieve a Goodfellas-level balance of gangsterism and mordancy, while its reproach of Reagan-era policies has been ill-applied to its central character.
The story opens in the early 1980s, when Nancy Reagan's "Just Say No" campaign, the D.A.R.E. program, and the media fueled a myth that linked violent crime and the sale of drugs. And while screenwriters Andy Weiss, Logan Miller, and Noah Miller try to use this sociopolitical backdrop as an excuse to condemn how and why two shady FBI agents (Jennifer Jason Leigh, Rory Cochrane) convinced the teenaged Rick (Richie Merritt) to sell crack cocaine, the movie shows that Rick had propelled that myth by himself, before the FBI got involved. In the first scenes, Rick Sr. (Matthew McConaughey) barters for AK-47s at a gun show, and then his son completes an illegal sale of the weapons, which Rick Sr. fitted with unlawful silencers, to a group of local gangsters. Compelled by the FBI, Rick Jr. soon becomes the only non-African American—hence the nickname—allowed in a gang led by Leo "Big Man" Curry (the rapper YG) and Johnny "Lil Man" Curry (Jonathan Majors). Once inside their circle of trust, Rick savors the gangster façade, as demonstrated in scenes at the local roller rink hangout or an interlude in Las Vegas, or the flashy gold chain he buys because it looks cool, not realizing it's a Star of David.
Indeed, Rick isn't the brightest bulb, but he's streetwise. At home, he combats the disapprovals of his ever-scheming father, who always has an angle or a hustle and talks a big game about a video store he dreams of opening. Greasy, with a touch of eye-twitching zaniness, McConaughey overacts every scene in his appealing way. Meanwhile, the young Rick just wants to earn enough green to support his family and rescue his sister (Bel Powley) from the clutches of drug addiction. Eventually, after starting his own crime ring with the help of a flashy bankroller (Eddie Marsan), Rick sets up shop in his grandparents' kitchen— Bruce Dern and Piper Laurie provide a few humorous moments as grandpa and grandma. Through it all, Demange offers such gross mismanagement of tone that every other scene feels like it belongs to a different movie, which robs the story of dramatic momentum and makes the material seem longer and less involving that it should be.
Filled with '80s pop music on the soundtrack, White Boy Rick takes places in a world of gray. As implied by the color palette of Detroit's overcast skies, Rick's victimhood isn't so certain, whereas his willingness to engage in drug and gun sales defies most attempts at sympathy for his exploitation by authorities. Cinematographer Tat Radcliffe shoots the proceedings in an alternatingly slick and handheld style, the former for scenes glorifying the high-life of gangster riches, and the latter for intense arguments between father and son about the merits of selling drugs or firearms. Although the actors deliver convincing performances in the family drama sections of the story, particularly Powley in her states of strung-out mania, the scenes of criminality don't congeal, and Demange fails to shape the movie into a cohesive whole.
Certainly, there's a sense of victimhood associated with Rick, as the FBI agents involved made promises they didn't keep, but then again, Rick was no saint, either, despite getting a raw deal. White Boy Rick is full of convenient storytelling choices. For instance, Demange avoids pointing out the hypocrisy between Rick's condemnation of his sister's addiction and his own drug dealing. To be sure, the movie doesn't address how Rick, too, was a drug dealer reliant on stringing addicts along—how his actions had consequences beyond making a buck to provide for his family. Moreover, Rick seems too attracted to the glamor of the criminal lifestyle and not at all interested in penance. The message of White Boy Rick about the unfairness of his sentence might be worthwhile for another person, but the movie's case is hardly convincing. Neither the narrative nor the creative storytelling convinces the viewer that the message of the movie wouldn't be better served by a less dubious and dramatized true story.