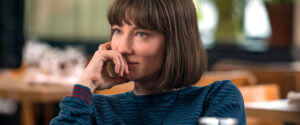 Where'd You Go, Bernadette
2 Stars
Director

Cast

Cate Blanchett

,

Billy Crudup

,

Kristen Wiig

,

Emma Nelson

,

James Urbaniak

,

Judy Greer

,

Troian Bellisario

,

Zoë Chao

,

Laurence Fishburne

Rated

PG-13

Runtime

130 min.

Release Date

08/16/2019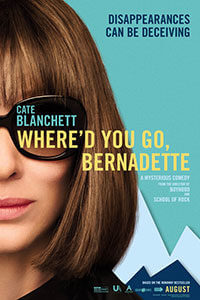 Cate Blanchett's talent holds the viewer for much of Where'd You Go, Bernadette, based on Maria Semple's novel from 2013 about a fabulously rich and incredibly talented architect getting a second shot to self-actualize. It was made by Richard Linklater, who adapted the book along with Holly Gent and Vincent Palmo Jr., and it finds the director in his journeyman mode. Linklater's career is defined by its intermingling of smaller, micro-budget projects such as Tape (2001) or Boyhood (2014) with the occasional filmmaker-for-hire enterprises like School of Rock (2003) and Bad News Bears (2005). The material belongs in the latter category, and that's just fine, as Linklater usually delivers a reasonable, if an unsigned product on such jobs. This film also is situated in the range of mid-budget fare, and few moviegoers are venturing to the theaters for these today. Despite my affection for Linklater's work, the persistent need to support mid-budget films at the cinema, and the appeal of its luminous star, Blanchett, that beacon of class and talent, none of it is enough to recommend the meandering and uninteresting Where'd You Go, Bernadette. 
Blanchett plays Bernadette Fox, the recipient of a MacArthur Fellowship who, after a devastating blow to her creative energy as a cutting-edge architect, withdrew into domestic life. She married Elgie (Billy Crudup), a Microsoft inventor of Black Mirror science. Together they had a child with precociousness to spare. Bee (Emma Nelson), the couple's teen daughter, is Bernadette's best and only friend. Now, amid the dripping project-of-a-home located in an affluent Seattle suburb, Bernadette isolates herself with the help of a virtual assistant and AmazonPrime. She's hilariously antisocial, prone to anxiety and depression, and relatable in that sense. But she's also likely to start crying as she sings Cyndi Lauper's "Time After Time" in the car with Bee, signaling something not so funny. It's the kind of emotionally scattershot character that Blanchett made so memorable, and deservedly won an Oscar for, in Woody Allen's Blue Jasmine (2014). Though, much of this information about Bernadette comes from things that are said about her, not from the viewer's experiences with Blanchett in the role. 
Until it begins to catch up with her, Bernadette's delightful, curmudgeonly behavior garners laughs. Then, an eye-opening video essay, which plays more like a VH1 episode of "Behind the Architect," reveals why Bernadette behaves the way she does. She becomes a little sadder, a little more distant from the viewer, and suddenly nothing about her life, except Bee, makes much sense. For instance, it's any wonder why Bernadette and Elgie were married, or why they remain married in the end. Blanchett and Crudup have no chemistry, but that may be a result of their characters' chilly marriage. He's a yuppie who seems oblivious to his wife's needs, and he willingly prods her insecurities and social anxiety when he hires an assistant (Zoë Chao), who also happens to be a gossipy member of the neighborhood that despises Bernadette. Yet, even after the husband and wife reconcile in the Antarctic finale, which may seem like a spoiler though it's established in the opening shot, the physical response lacks any passion. In any case, not much about Bernadette's life resonates, and when it does, its emotional meaning has been relayed with a dramatic clarity that only a corny movie could supply. The point of the film is not that Bernadette rejoins her family; it's that she finds her creativity again, making the lifeless marriage seem all the more inessential. 
The structural flaw of Where'd You Go, Bernadette is that its perspective shifts, and rarely does that perspective inhabit the subjectivity of its titular character. We witness Bernadette's story through the eyes of others, not through her own eyes but through Linklater's shifting perspective. Bee's intermittent narration throughout the film makes analogies between a series of junior high facts and her mother's dramatic arc, such as one that disrupts the notion that penguins mate for life, except when they do. At other times, the film occupies the subjectivity of a nosy neighbor, Audrey (Kristen Wiig), whose life revolves around banal social events and the PTA, as she looks at Bernadette with disdain. Other times still, the film follows Bee and Elgie as they try to figure out the question posed by the title, both in a geographical and more spiritual sense. The aforementioned video essay acts as an expositional tool that is yet another step removed from the film's characters, and a distancing screen within a screen for the viewer. Save for a few, largely inconsequential scenes, we're almost always on the outside, looking-in at Bernadette, whereas her big breakthrough moments seem to occur on the periphery. 
Though I have not read the book, I have gathered from others that the film's structure deviates from the source material. What appears on the screen, it can be said, is a conventional product that hits familiar story beats in unexceptional, achingly standard ways for a filmmaker who has experimented with the medium to astounding effect in the past. The score has a plucky, upbeat tone that reeks of feel-goodness. The lighting and camerawork by Shane F. Kelly barely distinguish themselves, aside from somehow making rainy Seattle weather seem less dreary. It's all very saccharine, filled with dull whimsy, even though the material deals with potentially heavy issues of mental health and the stifling gender roles in traditional domestic spaces. The character of Bernadette Fox gives Blanchett some room to showboat and flex her abilities, but neither that nor the film's engaging lesson about how creatives need to create can make up for the consistent unevenness.