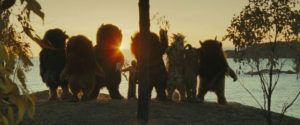 Where the Wild Things Are
4 Stars
Director

Cast

Max Records

,

Catherine Keener

,

James Gandolfini

,

Paul Dano

,

Mark Ruffalo

,

Lauren Ambrose

,

Chris Cooper

,

Catherine O'Hara

,

Forest Whitaker

Rated

PG

Runtime

94 min.

Release Date

10/16/2009
In Where the Wild Things Are, Spike Jonze's masterful translation of Maurice Sendak's beloved book, the pains, and uncertainties of growing up find a deeply personal home. Childhood has never been so accurately depicted onscreen, from the wild rumpus of building forts and scurrying through the woods, to feeling hesitant about becoming older and losing your sense of play, to having so much love to give but not getting it back in equal share. In capturing the confusion of what it's like to be a bright, imaginative, lonely, and vulnerable child unable to articulate your feelings, Jonze has made a wonderful film that's so truthful and so touching.
Resist the temptation to think of this masterpiece as a children's movie; rather, think of it as great art commenting on childhood. Max, played by Max Records, spends most of his time by himself, his head is filled with active ideas. No one has time for him. His single mother (Catherine Keener) is busy with work and dating, while his sister has reached her teen years when there's no time for younger brothers. So Max builds himself an igloo in the snow, or he puts blankets over posts and chairs to assemble a fort, making places he can hide by himself. But he so wants someone else to join him. He's desperate for it. Again and again, Jonze shows him reaching out to his family, but they shut him out. This is when he reacts.
Though he acts out, Max isn't a bad kid. After he trashes his sister's room in anger, he brings his mother in there to show her what he's done out of regret. Donning his full-body wolf suit, he takes to growling and acting all-important, because behaving like an animal is easier than trying to understand the complex emotions he's feeling. During a struggle with his mother, he bites her, and when she yells at him, he runs away from home. He escapes into the woods and comes upon a boat. In it, he sails across the sea until he arrives at an island inhabited by massive creatures covered in fur and feathers, each with large claws or sharp beaks or pointy talons. These are the Wild Things.
Made in Jim Henson's puppet workshop, enormous monster suits move with actors inside, supported by countless technicians to make their actions real. Their emotive faces, completed through amazing CGI, blend flawlessly with the puppet bodies and bring the Wild Things to life. How it's done, however, never occurs to the viewer, because they're rendered so uniformly that there's nothing to doubt. They simply are. This combination of the tangible and the computer-generated provides a marvelous piece of Movie Magic. Finished by the incredible voice work behind the masks—voices of James Gandolfini, Chris Cooper, Catherine O'Hara, Forrest Whitaker, Paul Dano, and Lauren Ambrose—these characters come into existence and clearly occupy the same spaces as Max.
Gandolfini voices Carol, Max's beastly counterpart who feels frustrated with his group's disassociation from one another, so he appoints Max their new King. Crowned, the boy puffs up his chest and pretends to be their leader, partly for his own safety, as the Wild Things had considered eating him. Max suggests they build a new home for everyone out of rocks and wood. Their gigantic fort has one main room where everyone sleeps in a comforting dogpile. Amid the matted hair and expressive eyes, these Wild Things have distinct personalities, all easily recognizable within moments of meeting the clan. O'Hara's ornery Judith and Ambrose's independent KW come first to mind. They play together rough like kids do, throwing balls of dirt and flinging each other about. Sometimes Max gets scared, but his safety never comes into question, even when there's mild danger.
Jonze engages in playtime as much as he reflects on the more affecting themes of youthful despair, using the joy of the one to peel away the unfortunate veracity of the other. Carol eventually questions why Max, as King, cannot convince KW to stay in the group, to perpetually maintain their fun times and togetherness. He doesn't understand why the family can't remain in its whole form forever. Carol doesn't grasp that life isn't always fair and things don't always work out the way you want them to. He reacts by rejecting Max as King and wanting to destroy the home they've built. And without drawing an obvious parallel to Max's home life, there's implied relativity between the two worlds, and the two characters, that's never dwelled upon within the impressionistic presentation. But it's there for the viewer to discover.
Sendak's book contains only a handful of sentences to inform his wonderful artwork, allowing the reader to project themselves onto the page and devise their own story from the groundwork established therein. Perhaps that's why those familiar with the book instill a greater substance onto the otherwise short material because, through a process of imprinting their own childhood onto the page, readers have created a hearty piece of nostalgia for themselves within Sendak's book. That seems to be what Jonze and screenwriter David Eggers have done here but on a much grander scale.
This is a beautiful film, designed with a visionary's appreciation for minimalism and naturalism. Shot by Lance Acord, the cinematography uses muted and natural lighting. The sun always seems to be on the rise or just setting, making for gorgeous light and lending a shining atmosphere. Open-air sets inside forests and on desert dunes keep the puppet work as natural as possible within an authentic, non-fantastical environment, defying the need to construct an entire world around the characters, but instead letting them roam free in real surroundings. This is Jonze's most free-verse film, and incredibly, only his third after the meticulously constructed worlds of Being John Malkovich and Adaptation.
Jonze looks at how children cope with the pain of reality and eventually grow up, recognizing what a sad, painful, and complicated process that can be. The right kind of viewer will find themselves on the verge of tears for the duration, whereas the wrong kind of viewer might think that nothing happens from start to finish. Indeed, Where the Wild Things Are will divide audiences, and depending on how easy or difficult your childhood was may determine your ability to relate to what happens onscreen. However profoundly distressing its core may be, this film transcends its melancholy with an incredibly poignant sense of understanding. It deserves accolades for being a brilliant piece of filmmaking, as well as being a moving fantasy about real life.