Director

Cast

Rated

PG-13

Runtime

92 min.

Release Date

06/19/2009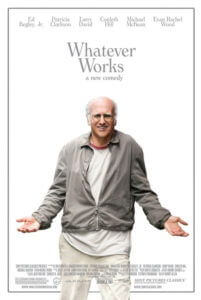 Woody Allen's Whatever Works harkens back to the writer-director's early days when breaking the 4th wall, allowing his characters to address the audience openly, was charming instead of just pretentious. The success with this trick resides in the construction of his misanthropic main character, Boris Yellnikoff, played by the hilariously sarcastic Larry David, who seems born for the role. Boris, having almost been nominated for a Nobel Prize, believes his intellect superior to everyone around him. Thus, he's the only one in the movie that understands he's in a movie. This is one of those comically cynical Woody Allen characters, and he's meant more like a living embodiment of subconscious anxieties than an actual true-to-life portrayal.
A shade darker than David's self-parody on HBO's Curb Your Enthusiasm, Boris rants about how his skewed and pessimistic ideologies on religion, sex, and death outweigh all other concerns. He walks with a limp because after trying to commit suicide by jumping out the window, wouldn't-ya-know-it, he landed on the canopy and broke his leg. Being a chess teacher for youngsters, it becomes evident he shouldn't be around children when he insults their moves, calling them "brainless simpletons" and so forth. He's a harsh, unforgiving man that's all but given up on the human race.
Completely content with living alone and sharing his self-attested smarts with no one, Boris is startled one day by southern-fried beggar Melodie St. Ann Celestine (Evan Rachel Wood). She asks him for food and, after some arguing, he invites her up to his apartment, only to become further enraged by her expressed devotion to religion and the idea of true love. Boris doesn't believe in love, you see. His motto, aptly "Whatever works," resolves that love doesn't last except in rare exceptions that inevitably he will never find. She's a typical Southerner; he's an average New Yorker. The descriptions throughout the film are never more complicated than that.
A month later, Melodie still lives with Boris, and they decide to marry. There's thankfully not too much stock in the success of the whole winter-summer romance scenario, as it's made clear the two weren't made for each other, despite her taking on some of Boris' more pessimistic opinions. When Melodie's mother, Marietta (Patricia Clarkson), arrives from the South to find her daughter married, though she remains resiliently against the concept of Boris, she finds herself liberated by New York City. Soon Marietta becomes New York's top new photographer, she enjoys a ménage à trois relationship with two men, and she reclaims her womanly and sexual freedoms. And though everyone who comes to New York City in the film changes, including Melodie's father (Ed Begley Jr.), Boris stays the same.
Fatefully, this is Allen's first picture in New York City since 2004's Melinda and Melinda. His longtime moviemaking home base, Allen left The Big Apple for brief interludes in England and Spain that brought him into unique directorial territory like Match Point, Cassandra's Dream, and Vicki Cristina Barcelona. Returning to New York, he makes the city a crucial undercurrent, showing us characters that arrive as virgins to the city and become wholly swept away by its atmosphere, liberation, and influence. The movie seems to be a subtle love letter to those old neurotic Allen-esque characters in the vintage Allen NYC. How can we not think of Allen's character in Annie Hall recommending The Sorrow and the Pity for a date movie when Boris suggests the Holocaust museum to his mother-in-law for some fun afternoon sightseeing?
Just as Kenneth Branagh played a Woody Allen takeoff in Celebrity, David feels perfect in Whatever Works, having had bit roles in the director's films before (see Radio Days and New York Stories). After all, who would deny that David's Seinfeld creation George Costanza isn't some amalgam of David and Allen's personalities? Clearly, these two comic forces were born to work with each other. That the familiar, somewhat sloppy story construction plays out so everyone blithely-if-unbelievably ends up with whom they belong is of no concern. The unending laughs keep us rapt in the proceedings thanks mainly to David's delivery. Sure, you've probably seen better Woody Allen movies, and it's clear the ideas are recycled, but like most Allen fare, the formula works. David makes sure of it.