Director

Cast

Taraji P. Henson

,

Tracy Morgan

,

Aldis Hodge

,

Wendi McLendon-Covey

,

Tamala Jones

,

Phoebe Robinson

,

Kristen Ledlow

,

Josh Brener

,

Kellan Lutz

,

Brian Bosworth

,

Erykah Badu

Rated

R

Runtime

117 min.

Release Date

02/08/2019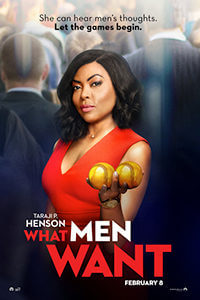 What Men Want is a remake of the Nancy Meyers romantic comedy What Women Want from 2000, featuring Mel Gibson as a male chauvinist who, after an electric shock, begins to hear the thoughts of women around him. Even though the female cast, including Helen Hunt and Marisa Tomei, seemed to think only in terms of what men think women think about, the movie grossed nearly $200 million and became one of Gibson's most successful blockbusters, in a time when Gibson and Hunt were still superstars. The remake doesn't have the same Hollywood royalty factor. Taraji P. Henson, though a talented and charming screen presence, is hardly the box-office draw that Gibson was in his heyday. Even so, Henson's version, which flip-flops the gender roles, is certainly less troublesome than the original, offering a welcome twist on a silly concept—as kitschy as a body-swap situation or something like Trainwreck (2015). The stereotypes about how the sexes relate to one another are no fewer, but they're somehow less problematic.
Henson plays a sports agent named Ali, named after the boxer. She was raised by a single father (Shaft himself, Richard Roundtree), a boxing coach and gym owner, and though she was raised around men she nonetheless has trouble relating to them—she's too busy playing their competitive, bro-centric games. In her all-white, male-dominated agency, being a strong black woman is a strike against her. "Stay in your lane," her boss (Brian Bosworth) tells her, which is a lane outside of the agency's total white boys club. But she's determined to break the glass ceiling by signing the most promising first-round draft pick in the NBA, Jamal (Shane Paul McGhie), whose unsubtly named father, Joe Dolla (Tracy Morgan), has spent the last twenty years arranging for his son's success—mostly with health shakes. Her ultimate ambition is securing herself a partnership. The opportunity presents itself when, at a bachelorette party, she drinks a mysterious tea provided by a bogus psychic (Erykah Badu), bangs her head at a dance club, and comes to the next morning with the ability to read men's minds.
The funniest moments of the movie are the random, dopey thoughts of men. Take the scene where Ali walks by an elderly man who says to himself, "I wish I had fucked a black woman before I got married." Indeed, most of the men's inner dialogue is played for shock value, and most of it consists of the sex and fart-related variety. "I'll just sneak this fart out with a cough" or "Did I put enough deodorant on?" and so forth. Meanwhile, the screenplay by Tina Gordon, Peter Hyuck, and Alex Gregory introduces a number of concurrent plot strains—too many, as they drag the movie out for nearly two hours, at least twenty minutes too long. There's the romantic relationship between Ali and her new boyfriend, Will (Aldis Hodge), a single father whom Ali pretends is her husband to suggest to Joe Dolla that she's a family woman. Phoebe Robinson, Tamala Jones, and Wendi McLendon-Covey play Ali's friends, who find themselves regularly disappointed by her selfishness.
Of course, after some bad behavior, Ali learns some valuable lessons along the way about making compromises and not using her newfound gift only to get what she wants. This includes not entirely dominating her male partners in the bedroom and not making every situation into the dreaded salesman term: "win-win." There's a touching thread in which Ali helps her exasperated assistant Brandon (Josh Brener) both find love and a new career. But for every genuinely aww-inspiring moment, three more absurd ones follow. An outburst during a wedding—because every rom-com needs a wedding—turns into an eye-rolling farce. Every scene with Badu or Morgan feels dialed to eleven. And the excellent soundtrack features a roster of 1990s hits such as "Poison" by Bell Biv Devoe, "Push It" by Salt-N-Pepa, "Creep" by TLC, and "Free Your Mind" by En Vogue. At the very least, the music makes the awkward behavior throughout the movie's many outlandish and cringe-worthy moments seem appropriately affected.
Adam Shankman (Rock of Ages) directs in the modern comedy style of cramming in so many random asides that keeping track of the main throughline becomes a challenge. The subplot about Ali trying to sleep with her neighbor (Kellan Lutz), who turns out to have some unexpected proclivities in the bedroom, could have been omitted. With two or three more such subplots gone, What Men Want might feel like a cohesive movie, rather than the throw-everything-at-the-wall-and-see-what-sticks approach that plays out in R-rated fashion. Surprisingly, the movie doesn't have much to say about gender politics given the #MeToo movement and recent strides, making it a missed opportunity to be more than a series of lowbrow jokes, however amusing. But Henson is affable, even endearing at times in what amounts to an entertaining and funny comedy that has no staying power once the end credits begin to roll.