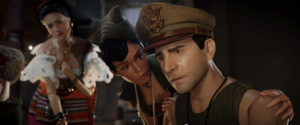 Welcome to Marwen
1.5 Stars
Director

Cast

Steve Carell

,

Leslie Mann

,

Diane Kruger

,

Merritt Wever

,

Janelle Monáe

,

Gwendoline Christie

,

Leslie Zemeckis

,

Neil Jackson

,

Eiza Gonzalez

Rated

PG-13

Runtime

116 min.

Release Date

12/21/2018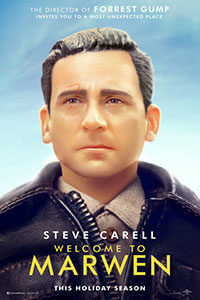 When Robert Zemeckis makes a bad film, it's always an interesting failure. He's never made something that's worthless and doesn't, in some way or another, deserve our admiration. Over time, his failures might even become endearing, as in the case of his tribute to Beatlemania in I Wanna Hold Your Hand (1978), the Wild West antics in Back to the Future Part III (1999), or the application of early CGI in Death Becomes Her (1992). Quite frequently, his output is misunderstood or overlooked with titles like Who Framed Roger Rabbit (1988) or Contact (1997). And occasionally, he delivers an absolute masterpiece, such as Back to the Future (1985) and Allied, one of my favorite films of 2016. His latest, Welcome to Marwen, isn't a masterpiece and probably won't be revisited in ten years to be relabelled a neglected gem. It belongs in the interesting failure camp alongside Zemeckis' Beowulf (2007) or A Christmas Carol (2009) by taking an emotionally raw story, rendering it with an odd visual presentation, and ultimately producing a tonal misfire.
Similar to Zemeckis' take on The Walk (2015), a fictionalized film of a better documentary (Man on Wire, 2008), Welcome to Marwen comes after the 2008 documentary Marwencol, whose director Jeff Malmberg serves as executive producer here. In 2000, Mark Hogancamp, a talented illustrator, was attacked by five goons after admitting he liked to wear women's shoes. He was beaten within an inch of his life. The trauma to his body left him in constant pain, with no fine motor control. He could no longer be an artist in the way he had known. Decidedly worse, his mind was fractured by long-term amnesia; he could not remember his life before the accident. In an attempt to heal, he took his affinity for romanticized World War II imagery and applied it to detailed 12-inch dolls, which he arranged in dramatic situations and then photographed their poses. But the dolls were personally reflective for Hogancamp, as his heroic alter-ego, a figure named Capt. Hogancamp, suggests. There were also a posse of female badasses, an aquamarine-haired spirit, and a group of Nazis—and all had parallels in the real world.
Rather than engage directly with the raw emotional consequence of Hogancamp's ordeal, as Malmberg did, Welcome to Marwen divides its time between Hogancamp's everyday life, where he's played by Steve Carell, and his fantasy world. In an effect resembling a grittier version of Toy Story (1995), Zemeckis takes the viewer inside of Hogancamp's imaginary world, a Belgium village he has named "Marwen"—a combination of his name "Mark" and "Wendy," the woman who rescued him after his beating. Inside, we watch as a CGI-animated adventure story plays out, its characters serving as symbols of Mark's unexpressed feelings. The women of Marwen, whom he calls "dolls" of course, consist of Julie (Janelle Monáe), based on his physical therapist; Roberta (Merritt Wever), a local clerk who has a crush on him; Anna (Gwendoline Christie), based on his Russian caregiver; Carlala (Eiza González), his coworker a local bar; and the new addition, Nicol (Leslie Mann), based on the neighbor who just moved in across the street. In his Marwen fantasy, he and the "dolls" thwart Nazi invaders—evident stand-ins for his attackers—ever fearful of Deja Thoris (Diane Kruger), a witch that symbolizes Mark's growing dependency on pain medication. In Mark's life, he finds himself falling in love with his new neighbor, while he also avoids confronting what happened to him.
The screenplay by Caroline Thompson and Zemeckis draws obvious parallels between the film's two worlds, but it spends far too much of the two-hour runtime inside of Mark's fantasy. This is a realm of intentionally corny dialogue and WWII imagery, accented by Mark's interest in women's shoes, exposed breasts, and other sexual fantasies. Zemeckis brings the fantasy to life with silly animated effects, including a reference to the time-traveling DeLorean from Back to the Future. The stakes in this world are meant as a reflector of what's happening in Mark's mind, but too often they amount to escapism and comic relief, which removes the viewer from the actual emotional consequence. Just when something significant happens in Mark's real life, the film descends into one of Mark's toy-based adventures, which have none of the dramatic weight of the physical actors, many of whom are quite good throughout. Instead, the film proceeds in fits and stops, and the viewer just wants the animated sequences to be over with already, so we can get to the parts that are most interesting: Mark's life.
Perhaps because of his ambition and propensity for interesting failures, Zemeckis has been unfairly maligned in some circles. He's willing to make strange choices in mainstream Hollywood productions that don't always sit well with audiences. You could describe him as unconventional, except that his story material can be accessible, even pandering to a fault (think Forest Gump, 1994). Welcome to Marwen feels at once unconventional and pandering. Its score by Alan Silvestri telegraphs every emotion, as do the animated doll sequences, creating a buffer between the audience and intense PTSD that Mark suffers on a daily basis. Although the film's conceit hopes to portray how Mark uses to the dolls to process his emotions, the approach ultimately distances the viewer from having to address the severity of his pain. One imagines that Zemeckis wanted to avoid getting too deep into Mark's head, because the reality would be difficult for any commercial audience to process—indeed, it's almost impossible for Mark to process. But in doing so, the film takes the safest, most banal route to its story, and the result feels like the worst possible combination of Zemeckis' downfalls as a director.