Director

Cast

Brad Pitt

,

Emory Cohen

,

Tilda Swinton

,

Ben Kingsley

,

Scoot McNairy

,

Topher Grace

,

Anthony Michael Hall

,

Griffin Dunne

,

RJ Cyler

,

Anthony Hayes

,

Will Poulter

,

Alan Ruck

,

Lakeith Stanfield

,

Josh Stewart

,

Meg Tilly

Rated

R

Runtime

122 min.

Release Date

05/26/2017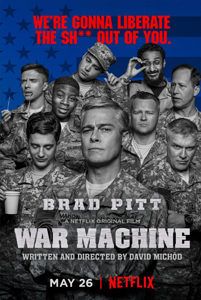 Produced by Brad Pitt's Plan B Entertainment and distributed by Netflix, War Machine features Pitt as General Glen McMahon, a fictionalized version of Stanley McChrystal, the real-life General whose gung-ho leadership of the International Security Assistance Force in Afghanistan led to journalist Michael Hastings' damning profile in Rolling Stone magazine, called "The Runaway General." Australian writer-director David Michôd based his film on Hastings' 2012 book, The Operators: The Wild and Terrifying Inside Story of America's War in Afghanistan, an expansion of the original article. The film attempts a wartime satire on par with Dr. Strangelove, complete with cartoonish characters embedded into a realistic scenario, but it ends up feeling more like The Men Who Stare at Goats—which is to say, a confused portrait of military incompetence.
War Machine debuts on Netflix, though a handful of theaters in New York and Los Angeles will show it on large format screens. Its release comes just days after an impassioned debate about the artistic validity of Netflix-produced titles at the Cannes Film Festival, thoroughly covered by the attending press. Reportedly, when jury head Pedro Almodóvar suggested he would not grant the coveted Palme d'Or to a Netflix title with no theatrical release, juror Will Smith confronted Almodóvar and defended Netflix, saying, cinema and streaming are "two different forms of entertainment." (Indeed, and that's the problem.) Smith's argument may have something to do with his $90 million budgeted, Netflix-produced sci-fi adventure Bright hitting the service in December 2017. As sound as Almodóvar's arguments about the immersive, transportive quality of attending the cinema may be, not even theatrical projection would improve War Machine.
Pitt seemed to take goofball lessons from George Clooney's Everett McGill in O Brother, Where Art Thou? to play McMahon, offering a curious caricature behind two out-of-control eyebrows and grunting voice reminiscent of Lt. Aldo Raine. The dog-faced and techno-phobic Gen. McMahon believes he can bring victory to the unwinnable conflict in Afghanistan. He desperately seeks additional troops to weed out Taliban soldiers, though the Obama Administration ignores him and ultimately snubs any requests for face time with the President. Likewise, Afghanistan's elected leader Hamid Karzai (Ben Kingsley) seems more concerned about hooking up his Blu-ray player than helping McMahon complete his mission. Surrounded by incompetent soldiers and support staff (played by Topher Grace, Lakeith Stanfield, Emory Cohen, Will Poulter, and others), McMahon desperately tries to secure himself some final measure of personal glory before retirement.
Narrated by Scoot McNairy's Sean Cullen, a stand-in for Hastings, the film proceeds from one wacky situation to the next, and the voiceover provides commentary on the foolishness of McMahon's approach. As a lifelong soldier determined to turn a strategic conflict into a war, McMahon faces political blocks from officials (Alan Ruck, Griffin Dunne), but he also has unwavering support from many of his bloodthirsty troops (Anthony Michael Hall plays a version of Mike Flynn, who seems to be enamored with his superior officer). Elsewhere, the film's depiction of friendly-fire that results in the death of a child tries to balance laughs and tragedy in unseemly ways. The presiding joke seems to be that McMahon, and others like him, are "war machines" embedded into a situation ill-suited for traditional battle tactics of previous wars. The U.S. military continues to support figures like McMahon, and yet time and again their presence in nuanced military situations proves misguided—and onward continues the maddening system.
Not dissimilar from the surface-level lesson of The Life and Death of Colonel Blimp, McMahon is obsolete and placed in a conflict he doesn't understand. But rather than engage in any meaningful discussion of misaligned politics or attempt some ideological consideration, War Machine uses McMahon as a big, obvious target for more laughs than meaningful satire: He's a classical blowhard, in over his head, and apparently incapable of speaking to anyone with any clarity or polish. He means well and, for some reason, maintains the respect of his troops, but he's portrayed as an idiotic dolt. Even an unexpected and tender scene with his wife (Meg Tilly), whom he's seen for little more than a month in the last decade, attempts sincerity yet achieves no emotional resonance. Because of its intermittent drama and splashes of tragedy, Michôd never fully commits to the satire, nor does he bother making McMahon a figure worthy of our sympathy.
War Machine marks the third feature by Michôd, whose previous and quite serious work on Animal Kingdom and The Rover represented essential entries into their respective genres, the crime epic and the post-apocalyptic road movie. Nothing about his execution of those films carries over to War Machine, which is capably made and lensed with crisp photography by Dariusz Wolski. The production looks professional, but the film's approach tries and fails to achieve a refreshingly witty cynicism toward American military intelligence, which could have been similar to Armando Iannucci's In the Loop or the Coen brothers' Burn After Reading. Instead, the film's tonal inconsistencies leave an imbalance of dumbness and sincerity. Given the story, the potential for biting satire, the cast and filmmaker, War Machine is disappointing for its toothless and unfunny result.