Director

Cast

Jennifer Aniston

,

Paul Rudd

,

Justin Theroux

,

Alan Alda

,

Malin Åkerman

,

Joe Lo Truglio

,

Kathryn Hahn

,

Lauren Ambrose

Rated

R

Runtime

98 min.

Release Date

02/24/2012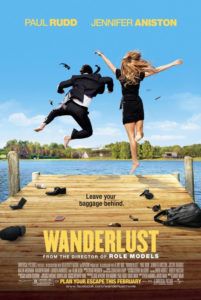 David Wain steps away from his usual sketch comedy antics by applying the Judd Apatow formula to Wanderlust, a story Wain directed and co-wrote along with Ken Marino wherein co-stars Paul Rudd and Jennifer Aniston leave their busy New York lifestyle to join a hippie commune. In various projects from MTV's short-lived The State to the hilarious features Role Models and The Ten to cable shows like Children's Hospital, Wain and his stock company of comedians (Michael Ian Black, Michael Showalter, Kerri Kenney, Joe Lo Truglio, et al.) have carved out a comedy niche for themselves. Here, their usual silly humor and no-story-necessary approach are curbed by a predictable setup that bothers to get serious, if only for a moment, and if only to meet the movie's obvious commercial intentions.
Rudd and Aniston's George and Linda find their modern NYC life going south when, after buying a one-room "micro-loft," George loses his job, and Linda's hope of selling a documentary to HBO falls through. They plan on recovering with the help of George's douchebag brother, Rick (Marino), whose bigger-is-better Atlanta lifestyle isn't conducive to their own. Instead, they find their way to Elysium, an "intentional community" in the wilderness that they mistake for a bed and breakfast. With no money or jobs, George and Linda resolve to give this border-free lifestyle a two-week try; the rent is free, and the people have the stress-free attitude the couple seeks. At first, Linda resists the idea, while George sees it as liberating. Soon enough, though, Linda has "drank the Kool-Aid" and dives in headlong, while George remains his sarcastic and reserved self amid his free-love surroundings.
Headed by resident leader Seth (Justin Theroux, whose romance with Aniston is the stuff of tabloid fodder) and acid-fried owner Carvin (Alan Alda, in a loose extension of his Flirting with Disaster role), Elysium plays host to nudist winemakers, non-violent vegans who live off the land, and swinging singles, making for all sorts of awkward situations for our protagonists. These amount to the funniest moments in the movie, mostly involving Rudd's dry reactions to male nudity, acoustic guitar playing, hallucinatory drugs, and propositions of free love. One scene involves George prepping himself in the mirror for sex with Malin Ackerman's Eva; Rudd uses one of his nonsensical accents to spout off some motivational porno talk that begins as sort of disturbing, but then gets funnier as it goes on, and finally goes on too far.
Unfortunately, the zaniness of the humor is offset when the screenplay becomes an eye-rolling conflict. This fish-out-of-water story already had enough clichés before introducing a gaggle of crooked corporate investors bent on building a casino on Elysium's land. Of course, the wife-stealing Seth proves to be as equally greedy as he is dumb, allowing Rudd to come to an understanding with Linda in the finale's resolution. The story plays itself out with a pleasant message suggesting that none of these lifestyle extremes (the New Yorker, the hippie, the "Real Housewife of Atlanta") provide a good balance, and offers a welcomed middle-ground. But the "happy ending," and indeed the entire third act of the screenplay, feels forced and unnatural, whereas the whole movie should have taken a cue from Wain's more ridiculous fare, such as Wet Hot American Summer, to make the experience much less self-conscious.
The presence of Apatow as producer and all that that entails prevents Wanderlust from being the off-the-wall comedy it could have been, as the filmmakers' desire for outlandish hippie humor feels restrained, in spite of an abundance of nudity, including a last-minute cameo by Ray Liotta. Ironically enough for a movie that testifies on behalf of a middle-ground lifestyle, the movie either doesn't build enough character for an Apatow brand comedy-with-heart, or it relies on too many formulaic plot devices to contend with the absurdist hilarity of Wet Hot American Summer. Rudd is affable as usual, Aniston is her customary forgettable self, but the real stars are the colorful supporting cast. Several scenes may induce guffaws or shocked gasps, but this is the kind of all-too-common comedy that leaves the viewer with no reason to watch it again.