Director

Cast

David Harbour

,

John Leguizamo

,

Alex Hassell

,

Beverly D'Angelo

,

Alexis Louder

,

Edi Patterson

,

Cam Gigandet

,

Leah Brady

Rated

R

Runtime

112 min.

Release Date

12/02/2022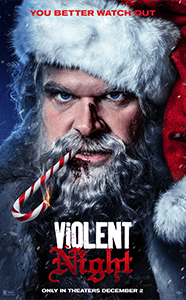 Violent Night could have been twisted holiday fun. In the movie, David Harbour stars as Santa Claus, but not the jolly, ho-ho-hoing bastion of goodwill known for bringing joy each holiday season. Instead, this curmudgeonly Kringle drinks and swears his way through what might be his last Christmas. While on a toy delivery, he stumbles upon well-armed criminals holding a wealthy family captive to rob their elaborate vault. Santa, drawing from his roots as a Viking warrior, faces off against the crooks and delivers a comical bloodbath accented with Christmas cheer. Sounds like a blast, right? Alas, the movie directed by Tommy Wirkola doesn't live up to the simple premise, even though it's not aiming high. This is primarily the fault of the undercooked script by Pat Casey and Josh Miller, writers of Sonic the Hedgehog (2020) and its sequel. Overly reliant on references to other, better Christmas movies, the uneven movie overstays its welcome at 112 minutes. Although most of the well-choreographed action and Harbour's presence prove diverting, Violent Night never quite reaches the heights of a new holiday classic. 
Harbour plays Santa in the same mode as his star-making role as Hopper on Netflix's Stranger Things. Like Hopper, his dad-boded and foul-mouthed Santa is rough around the edges, prone to boozing, and somehow the underdog despite being a figure of some authority. But Harbour's onscreen magnetism enhances Violent Night, even though his presence might be typecasting. When we first see him, he's downing beer at a Bristol bar and questioning his vocation. He laments that children these days "want, crave, consume" without gratitude, and their Christmas lists consist only of video games or the cash to buy them. When he's done at the bar, he leaves, barfing over the side of his sleigh, and resumes delivering toys. Of course, Harbour has already played this sort of role in his post-Stranger Things career—abysmally so in 2019's Hellboy reboot and more chummily so as Red Guardian, the goofy Russian supersoldier in Black Widow (2021). Still, he's perfectly cast here and the only worthwhile part of the movie.  
The problem lies in the other characters. The story opens on Christmas in Connecticut (well, Christmas eve). After a recent separation, the dopey Jason (Alex Hassell) hopes to reconnect with his wife Linda (Alexis Louder). So along with their daughter, Trudy (Leah Brady), the former couple resumes their annual tradition of visiting his mother Gertrude's (Beverly D'Angelo) mansion. There, his sister Alva (Edi Patterson, acting similar to her role on HBO's The Righteous Gemstones) and her vapid family—including her witless actor-husband (Cam Gigandet) and social-media-obsessed son (Alexander Elliot)—grovel for Gertrude's attention and power-brokered money. But a band of professional thieves with code names such as "Gingerbread," "Krampus," and "Candy Cane," headed by John Leguizamo's "Scrooge," arrive and hold everyone at gunpoint, demanding that Gertrude open her highly secure safe packed with millions in cash. By the evening's end, Santa kills the bad guys, saves the day, and restores everyone's belief in Christmas miracles.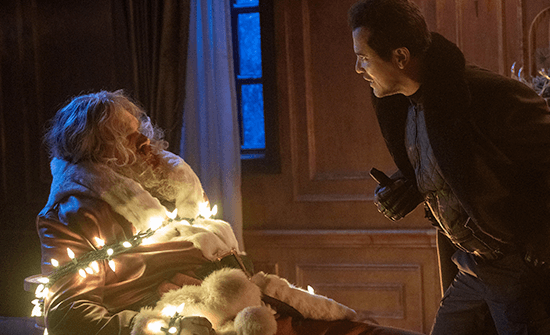 Unfortunately, Violent Night is a Christmas movie that models itself on other Christmas movies. For starters, there's a blatant Die Hard (1988) structure as Santa navigates Gertrude's home, taking out the thieves one by one—Santa even communicates with Trudy via walkie-talkie, echoing the relationship between John McClane and Sgt. Powell. And like McClane, Santa is somehow an everyman character, capable of taking brutal damage that makes him seem human next to other shoot-em-up action heroes. As for his origins and powers, a touch of backstory suggests he was a Viking, but there's no explaining why he has an American accent or how he got the toy-deliverer job—he remains "not sure how it works." Anyway, later on, Trudy decides to help, inspired by her recent first-time watch of Home Alone (1990). She sets up some booby traps with comically bloody results, showing us what Kevin McCallister's antics would have really done. When he's not making references to better movies, Wirkola delights in dousing Violent Night with impalements, electrocutions, dismemberments, and pummelings—all captured by cinematographer Matthew Weston in zippy sequences reminiscent of John Wick (2014) and Nobody (2021) by way of Sam Raimi. 
Wirkola has a track record of movies that start with a neat logline but, when realized, disappoint. Take the Norwegian filmmaker's Dead Snow (2009), about Nazi zombies emerging from their wintry graves to torment some vacationers. That movie and its 2014 sequel, subtitled Red vs. Dead, play like cheap Raimi knock-offs. The same is true of Hansel & Gretel: Witch Hunters (2013), a gory fantasy that wasted the talents of stars Gemma Arterton and Jeremy Renner on a clunky post-modern storybook yarn. While lately, Wirkola's output has moderately improved with Netflix-bound titles starring Noomi Rapace (What Ever Happened to Monday, 2017; The Trip, 2021), Violent Night finds the director playing in the snow once again. Admittedly, the result is probably the most polished and entertaining Wirkola project yet. But it's disappointing for the movie's inability to deliver on a simple concept.
Violent Night never makes an impression besides the occasional laugh from Harbour's bad Santa routine or the unintentional laughter from the cringy dialogue. The plot twists and surprises along the way fall flat, and most of the supporting characters prove generic, especially in the final stretch when the family joins the fight. Alas, Wirkola never quite resolves whether he's riffing on Christmas movies or delivering something genuine, and the uneven result doesn't work. One moment, the movie makes winking jokes about its genre tropes; the next, it attempts a heartfelt scene of Christmas magic. Violent Night might have been a worthwhile B-movie had the filmmakers not tried to blend irony and earnestness. Instead, Wirkola seems to be aiming for something so-bad-it's-good, but such things rarely occur by design. And often, when filmmakers try to engineer that quality, the result cannot help but feel phony and, in the case of Violent Night, just plain bad.