Director

Cast

Rated

R

Runtime

94 min.

Release Date

12/20/2006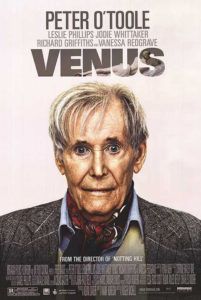 Hollywood expects us to pretend that relationships between older men and younger women are standard, even though most of us cringe at them onscreen. Take As Good as It Gets, where a 60-year-old Jack Nicholson courted a 34-year-old Helen Hunt. Questionable relationship. Lovable movie.
The British film Venus doesn't pretend its relationship between Maurice (acting legend Peter O'Toole) and Jessie (newcomer Jodie Whittaker, who just recently graduated from London's Guildhall School of Music & Drama) is traditional or standard, but rather that there's a quiet poignancy in love, regardless of age. And though there's a fifty-year gap between the two actors, both performers are skilled enough to make their mutual affection believable. Where the film becomes challenging is when we remember that love is often inexorably connected to sex.
As a version of what we imagine is O'Toole's true self, Maurice is an aged actor, getting his best work now playing dying fathers and the like. Each day, Maurice meets with Ian and Donald (played by Leslie Phillips and Richard Griffiths), his likewise ripened friends, to gripe crankily in Grumpy Old Men style about whatever suits them. Ian's topic of choice is his new live-in caretaker, his young relative Jessie, whose inability to cook a good halibut enrages him.
And then Maurice meets Jessie… the ensuing relationship is one where, unless every moment within is described, it begs for misinterpretation. He takes her to night clubs, lets her drink, and yet also exposes her to theater and high art. She wants to be a model; Maurice gets her a gig posing nude for a group of artists.
Their rapport shouldn't be labeled at all, as it would only serve to cheapen their graphic highs and lows. Suffice it to say there's a connection between the two. To him, she's a symbol of desire and youth—a reminder of what his life once was, what his life is now, and the personified memory of his prime.
Eventually, as you could probably guess by the title, Maurice compares her to the goddess Venus. Though that particular goddess is often associated exclusively with sexuality, we realize that for Maurice, Jessie is an icon of beauty, and more importantly youth. Maurice realizes he is very close to death; Jessie's friendship makes his last days less about mourning and more about a rekindling of youthful sensation.
Being the film lovers we are, we understand the truth evident in O'Toole's role. Once, long ago, O'Toole's good looks and onscreen intensity enamored us in Lawrence of Arabia, The Ruling Class, and How to Steal a Million. Now, with his career winding down, O'Toole proves, liken to Maurice, he's still got that indelible charisma.
Audiences might waver during somewhat uncomfortable scenes where Jessie tempts Maurice with a smell of or kiss on her neck—to do so fails to see the point. Why else but to signify the timelessness of love or the spoils of youth, would screenwriter Hanif Kureishi have chosen a theme linked with such a venerable icon as Venus? As though no old man ever recollected the joys of being young…
Directed by Richard Michell (Notting Hill, Changing Lanes), the film doesn't pretend that a sexual relationship is "correct", or even that there is some concrete sexual link between the two. Michell gives their friendship an ambiguous tone, so we're never sure what either will do next. Only their basic mutual affection for each other is apparent.
Venus is not so much a send-off for O'Toole, but an affirmation that he's still capable of great performances. There isn't much to Venus outside of great performances, which is why we appreciate O'Toole even more. Only an actor of his caliber could have pulled this off (and there are so few great actors left comparable to him), making Maurice seem iconic without portraying him as a creepy old man or turning this into a cheeky joke. Though some claim this to be O'Toole's last great role, to me it's a sign that there's plenty more to come in the twilight of his career.