Director

Cast

Rated

Unrated

Runtime

109 min.

Release Date

08/04/2010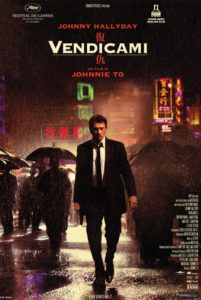 Hong Kong director Johnnie To teams with France's still-kicking rocker Johnny Hallyday for Vengeance, a crime thriller set somewhere between the filmic worlds of John Woo and Jean-Pierre Melville. Playing with Woo's penchant for bloody shootouts and Melville's meticulously paced gangster themes, To's stylish film comes ornamented with incredible set pieces that steal the show. Neither the set pieces nor Hallyday's brooding performance and admittedly commanding onscreen presence, however, make up for the story's reliance on a number of all-too-familiar devices that drag the film down into mediocrity.
François Costello, a Parisian chef and restaurateur, arrives in Macao when his daughter's family is murdered, her husband and two children shot down by Triad gangsters. The pensive hero played by Hallyday (aka 'the French Elvis'), who today looks like a potent mix of Alain Delon and Mickey Rourke, wants reprisals. Costello's daughter, having barely survived the attack, can give him barely a clue as to who the killers may be. Promising retribution anyway, Costello happens upon three hitmen (familiar To faces Anthony Wong, Lam Suet, and Lam Ka-tung) and hires them to find and kill his daughter's murderers, another trio of hitmen working for ostentatious crime boss George Fung (Simon Yam, another To regular). But while Costello works alongside his hired guns, they become "les frères", meaning brothers, or in this case best friends.
Had the story progressed like a standard, predictable revenge scenario, just supported by the methodical and impressive construction that is To's style, the result might feel strangely more innovative. But Wai Ka-fai's script incorporates a Memento-esque complication wherein Costello is plagued by short-term memory loss. A criminal encounter from his mysterious past left him with a lingering head wound; now Costello is forced to take Polaroids of familiar faces and write descriptions such as "enemy" to provide his wavering memory with clues. Since it was so unique in Memento and even The Lookout, the memory loss mechanism feels all the more derivative here. It's used with interesting effect in the finale, where Costello forgets that his daughter was ever murdered; but just when you think the film will take an unexpected turn, it resolves itself with a standard shootout finale.
If not for the familiar way in which the script explores the buddy picture formula or the short-term memory device, the visuals alone would be worth savoring the film. To arrange some gorgeous setups, including a black-as-pitch nighttime shootout whose absolute darkness is only relieved by the moon's infrequent appearance through the clouds. A rainy Macao street fight recalls bustling, neon-lit city scenes from Blade Runner. And there's a surreal sequence where massive cubes of trash paper are used as moveable barriers during a shootout between Costello's hitmen pals and Fung's faceless, poncho-wearing goons. As the gunfire begins and the wind picks up (To uses wind in the same way Kurosawa used rain), the scene may prove to be the most litter-strewn scene ever. These moments are all misted with bullet-induced clouds of blood, a To signature that forgoes the now-prevalent use of cartoonish computer-animated blood splatters.
Poetic violence and chummy camaraderie between men with guns make Vengeance worth watching for fans of Hong Kong crime movies (or French ones, for that matter). The languages range from Chinese to French, and then English, as the common ground language between Costello and his hired hitmen. Although, the emotions portrayed are universal, not to mention so formulaic that it's almost impossible not to see right through them. This is a film about style, and while To's style is commendable, it's too imitative of better directors and better stories, and not in the good, Quentin Tarantino way of imitation. Despite its beautifully filmed shootouts and the charisma of Hallyday, the nonexistent weight of the story fails to engage.