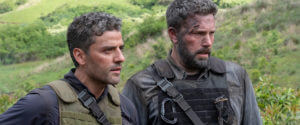 Triple Frontier
2.5 Stars
Director

Cast

Ben Affleck

,

Oscar Isaac

,

Charlie Hunnam

,

Garrett Hedlund

,

Pedro Pascal

,

Adria Arjona

,

Reynaldo Gallegos

,

Sheila Vand

Rated

R

Runtime

122 min.

Release Date

03/13/2019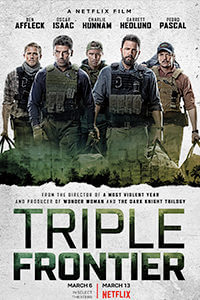 Conventional yet capable, Triple Frontier puts forth an intriguing if prosaic concept that is advanced by a skilled filmmaker, a talented cast, and the Oscar-winning writer of The Hurt Locker (2009). In a dozen ways, it's familiar to other shoot-em-ups and offers no real surprises. But it delivers on a few basic levels that justify a casual viewing. In only his fourth feature, director J.C. Chandor commands a cast of headliners that includes Ben Affleck, Oscar Isaac, Charlie Hunnam, Garrett Hedlund, and Pedro Pascal. Chandor has been overseeing great ensembles since his debut on Margin Call (2011), a film that explained the 2008 financial crisis better than most journalists could. He continued with All Is Lost (2013), an ocean survival tale starring the one (and only) Robert Redford. His best film, A Most Violent Year (2014), was a rich and human crime saga that went unseen by most at the time. After this series of artistic and critical successes—he's never struck box-office gold—Chandor tries something different with Triple Frontier, and its accessibility is indicated by its debut on Netflix after a week-long limited theatrical run.  
In a departure from Chandor's earlier efforts, the film shows him reaching for something bigger and more action-oriented—a bullets-and-bloodshed movie seemingly modeled after The Expendables (2010), except with a prestige cast instead of washed-up action heroes. Executive producers Kathryn Bigelow and co-writer Mark Boal (the team behind Zero Dark Thirty and Detroit) signal the prestige and credibility of the thing, but the result, while chock full of gravitas, doesn't have much depth. It's a familiar scenario, where a band of former mercenaries agrees to help a South American narcotics unit dispose of a ruthless drug lord, whose millions are kept in a secluded jungle hideaway. The mission represents the proverbial one last job for the hired guns, who will get a percentage of the drug lord's recovered cash. The production looks authentic, as Roman Vasyanov's photography, shot on location in Colombia and Hawaii, is often beautiful, aside from the occasional CGI helicopter. And Chandor stages action scenes with visual clarity and cohesion. But somehow the film never moves beyond mere competence.
The first hour of Triple Frontier involves Santiago "Pope" Garcia (Isaac), an independent operative helping Colombian authorities fight a crime lord named Lorea. After years of tracking Lorea, Pope finally has the location of his safe house and, not trusting the corrupt locals, he turns to his former mercenary pals to help him take down the bad guy. All of them are men of a certain age who have moved on from live-fire ops to relatively quieter things, while at the same time stewing over their lack of financial security after tough careers as soldiers. Still, Pope doesn't have trouble convincing U.S. military promoter William (Charlie Hunnam) or his brother Ben (Garrett Hedlund), now an MMA fighter, to join the mission. The resident pilot, Francisco (Pedro Pascal), needs only the assurance of minimal gunfire and the promise of a seven-figure payday before he signs up. Most hesitant is Tom (Ben Affleck), whose life in the private sector as a realtor has been unkind. Tom has daughters to support and bills to pay, so he's averse to risk, but he's also broken and therefore tempted by the financial freedom Pope's job would afford. He agrees to join the group on a consulting basis only.
The buildup to the eventual mission has an immersive quality, though the characters don't have much personality, nor does the screenplay give them a significant dramatic arc. The situation changes, but they do not. Within the first hour, Pope and crew, Tom included, have killed their target and acquired $250 million in stolen drug money. They decide to keep it for themselves, and that's just where things get interesting—or at least more complicated. They have to carry dozens of heavy duffle bags filled with cash, their escape over the Andes falls through, and they're forced into killing to survive, which is something all of them wanted to avoid. And as things fall apart and they're forced to leave cash behind to keep moving, the group resorts to predictable infighting, paranoia, and greed. The best-written character remains Tom, an analytical soldier who gradually begins to crack when the possibility of all that money is presented to him. Affleck, likewise, gives a film-best turn in a two-dimensional performance amid mostly one-dimensional characters. Unfortunately, Chandor and Boal's screenplay has a persistent need to telegraph the film's theme with banal, ruminative dialogue like "We got what we deserved."

A lot of talent has been assembled for what amounts to a modest pleasure, and that cannot help but feel disappointing. Regardless, there are no glaring missteps here. Its high notes include the presence of the cast and the confident filmmaking, which go a long way to keep the viewer watching. The only problem is the completely adequate quality of the film, underscored by its on-the-nose soundtrack: Metallica plays against the opening action sequence; The Eagles reflect the doldrums of Affleck's disaffected suburban life; and Creedence Clearwater Revival's "Run Through the Jungle" plays when the crew, you guessed it, journeys into the jungle. With its unsubtle themes blaring before us, the screenplay could have used some heightening or novelty. Triple Frontier had the potential to be something more than a milquetoast actioner, but even in its current state, it's entertaining enough to keep one from checking their email during an at-home viewing.