Director

Cast

Casey Affleck

,

Chiwetel Ejiofor

,

Anthony Mackie

,

Norman Reedus

,

Aaron Paul

,

Woody Harrelson

,

Kate Winslet

,

Gal Gadot

,

Teresa Palmer

,

Clifton Collins Jr.

,

Michael K. Williams

Rated

R

Runtime

115 min.

Release Date

02/26/2016
John Hillcoat has explored lawlessness on the Australian frontier in The Proposition, in The Road's post-apocalyptic wasteland, and in the prohibition-era backwoods of Virginia in the appropriately titled Lawless. In his fourth directorial effort, the Aussie filmmaker takes to the gritty streets of Atlanta, where dirty cops commit elaborate heists and the good ones find themselves marked for death by their fellow policemen. Triple 9 offers entertainingly tense sequences of brutal violence and absolute moral corruption, even amid plot elements and characters that sometimes feel underdeveloped. Fortunately, an all-star cast including Casey Affleck, Chiwetel Ejiofor, Anthony Mackie, Woody Harrelson, and Kate Winslet adds gravitas and presence to the frenetic presentation. Albeit devoid of any meaningful commentary behind the mayhem on display, Hillcoat's film defies its audience to look away.
The screenplay from 2010's black list of unproduced scripts comes from first-time screenwriter Matt Cook, who borrows heavily for his urban crime saga. Owing plenty of influence to Michael Mann's Heat, Sidney Lumet's Serpico, and HBO's The Wire, Cook's story involves incredibly staged heists and quieter scenes of crackling suspense. In the latter category, a late scene follows a hero cop into rundown public housing, where his assassin could be lingering behind any corner. But no scene in the entire film outperforms the heist from the former category; it's this smart opening sequence in which several masked men rob a bank in the early morning. They're after a single safety deposit box, but one of the robbers takes a bundle of cash conspicuously sitting out in the vault. When a bright red smoke bomb explodes in their cash bag during their getaway, smoke fills their vehicle and makes for a breathless escape.
Not until the red dust settles does the audience get to know the players involved, each of them from various backgrounds. Their ex-Blackwater leader Michael (Ejiofor) has arranged a series of heists for Atlanta's "Kosher Mafia", a Russian-Israeli syndicate headed by the merciless Irina Vaslov (Winslet). Michael had a child with Irina's sister, Elena (Gal Gadot), and now the Russians are ostensibly holding Michael's son hostage for his crew to execute jobs. Joining him are ex-cop and ex-military brothers Gabe (Aaron Paul) and Russell (Norman Reedus), unscrupulous cop Marcus (Mackie), and intimidating detective Jorge (Clifton Collins Jr.). After pulling off the bank robbery opener, Michael is blackmailed by Irina to rob a secret Homeland Security location. His crew resolves the only way to execute such a feat is to distract the city's entire police force by staging a "999"—the police code for "officer down".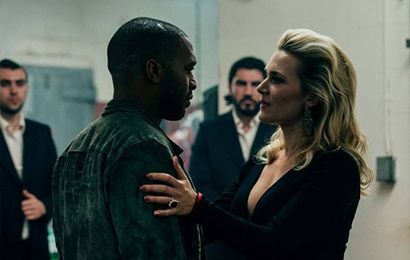 Their obvious target becomes Marcus' new partner, ex-military man Chris (Casey Affleck), freshly arrived out of "Zone 2" and naïve to Atlanta's street law. The beloved, but by no means incapable nephew of major-crimes investigator Jeffrey (Harrelson, at his self-destructive best), Chris shoots straight and hungers for the action of the Middle East. He fills that void on the job: gangland hits that leave three decapitated heads on the hood of a car, confrontations with MS-13 gangsters, and intense shootouts. But his relationship with Marcus becomes increasingly complicated when Michael's latest heist nears. On the periphery, Jeffrey investigates the opening bank robbery and receives some crucial intel from Sweet Pea, a transgender prostitute played by Michael K. Williams.
The Drop lenser Nicolas Karakatsanis captures Atlanta's mean streets with frenzied handheld camerawork and aerial shots of police cars racing down city streets. Shot on location in Atlanta, the film radiates a sweaty concrete realism, while neighborhood scenes feel like so many L.A. crime stories. Hillcoat seems to have shot a lot of footage for Triple 9 and, together with editor Dylan Tichenor, created a fast-paced visual style that jumps from one scene to the next with sharp intention, no doubt leaving a lot of his large cast's character development on the cutting room floor. Nevertheless, the viewer can always follow the action, and the story is never lost along the way. The electronic music by Atticus Ross, Ross' wife Claudia Sarne, his brother Leopold, and Bobby Krlic (aka The Haxan Cloak) binds everything together with an anxious momentum.
Triple 9 has received some criticisms for its displays of masculine aggression, though Winslet clearly has fun playing a cartoonish, ruthless villain. Since the film isn't trying to say much, it's enough that Hillcoat delivers an engaging, exciting, often bloody presentation. Of course, that his cast is one of the best ensembles in recent memory helps. Even as a duplicitous dirty cop, Mackie manages to exude charm and sway our empathy, while Affleck's singularity is commanding. Paul's turn recalls his memorable Breaking Bad role as a drug-addict-with-a-heart, whereas Ejiofor's dogged professionalism recalls James Caan's role in Michael Mann's Thief. Though the ending feels rushed and not every character receives their due as a result, Triple 9 nonetheless provides a strong entry into the crime genre.