Director

Cast

Amy Schumer

,

Bill Hader

,

Brie Larson

,

Colin Quinn

,

Tilda Swinton

,

Dave Attell

,

Ezra Miller

,

Mike Birbiglia

,

Daniel Radcliffe

Rated

R

Runtime

125 min.

Release Date

07/17/2015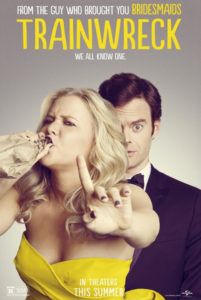 "Don't judge me, fuckers," says Amy Townsend in voiceover, played by Amy Schumer. She has just hopped into bed with a man and faked falling asleep after achieving orgasm. She continues to go about explaining her lifestyle of boozing and bedding random men, and her rule "Never, ever let them sleep over," dominates her emotional detachment from her sexuality. Her father, played by Colin Quinn, carefully instructed his preteen daughters to recite at a young age: "Monogamy isn't realistic." Amy's sister (Brie Larson) ignored their father's lesson and married (to Mike Birbiglia); Amy herself took it to heart. Such is the setup of Trainwreck, a modern romantic comedy written by Schumer and directed-produced by Judd Apatow. Schumer and Apatow play a lot with gender roles and reversals here, making for a unique experience in the rom-com genre, even if the proceedings are ultimately overlong and unfocused.
Amy, the character, has taken after her father, who now suffers from the advanced stages of MS, and whose womanizing ways have shaped her into a romantic cynic. She's a staff writer for S'Nuff magazine, which features articles like "Where to Masturbate at Work" and "Ugliest Celebrity Kids Under Six". Though she hates sports and hilariously considers anyone who likes them a lesser form of human being, she's assigned by her orange-tanned editor (Tilda Swinton, hysterically awful) to write a profile on Aaron Conners (Bill Hader), a celebrated sports injury surgeon. After an interview and a date, she begins to fall for Aaron. She even breaks her own rule and spends the night at his place once they have sex. Soon Amy must overcome her own issues (at one point, she asks Aaron, "What's wrong with you that you would want to go out with me?") before they can move on and be happy.
That's the streamlined version of the plot. In typical Apatow fashion, Trainwreck is filled with a half-dozen or more subplots that muddy-up the otherwise moving and funny story. Early on, during a story strain that could be completely removed, Amy dates an effeminate body-builder (John Cena), whose idea of talking dirty in bed is phrases like, "I'm going to fill you with my protein." Elsewhere, because Aaron works in sports, big names like LaBron James and Amar'e Stoudemire make appearances. Schumer has written these large, otherwise masculine men as dainty and sensitive, contrasting her own gender reversal. Especially funny is James, who at one point corners Amy and asks, "What are your intentions?" toward his friend Aaron. Cena is portrayed as a closet homosexual, as when he engages a distracting movie theater patron by issuing a curious threat: "You know what I do with assholes like you? I lick them!"
Despite making an excellent showcase for Schumer's brand of blue-collar comedy and unexpected range as an actress (she delivers an incredibly affecting eulogy), Trainwreck suffers from Apatow's penchant for tangential comedies that overstay their welcome. Running just over two hours, the film offers a number of pointless sequences and subplots that feel self-indulgent. Consider the scene where James sets up an intervention for the lovelorn Aaron, while Marv Albert provides courtside commentary; the unfunny sequence goes on far too long and proves meaningless to the greater plot. Another aside that doesn't work is the fake arthouse movie, which Amy keeps seeing both in the theater and television, called "The Dogwalker", starring Daniel Radcliffe and Marisa Tomei. It's supposed to be poking fun at black-and-white indie films, but the joke falls flat on its face. And most of the scenes involving her coworkers (Randall Park, Vanessa Bayer, and Ezra Miller) seem superfluous.
The film's best moments revolve around Amy and her crisis of love, a reversal of Alfie (1966) or, if you prefer, something like Ghosts of Girlfriends Past (2009), where the typical womanizer falls in love and realizes the errors of his ways. Schumer hasn't done anything so substantial before. From her stand-up work to Inside Amy Schumer (her uneven sketch show on Comedy Central), none of her work thus far has suggested she was capable of something like Trainwreck. Kudos to Apatow, who usually limits himself to male-centric bromances like The 40-Year-Old Virgin (2005) and Knocked Up (2007), for using his influence to develop Schumer's project and showcase the under-represented female comedian. Much like Apatow's collaboration with Lena Dunham on HBO's Girls, Apatow supports a distinctive voice in comedy.
Indeed, Schumer has written a real and, daresay, even important romantic comedy for the millennial generation; however, that film is somewhat lost amid overextended bits, like a Saturday Night Live sketch that's gone on far too long. At one point, the film makes a lewd reference to Woody Allen's Manhattan. In many ways, Schumer and Apatow have created an Allen-esque New York dramedy. However, Allen knew how to economize his characters and not squander the audience's time and patience on pointless gags; most of his films run around 90 minutes or less, yet contain a vast emotional reach. Schumer and Apatow offer a far more unfocused effort, which is frustrating because what works about Trainwreck works exceptionally well. For that reason, it's worth enduring a few inane jokes and about a half-hour of pointless material to experience the smart, funny, raunchy, and touching humor Schumer and Apatow deliver.