Director

Cast

Ben Stiller

,

Eddie Murphy

,

Casey Affleck

,

Alan Alda

,

Matthew Broderick

,

Téa Leoni

,

Michael Peña

,

Gabourey Sidibe

Rated

PG-13

Runtime

104 min.

Release Date

11/04/2011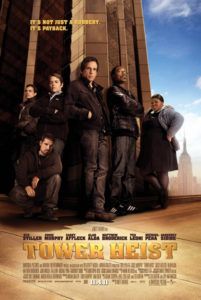 From the opening image captured by cinematographer Dante Spinotti, you might think there's some modern-day relevance fuelling Tower Heist. Benjamin Franklin's eyes stare as we look down from a bird's eye view; the shot pulls back and we see a massive $100 bill painted on the floor of a swimming pool atop the roof of Manhattan's most exclusive residential complex, The Tower (actually Trump Tower). From the pool surfaces Arthur Shaw (Alan Alda), a Wall Street magnate molded from Bernie Madoff. We learn later that Shaw has defrauded his clientele and is remanded to house arrest pending his trial. The Tower's lowly working-class staff, so dedicated they refuse any tips from their select residents, discovers their pensions managed by Shaw are now gone. And so they resolve to infiltrate Shaw's heavily guarded penthouse apartment and steal the considerable loot he has squirreled away.
Sounds fun, right? Like good old-fashioned escapism in the heist movie blueprint of Ocean's Eleven and its sequels, complete with an A-list cast. But this is a B-movie, to be sure. Undemanding recession-era moviegoers eager to see a Wall Street fatcat take a tumble may find solace in the outcome, but the script by Ted Griffin and Jeff Nathanson hardly injects the social consciousness it could, and perhaps should have. In fact, some may take issue with millionaire actors playing characters who represent the common man's desire to see such a swindler receive his comeuppance. After all, it's not as though this roster of celebrities (Ben Stiller, Eddie Murphy, Casey Affleck, Téa Leoni, and Matthew Broderick) doesn't live in posh homes and lavish apartments—or both—themselves. In effect, we're watching a group of millionaires pretend not to be millionaires and conspire to take a millionaire's millions. But it's all in good fun.
As expected, director Brett Ratner, the celebrated hack behind Rush Hour (and thus Chris Tucker's inflated, undeserved paychecks), delivers a movie intended as light entertainment. The Tower's staff, headed by their general manager Josh Kovacs (Stiller), knows little about robbery when Josh recruits them to steal Shaw's hidden cash. There's supposed to be $20 million up there, according to FBI Special Agent Claire Denham (Leoni), who befriends Kovacs after he loses it and smashes up Shaw's prized Ferrari, only to get fired for his outburst. With nowhere else to turn, Kovacs enlists concierge Charlie (Affleck, underused), elevator operator Enrique (Michael Pena, overused), veteran doorman Lester (Stephen McKinley Henderson, jolly), Jamaican cleaning lady Odessa (Gabourey Sidibe, amusing), and a former tenant-turned-unemployed-stockbroker Fitzhugh (Broderick, cashing in) to hatch a caper. But Kovacs believes they need some criminal experience on their side, so he hires childhood acquaintance and confirmed hood Slide (Murphy, also producer) to assist.
Like any heist movie, there's a period of planning that proves funnier than anything to follow. Murphy heads these scenes, and there's a palpable attempt to establish a wild card/straight arrow pairing between Murphy and Stiller as Ratner's self-rival to Tucker and Jackie Chan. It doesn't work. By the time the scheme unfolds, plot holes galore go ignored, probably because Ratner suspends a big red Ferrari outside The Tower with a cable, this with the Macy's Thanksgiving Day parade going on below. Ratner never bothers to explain why everyone looking up at gigantic Snoopy and Kermit balloons fails to notice an automobile dangling from a skyscraper, but why hope for logic when it's been disregarded so? The actors are serviceable in their roles, the obvious standouts being Leoni's charm and Alda's capacity to fulfill a slippery-as-snot movie villain. Otherwise, everyone else seems like they're on autopilot, filling their roles as contractually obligated to do so for their no-doubt sizeable payday. (One can't help but recall that Steven Soderbergh's all-star cast in the Ocean's trilogy took pay cuts to appear in those films, but there have been no such reports concerning Tower Heist's talent.)
The last thing you should know about Tower Heist is this: Universal Studios originally planned to broaden the video-on-demand market from limited release indie fare to blockbuster entertainment, starting with Ratner's movie. Their scheme intended a theatrical release date of November 4, followed by a test market (in Atlanta and Portland) VOD release three weeks later, just in time for Thanksgiving, in which consumers would be asked to pay $60 per viewing (!). Shaw-esque Universal execs came to their senses after several theater chains threatened to boycott showing the movie at all if the studio went ahead with their plan. Any true cinephile couldn't possibly side with the studio in this case, as commercial titles like this flood every multiplex in the civilized world, whereas, for example, same-day debuts for IFC's releases make sense because of their general limited theatrical distribution. If all had gone as planned, it could have been a major threat to the future of movie theaters. In other words, Brett Ratner almost killed cinema. Granted, it feels like he's been doing that for years. But this time, he actually came close. We're watching you, Mr. Ratner.