Director

Cast

Tom Cruise

,

Kelly McGillis

,

Val Kilmer

,

Anthony Edwards

,

Tom Skerritt

,

Meg Ryan

,

Michael Ironside

,

Rick Rossovich

,

John Stockwell

Rated

PG

Runtime

110 min.

Release Date

05/16/1986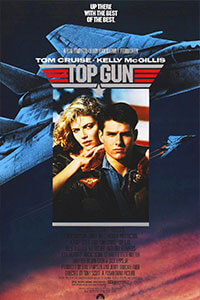 The first images in Top Gun, the 1986 hit about Naval aviators that made Tom Cruise a superstar, build a montage that has the energy of a soft drink commercial. Against the opening credits, a ground crew aboard an aircraft carrier prepares planes for takeoff. It's an iconic-looking sequence, complete with slow-motion and director Tony Scott's regular use of red lens filters at sunrise to heighten the visual drama. Then Scott's name appears onscreen, prompting jet engines to fire and Kenny Loggins to sing about the "Danger Zone." Now the shots escalate to showcase planes taking off, marshallers directing traffic, aircraft landing, and the enthused reactions of the deck crew in a random confluence of guitar riffs and positivity. At any moment, you expect someone will open a Pepsi, look at the camera, and announce some hollow slogan. Legendary critic Pauline Kael, undoubtedly aware of Scott's background in commercials, asked in her review of Top Gun, "What is this commercial selling?" She noted the film's famous homoerotic overtones, but that wasn't intended by the filmmakers, even if it drips off the screen in salty beads of man sweat.
Instead, as intended, Top Gun serves as a jingoist chunk of Cold War propaganda designed to reinforce Reagan-era ideologies about being "the best"—a concept that saturated 1980s cinema in several Rocky sequels and various other sports and military movies…
---
The full review is currently posted on Patreon. Join Deep Focus Review's Patron community, and you'll receive exclusive access to this review and many others published on Patreon first.
Patrons also get access to:
• Exclusive weekly blog posts
• Streaming recommendations every Friday
• Polls to pick the movies reviewed on Deep Focus Review and Patreon
• Pick your own "Reader's Choice" review (at the Screenwriter tier or higher)
• Polls that decide the next entry in The Definitives