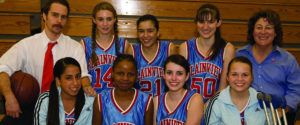 The Winning Season
3 Stars
Director

Cast

Rated

PG-13

Runtime

104 min.

Release Date

09/03/2010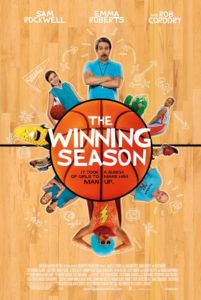 Sports coaches plagued by personal problems but gifted in the art of strategy are an all too common stereotype for the sports movie genre. Flaws are what make the coaches' triumphs more dramatic and noble, as their teams' struggle to win mirrors their inner battle. These coaches are often drunken curmudgeons clinging onto a failed marriage, but they find love and composure only on the field, in the rink, or, in the case of The Winning Season, on the basketball court. No doubt such roles are a pleasure for any actor to play, but how unlikely a role for someone like Sam Rockwell, the versatile actor behind several of 2009's greatest performances in Moon. Then again, Gene Hackman's similar role in Hoosiers was just as unlikely, as was Walter Matthau's in The Bad News Bears.
No one does hit-rock-bottom quite like Rockwell (see Snow Angels or Confessions of a Dangerous Mind), whose character Bill serves as a busboy when the movie opens. He's estranged from his unruly daughter, Molly (Shana Dowdeswell), and his ex-wife doesn't help matters; but thanks to his drinking, Bill isn't exactly a responsible person. When he's approached by an old high school friend, Terry (Rob Corddry), who's now the school's principal, to coach the girls' varsity basketball team, Bill takes the job, albeit reluctantly. Though he was a basketball star back in the day he knows nothing of girls' basketball. And when he gets his first look at the six unimpressive players that comprise his team, including one sporting crutches for her broken foot, he regrets taking the job. Instead of quitting, he behaves like a sarcastic jerk, swearing at the girls and belittling their sport in a way that's funny instead of mean-spirited. It's a talent of Rockwell's to play horrible people yet remain likable.
Manufactured are moments of bonding, where Bill learns that the girls are helping him to become a more responsive parent, while he helps the girls become a close-knit team. At first, the girls band together against Bill, whose asshole-ish behavior earns him mutual disdain among his players. There's even friction between teammates, namely because they don't like the new girl of Mexican descent. Of course, as soon as a player on an opposing team calls the girl a "wetback", her teammates band together and defend her honor. Assisting Bill is the team's middle-aged lesbian bus driver, played by Margo Martindale, a sensitive sort that gives the coach some insight on how to talk to teenage girls. Luckily, each of the girls conveniently has daddy issues, and the broken Bill character serves as a makeshift father figure, but one to which they can offer advice on how to handle his own daughter.
Here's a movie that employs all your standard, overused sports movie formulas—everything from the obligatory training montage to rousing 'Big Game' suspense—and makes it work with strong writing and fine performances. Writer-director James C. Strouse goes from his sobering Iraq War human drama Grace is Gone to something more mainstream and aligned with the underdog comedic appeal of Little Miss Sunshine, and reminds us that formula works when supported by a spirited approach. Embracing sports movie tropes through a girls' basketball team run by an abusive, helpless drunk gives the tired tale of a loser team achieving victory a fresh outlook.
However, the primary reason for seeking out The Winning Season (and you will have to seek it out; the film premiered at Sundance earlier this year and has only received limited theatrical distribution by Lionsgate) is Sam Rockwell. While the cast of girls—including Emma Roberts and Rooney Mara—might present a draw for some teens, the material is largely for adult audiences that will appreciate the actor's sardonic attitude when, for example, he blows smoke in the face of one of his players. Rockwell once again proves that he should be a bigger star than he is. While a supporting player in high-profile productions such as The Green Mile and Iron Man 2, he's become a fantastic leading man for independent productions such as this and makes the movie better than it has any right to be.