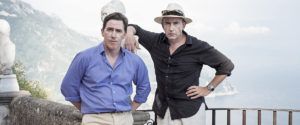 The Trip to Italy
3.5 Stars
Director

Cast

Rated

Unrated

Runtime

108 min.

Release Date

08/15/2014
Michael Winterbottom reteams with comedians Steve Coogan and Rob Brydon for a second cross-country holiday of sorts in The Trip to Italy, a sequel to 2010's The Trip. Coogan and Brydon once again play fictionalized versions of themselves, tasked by London's Observer to review restaurants, this time six meals in Italy. Never mind that neither of them is a professional food critic; the setup serves as an excuse to revel in their improvised exchanges. With no credited screenwriter, the film, shot cheap and fast by the prolific Winterbottom, feels like a loose assemblage yet looks gorgeous thanks to the Italian backdrop. And while fascinating conversations over haute cuisine may seem My Dinner with Andre-inspired, the largely ad-libbed material contains no profound philosophical revelations, but rather an articulated sense of wit, enhanced by some wonderfully rendered impersonations of well-known screen actors.
After a little preamble, Coogan and Brydon arrive in Italy and, in a nod to The Italian Job, rent a Mini Cooper. Thanks to a faulty iPod jack, their driving music becomes the sole CD that Brydon brought along: his wife's copy of Alanis Morissette's Jagged Little Pill, which they blast for some hilarious sing-alongs. Driving in the gorgeous countryside or jammed in Rome's narrow street traffic, they arrive at their restaurant destinations and savor picturesque meals that would make the Food Network jealous. Brief cutaways to the kitchen staff's preparations account for the only appreciation of the cooking itself, but then gastronomy is hardly the film's concern. Even if our mouths water over their achingly edible plates, it's enough that, in a way, we're joining Coogan and Brydon at their table and feel like participants in their conversations.
Expert conversationalists, the two engage in scholarly debate and reflection about Lord Byron and Percy Shelley, and their time in Italy (just as discussions of Coleridge and Wordsworth consumed scenes in The Trip). But they're also constantly trying to one-up each other, to prove who's the better entertainer through their impersonations of celebrities like Robert De Niro, Hugh Grant, various James Bonds, and, of course, a revival of their dueling Michael Caine routine from the original. Perhaps the funniest moment in the film centers on their critique of—what has been perceived as—the inaudible dialogue from The Dark Knight Rises. Coogan's hand-covers-mouth version of Tom Hardy's Bane encounters Brydon's tongue-on-tooth interpretation of Christian Bale, and the two hash out an unintelligible conflict with Coogan playing an assistant director who tries to get Hardy and Bale to speak more clearly. It's the kind of scene you'll need to watch twice because you were laughing too hard the first time around to catch every joke.
Their brilliant timing and jabs at each other persist as they visit locales such as the "Bay of Poets" on a tour of romantic poetry hotspots. They also hit cinematic landmarks, such as the Casa Malaparte cliff from Jean-Luc Godard's Contempt, the street where Gregory Peck lived in Roman Holiday, the villa where John Huston and Humphrey Bogart filmed scenes for Beat the Devil, and the skull-laden catacombs where Ingrid Bergman visited in Voyage to Italy. Coogan delves into melancholy more than once, whereas Brydon finds it difficult to take anything seriously—except his infidelity with an attractive British tour guide (Rosie Fellner). When they visit Pompeii, a preserved body in a glass box incites Brydon's small-man-in-a-box bit, but Coogan walks away, disgusted that Brydon doesn't appreciate that the lava-kept corpse was once a living person. Both men have growing concerns: Coogan is preoccupied with his age, mortality, and his relationship with his teenage son; Brydon feels neglected by his preoccupied wife and nervously excited about an audition for a Hollywood feature film role.
Although neither the original nor the sequel measure up to the first Winterbottom-Coogan-Brydon grouping on Tristram Shandy: A Cock and Bull Story (2005), these films contain an infectious watchability and humor that is, refreshingly, rooted in wit and facetiousness instead of the more commonplace modes of humor popular in today's comedies. Coogan and Brydon have a pitch-perfect blend of self-effacing comedy and haughty arrogance, culture and setting, and a smart kind of silliness. As such, this non-commercial IFC Films release debuts in arthouse theaters and will likely find its audience on assorted VOD platforms. Future trips seem inevitable and welcomed, as an evening or afternoon with these two, regardless of (and perhaps even enhanced by) their personal baggage, makes for an unlikely but delightful cinematic holiday. Maybe North America, France, or India will come next. Let's hope so.