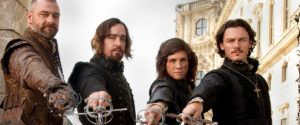 The Three Musketeers
1 Star
Director

Cast

Matthew MacFadyen

,

Logan Lerman

,

Ray Stevenson

,

Milla Jovovich

,

Luke Evans

,

Mads Mikkelsen

,

Orlando Bloom

,

Christoph Waltz

Rated

PG-13

Runtime

110 min.

Release Date

10/21/2011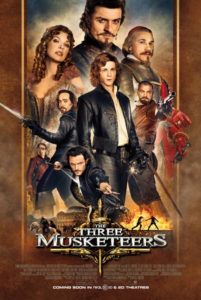 Taking a break from videogame adaptations and sci-fi horror, director Paul W.S. Anderson tries his hand at period adventure with The Three Musketeers, a sour swashbuckler on par with Cutthroat Island, or more appropriately, The Man in the Iron Mask. Anderson's blindly enthusiastic production feels like something straight out of The Rocketeer's mid-1990s style. It's backed by an eclectic cast, some genuine talents and others not too genuine, and that's a good way to describe this film: several genuinely entertaining moments, and others so ineffective or so over-the-top that the result never feels congruous. Revamping Alexandre Dumas' classic tale, Anderson "modernizes" the proceedings with hot-air flying ships, flamethrowers, and his wife, Milla Jovovich, running through trap-laden corridors of gunfire and razor-sharp wire (as opposed to lasers). Afterward, any sane moviegoer will be left scratching their head and asking themselves what the hell just happened.
The absurdity begins with a narrated prologue that notes how the enduring conflict between England and France marks the coming "apocalypse." One expects at any moment, typical Anderson zombies will come barreling out onto Paris' streets as they did in Raccoon City, but perhaps he's saving that development for the sequel—which, based on the epilogue, Anderson fully anticipates. (Maybe Anderson intends to combine this franchise with a prequel to his never-ending Resident Evil movies.) The over-plotted story begins when our heroic trio of musketeers has been sacked due to "budget cuts," leaving Athos (Matthew Macfadyen), Aramis (Luke Evans), and Porthos (Ray Stevenson) to work with the duplicitous Milady de Winter (Milla Jovovich). In the opening sequence, they enter Venice to steal Leonardo Di Vinci's secret plans for a flying warship. The plot thickens like cold gravy when Milady, a femme fatale with plenty of newfangled gizmos hidden in her corset, betrays the musketeers to England's Duke of Buckingham (Orlando Bloom), but only later to double-cross the Duke in favor of Cardinal Richelieu (Christoph Waltz), who plans to overthrow France's sniveling, teenaged King Louis XIII (Freddie Fox).
Enter young apprentice D'Artagnan, played by the annoyingly cocky Logan Lerman (from the failed Percy Jackson movie) sporting a scruffy dog 'do. D'Artagnan joins the musketeers on a mission to undermine Richelieu's scheme to overtake France by making the Queen (Juno Temple) appear to be unfaithful when her heavily guarded diamonds are placed in Buckingham's possession. Forced action sequences become increasingly ridiculous in Anderson's part retro, part futuristic vision of 17th Century France, but any hope for historical realism flies away when the first flying warship appears. Afterward, anything might happen and usually does, courtesy of Jovovich's many slow-mo sword fights and high-wire acrobatics. Worse than the action scenes is the painfully unfunny comic relief, largely perpetuated by Brit comic James Corden as the servant Planchet in a recurring "Shut up Planchet!" joke.
Why so many talented actors signed to this thing remains mysterious. It's a small crime that thesps like Macfadyen (surprisingly dashing) and Waltz (in another effective villain role) take second tier to Lerman, who is so out of his depth and uncharismatic that it's any wonder he was cast. Mads Mikkelsen, playing yet another character with an eye malady (see Casino Royale and Valhalla Rising), makes a decidedly seedy Basil Rathbone-type villain as Rochefort, although his final duel with D'Artagnan atop Notre Dame, which is almost crushed by the weight of a downed flying warship, is uninspired. Bloom seems to be acting for a Saturday morning cartoon; his vocal inflections are hilariously garish in an animated Bond villain way, and his soaring coif and silly mustache are the cause of unintentional laughs. But Jovovich has center stage over the lot, her character written with the best dialogue and most action scenes, as clearly her hubby was playing favorites when he developed the script with writers Alex Litvak (Predators) and Andrew Davies (1995's Pride and Prejudice miniseries).
Anderson doesn't use 3D as well as he did in Resident Evil: Afterlife, still the best 3D implementation of the device I've ever seen (yes, even better than Avatar), despite being a bad movie. Swords plunge at the viewer in predictable coming-right-at-you jabs, but there are fewer wowing 3D shots than in that film, with one exception: cinematographer Glen MacPherson captures grand French salons with low angles, his actors in the foreground, and the rooms receding with impressive depth that almost places the viewer at the scene. But aside from this solitary visual flourish, and the gorgeous costumes by Pierre-Yves Gayraud, Anderson's movie is a messy, wannabe Pirates of the Caribbean fantasy that miscalculates its own level of fun, which is not so much. Anderson's customary slapdash approach spoils everything onscreen, and his notable roster of performers, not to mention his audience, suffer for it.