Director

Cast

Michael Fassbender

,

Rebecca Ferguson

,

Charlotte Gainsbourg

,

Jonas Karlsson

,

J.K. Simmons

,

Val Kilmer

,

David Dencik

,

Toby Jones

,

Chloë Sevigny

,

James D'Arcy

Rated

R

Runtime

119 min.

Release Date

10/20/2017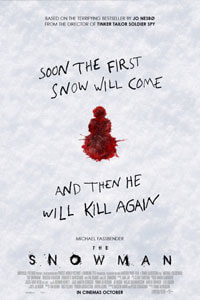 Contributing to the tradition of Scandinavian noirs from authors such as Stieg Larsson (The Girl with the Dragon Tattoo series) and Henning Mankell (the Wallander books), Norweigan crime novelist Jo Nesbø has written eleven murder mysteries about brooding Detective Harry Hole. The Snowman marks the first Hollywood adaptation of a Nesbø book, and those familiar with the "Nordic noir" subgenre will recognize its tropes: a dour and overcast setting on the frozen tundra, a sadistic killer taunting authorities, twisted sexual appetites, a vast conspiracy involving powerful public figures, and a central investigator with enough personal problems to justify his uncanny aptitude for understanding the criminal mind. The film's overly familiar setup has been adorned with a cast of talented performers and a promising director in Tomas Alfredson, the Swedish helmer of Let the Right One In, but the messy result borders on incoherent nonsense suitable only for apologist fans of the tired serial killer yarn.
Although, admittedly, I have not read the book on which the film was based, the screen story plays out in hackneyed, predictable, and often silly ways. Michael Fassbender lends his gravitas to Det. Harry Hole, an alcoholic who, when he isn't passed out in some random public place, occasionally shows up to his post at the Oslo Crime Squad. He's a brand of self-destructive that ignores warnings of black mold in his apartment, chain-smokes, and doesn't appear at work for days at a time. He maintains a cagey relationship with his ex-lover Rakel (Charlotte Gainsbourg), acting as an estranged father figure to her teenage son Oleg (Michael Yates). Harry seems barely interested in a series of killings in Norway, supposedly evidence of the country's first serial killer, at least according to his department's latest addition, Katrine (Rebecca Ferguson). She insists that a pattern has emerged among several women, all of whom have had abortions and disappeared in the area on snowy days. When Harry realizes a cryptic letter he received matches the killer's modus operandi (decapitating or otherwise removing his victims' heads, and then leaving his calling card: a snowman), he begins to investigate in the detached, noncommittal way to which he's accustomed.
In a partnership devoid of chemistry, Harry and Katrine conduct interviews but never seem to get anywhere. Katrine has her own objective as well—trying to nab a seedy mogul (J.K. Simmons) who vies for the Winter Olympics to take place in Oslo while conducting an ill-defined underground sex ring. Along the way, the audience meets a number of red herrings, though the killer will be obvious to astute viewers despite the frequent attempts at misdirection. David Dencik plays a doctor whose creepiness is signaled by the camera's glance at his toenail polish. James D'Arcy plays the grumpy husband of one victim. Jonas Karlsson is Mathias, Rakel's current lover with plenty of reasons to feel jealous about the lingering presence of Harry in Rakel and Oleg's life. But then what do we make of the film's periodic, often perspective-less flashbacks—sometimes in monochrome, sometimes not—that relay aimless informational bits at odd moments? The flashbacks recount an unclear subplot about a similarly drunk and depressed Det. Rafto (Val Kilmer, looking as though he shot his scenes perhaps too soon after his cancer treatment; his lines sound to be entirely looped) and his partner (Toby Jones) investigating a similar murder and conspiracy several years earlier.
Shot in Norway and beautifully lensed by Dion Beebe, the film looks sharp, but editors Thelma Schoonmaker and Claire Simpson cut the material in an almost nonsensical fashion, creating little narrative rhythm or order between images and scenes. The viewer will struggle to understand the geography of many sequences, or how one scene plays into the next, if at all. This is all rather confusing and unexpected from Alfredson, whose earlier work maintains a conspicuous attention to shot logic and consistency, and longtime Martin Scorsese (who executive produces here) collaborator Schoonmaker, easily one of the best editors in the history of film. The bizarre structure of plot distractions and unqualified flashbacks proves disorienting and incohesive, resulting in a two-hour film whose plot feels assembled from an hour or more of diversionary devices. The screenplay by Peter Straughan (who adapted Alfredson's Tinker Tailor Soldier Spy), Hossein Amini (Drive), and Søren Sveistrup (developer of Danish television's The Killing) boasts enough impressive writer credits to justify serious questions about what went wrong.
According to Alfredson in a recent report to The Independent, the production ran out of money, and large chunks of the screenplay went unfilmed, leaving a "jigsaw puzzle" left to assemble. To be sure, the picture has a definite Frankenstein quality. Structurally, The Snowman's serial killer mystery scenario gives way to a convoluted plot and hammy scenes of gratuitous, grisly violence (severed heads, shotgun blasts, dismemberment, etc.), and none of it proves engaging, regardless of the fine-looking production and solid cast. The performances from Fassbender, Ferguson, and Gainsbourg remain unconvincing, while the characters seem unmotivated and driven more by the writing than their choices. Worse, the character revelations are inconsequential and devoid of import, making the entire experience feel pointless. Whereas David Fincher (with 2011's The Girl with the Dragon Tattoo) and Kenneth Branagh (in his impressive Wallander series on the BBC) have demonstrated the effectiveness of Scandinavian noir, the attempt by Alfredson to bring the appropriate balance of moody substance and uncheapened intrigue to the proceedings fails, rather miserably, regardless of who or what is to blame. It's all quite puzzlingly awful in a way that leaves the viewer confused and disappointed.