Director

Cast

Rated

R

Runtime

81 min.

Release Date

12/09/2011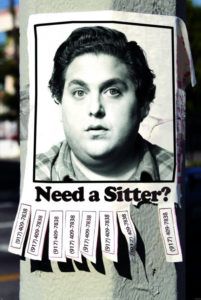 In The Sitter, Jonah Hill stars as a loser who undervalues himself and therefore remains a loser, until, of course, he realizes that he isn't a loser. To woo a girl he like-likes, he sets out on a series of misadventures to obtain "party favors," all in hopes of showing up to the party well-supplied and finding his would-be girlfriend so grateful that she'll sleep with him. Sound familiar? The only major difference between this movie and Superbad is that instead of Michael Cera and McLovin, Hill is joined by a trio of children. This Apatow-esque urban road trip supplies several laughs due to Hill's spot-on comic timing and pitch-perfect sarcasm, but its overreliance on racial stereotypes and crude humor exist within plotting so familiar it frustrates, making the experience remarkably dull.
Having been kicked out of college for reasons that are never fully explained, Noah (Hill) is unemployed, lives at home with his single mother (Jessica Hecht), and has been arrested several times (again, never explained, just mentioned). But he's nice enough to want his lonely mother to have a pleasant blind date, so he agrees to babysit her friend's children, allowing the two couples a night out. He arrives at the moneyed home ready to watch television and vege-out, as most babysitters do, only to find the children simply won't allow it. The eldest, a 13-year-old named Slater (Max Records), believes he has a nervous condition, although he might just be sexually confused. The little girl, a future Brittney Spears-type named Blithe (Landry Bender), gobs on makeup and dreams of becoming a celebrity. The family has also adopted the next Scarface, an El Salvadorian orphan named Rodrigo (Kevin Hernandez) who has an affinity for detonating firecrackers and stabbing random objects with a knife.
Before Noah settles into his couch potato routine, he receives a call from his loathsome pseudo-girlfriend Marisa (Ari Graynor), who allows Noah to perform cunnilingus but won't return the favor, or commit. With Noah wrapped around her finger, she asks him to pick up cocaine in exchange for "actual" sex. And so, with little hesitation, Noah loads the kiddies into their parents' minivan and heads to the big city, where he exposes them to much they shouldn't see, all to please his sloppy-drunk-of-a-girlfriend. The great Sam Rockwell (Moon) plays Karl, an eccentric drug dealer who, instead of having topless women cut his cocaine, hilariously employs a group of buffed-up male bodybuilders on rollerskates. One thing leads to another, and Karl is after Noah and the kids because he thinks they stole $10 thousand in cocaine. They did. Because more mishaps make the cocaine unreturnable, Karl wants money instead, and Noah enlists the children's help to get it.
Meanwhile, writers Brian Gatewood and Alessandro Tanaka set down a personal dilemma from which each child learns a valuable life lesson: Blithe learns that she doesn't need caked-on makeup; Slater learns that he's in denial about his homosexuality (Records is first-rate in his follow-up to Where the Wild Things Are); Rodrigo learns he doesn't need to blow things up for his foster family to notice him. Blah-blah-blah. Such problems are solved in predictable heart-to-hearts with Noah, who seems to have a profound understanding of life, despite being unable to get his together. By the end, Noah saves the children, stops the drug dealer, and gets the girl—all in very unsurprising ways. Everyone's wiser for the experience, except the audience, because we've anticipated every turn.
Not that there's anything wrong with leaning on established formulas, but there's no edge to this film to raise it above its blueprint—not even from Rockwell, who's usually reliable in his oddness. No matter how many funny that's-so-wrong situations there are with kids saying things they shouldn't, the film doesn't compensate for the script's overall blandness with its humor. Mind you, there's nothing offensively bad about The Sitter, just that it feels that about 20 minutes were chopped off the 80-minute runtime, leaving only obligatory bits of dry plot. Director David Gordon Green—once an indie film director behind George Washington and Snow Angels, now the helmer of stoner comedies like Pineapple Express and Your Highness—does little to prevent this derivative riff on Adventures in Babysitting from being compared to better movies that inspired it. However, "inspired" is perhaps a poor choice of words on my part. This movie is anything but that.