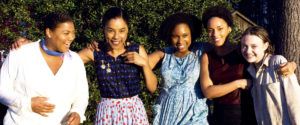 The Secret Life of Bees
3 Stars
Director

Cast

Rated

PG-13

Runtime

110 min.

Release Date

10/17/2008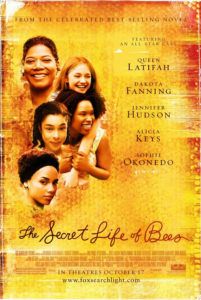 The Secret Life of Bees is a pleasant little film that reduces overwhelming ideas into light emotional drama. Based on the novel by Sue Monk Kidd, grand historical events occur in the backdrop, while comparatively insignificant personal melodrama plays out in the foreground. By no means does this make the result less effective—far from it. Tears were rolling down my cheeks at appropriate moments, just like everyone else in the audience. But upon reflection, its resonance fades. Set in South Carolina circa 1964 during the beginnings of the Civil Rights movement, the film barely touches on these matters. They're an afterthought to the adolescent trials of a fourteen-year-old girl named Lily Owens (Dakota Fanning). With her mother dead, Lily lives with her emotionally absent father T. Ray (Paul Bettany) but mostly clings to their hired help Rosaleen (Jennifer Hudson), a single-minded young woman bent on achieving her right to vote.
Plagued by horrible memories surrounding her accidental involvement in her mother's death, Lily finds herself struggling to learn about her mother, gone now for ten years. T. Ray spins lies about her childhood, so she has no choice but to dream and hang on to the few odds and ends left by her mother—among them an image of a black Madonna and Child, with the name of the nearby town of Tiburon written on the back. And when Rosaleen finds herself arrested for fighting with a white man over a matter of pride, Lily helps her escape, using their getaway as an excuse to visit Tiburon, where her mother once settled.
There she finds, living inside an Easter-pink house far away from the goings-on of the outside world, the Boatwright sisters. Honey makers and cultural magnates of their household, they've created a private island that, being Black women in the South, during that era, seems like a wonderland removed from the real world. The queen bee, August (Queen Latifah), manages the honey business, overseeing the daily operation, as well as providing the heart for her family. June (Alicia Keys) is a complicated but barely explored character; clearly educated, she partakes in Civil Rights demonstrations and plays the cello. May (Sophie Okonedo), the simple but lovable type, takes all matters of sadness to heart.
Lily convinces August and her sisters to give her and Rosalee room and board in exchange for work on their honey farm. With a vacant hole inside her, Lily has a pressing need to be loved and finds herself welcome among the Boatwrights. Much of the film's joy resides in simple interactions between the women, who appear comfortable with each other, clearly radiating contagious happiness. And though racism and the corrupt prejudice of the South rear their ugly heads, Lily's search for self-understanding through the memory of her mother overshadows such concerns.
Each performer eclipses the film's sentimentality—laden with modern folksy songs on the soundtrack for a curious anachronism—by commanding their roles with effortless personality. Dakota Fanning proves she's more than a child star, but a fine young actress with capable range. Latifah's imposing and graceful presence has always been a pleasure to behold. Keys and Okonedo fill their parts nicely. And although the British actor Paul Bettany should be in starring roles by now after impressive turns in A Beautiful Mind and Master and Commander, he nonetheless astounds as an embodiment of white-trash anger.
The historical and metaphoric settings both complement and disparage The Secret Life of Bees. The symbol of the Boatwright home as a bee hive is blatantly obvious. Every subplot contains potential meaning beyond the scope of Lily's search for her identity since we feel the African American women have more to fight for, not only in terms of racial equality but for their impressive feminist prowess. And yet, Lily's arc remains moving, sweet, and indeed heartbreaking at times. We cannot help but empathize and find ourselves wholly committed to her story. Still, aren't the filmmakers selling the other characters short by devoting so much time to Lily's conflict? Post-film ponderings aside, the direct impact of the picture is unquestionably tender, worth overlooking the apparent flaws for a welcomed and satisfying tear-jerker.