Director

Cast

Rated

R

Runtime

109 min.

Release Date

03/19/2010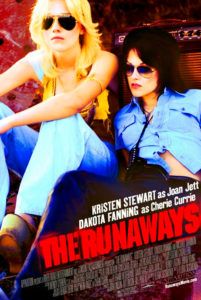 Using the standard formula for seemingly every Hollywood rock 'n' roll biopic, The Runaways follows Kristen Stewart's Joan Jett and Dakota Fanning's Cherie Currie as they make names for themselves in their rebellious 1970s all-girl rock band. Dwelling on Currie's descent into drugs and her eventual departure from the group, the film proves a showcase for the ever-growing talent of Fanning, who steals the show from her top-billed costar Stewart. But the generic rise-and-fall formula of the presentation makes what should be a brazen tale of pop-culture-turned-upside-down into something very evidently sanitized for mass consumption.
If you've seen The Doors or Ray, or any of the dozens of musician biopics, you know the story told by the film's writer-director, Floria Sigismondi, helmer of music videos for everyone from David Bowie to Marilyn Manson. Based on Currie's autobiography, Neon Angel: A Memoir of a Runaway, the film merely mentions the equal parts exploitation and empowerment that made The Runaways popular. The film takes for granted and therefore doesn't quite capture why, in the mid-to-late 1970s, their approach to rock was so unique. Their brief streak of counter-culture is explained away with the violent strumming of an electric guitar, and therein the implied pronouncement of girl power.
In 1975, teen guitarist Joan Jett approaches famed eccentric music producer Kim Fowley (Michael Shannon) to form an all-girl rock band. Fowley teams her with drummer Sandy West (Stella Maeve), guitarist Lita Ford (Scout Taylor-Compton), and a bassist (a fictional, amalgamated role of several bassists merged into a character named "Robin" and played by Alia Shawkat). While slithering through night clubs they find their lead singer Cherie Currie, who has that "jailbait" look Fowley wants to sell. During rehearsals, Fowley lets loose on the girls, all under 19-years-old, in profane rants about how to sell themselves as sex objects to the general public. The band never breaks in America, but they're a smash in Japan.
Half-way around the world, separated from her family, and unsure how to handle fame, Currie escapes through lots of drugs and drink. Meanwhile, her broken family—complete with drunken father, estranged mother, and bitter sister—linger in the back of Currie's mind. Because of this, she's the only tangible character in the band, whereas the other members feel periphery and are give no backstories onscreen. By the end, viewers may feel robbed because the movie says little about Jett's past, Currie life as a "chainsaw artist" subsequent to the band's break-up, and the huge popularity of Jett after the two split. Sigismondi feels it's enough to say that "I Love Rock 'n Roll" was a hit for Joan Jett and the Blackhearts, and that's all the more we learn in the end.
Though Fanning and Stewart certainly don't match their real-life counterparts in terms of vocal talent, that the actresses really sing the songs performed in the film adds a level of authenticity. The performances are really where the enjoyment of the film comes from, even if that doesn't prove enough. Fanning takes some surprising risks for the role; she's 15 playing a girl her own age who Fowley calls "the lost daughter of Iggy Pop and Brigitte Bardot". It's somewhat controversial that she was allowed to present herself with such raw sexuality, but then if there's one thing we've learned about the very bright Fanning, it's that she's a consummate professional.
Stewart, who pealed herself away from the ongoing Twilight series to attempt a real performance, plays Joan Jett rather blandly and predictably, and she never disappears into the role. There's always a hint of Stewart underneath the black hair and leather, and that's disappointing. She's overshadowed not only by Fanning, but by Shannon, who seems dedicated to playing the craziest roles in Hollywood. Prior to being nominated for an Oscar for his role as the ex-mental patient who 'gets it' from Revolutionary Road, he was slicing imaginary insects out of his body in Bug. Shannon goes wildly over-the-top with his performance here, but in the age of glam rock, it works.
With Joan Jett herself serving as executive producer, The Runaways comes off as too much like Walk the Line and not enough like Sid and Nancy. The result is easily watchable, but it could have said so much more about the contradicting messages of the band. Instead of getting into the more lurid history and quite scandalous behind-the-scenes hullabaloo, rock 'n' roll history is tapered down to a mildly effective but hardly telling drama. Dull moments where the lyrics to "Cherry Bomb" suddenly come to Fowley are hard to endure, whereas the actual performances of these songs remains impressive. At the very least, you know the soundtrack has good music. And the film should inspire you to learn more about the band on your own, not to mention add them to your music collection.