Director

Cast

Julia Garner

,

Jessica Henwick

,

Toby Wallace

,

Hugo Weaving

,

Bree Bain

,

Ursula Yovich

,

James Frecheville

Rated

R

Runtime

91 min.

Release Date

09/01/2023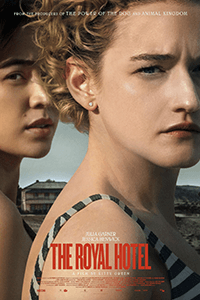 Every few years, a new movie warns us about the perilous conditions and dangerous people in the Australian outback. Most famously, Ted Kotcheff's Wake in Fright (1971) finds a young British schoolteacher corrupted by hard-drinking locals into abhorrent behavior, including a revolting kangaroo hunt sequence. That same year, Nicolas Roeg's masterful Walkabout considered Nature's sublimity in the outback, though he made domesticity look even more treacherous. Elsewhere, it's a location of backwoods psychopaths, such as the one in Greg McLean's Wolf Creek (2005). But more often than not, filmmakers from George Miller (the Mad Max series) to David Michôd (The Rover, 2014) depict the hardened nature of the sun-baked terrain as post-apocalyptic, equating the dusty and unforgiving environment to what the movies would have us believe are its equally uncivilized inhabitants. Of course, this cinematic myth unfairly characterizes the outback and a segment of Australian culture. 
Then again, in the case of Australian filmmaker Kitty Green's The Royal Hotel—a thriller about two female backpackers on a work-for-travel program, who accept an ill-advised job in an isolated mining town bar where they're ogled and harassed by the boozy locals—there's some truth to it. Green, working alongside co-writer Oscar Redding, based her scenario on Pete Gleeson's 2017 documentary, Hotel Coolgardie. Gleeson's fly-on-a-wall style captures what happens when two young Finnish women work behind the bar in a small Australian town. Even with Gleeson's cameras on, the locals engage in discrimination, lewd insults, and unwanted sexual advances toward the two women, making one wonder what might've occurred had the cameras been off. It's a disturbing watch, and Green fictionalizes those events, replicating the bar's layout and borrowing dialogue verbatim, into a tense experience that imagines a heightened version of the doc with a fanciful catharsis in the end.
---
The full review is currently posted on Patreon. Join Deep Focus Review's Patron community, and you'll receive exclusive access to this review and many other writings published on Patreon first.
Patrons also get access to:
• Exclusive weekly blog posts
• Streaming recommendations every Friday
• Polls to pick the movies reviewed on Deep Focus Review and Patreon
• Pick your own "Reader's Choice" review (at the Screenwriter tier or higher)
• Polls that decide the next entry in The Definitives