Director

Cast

Rated

R

Runtime

88 min.

Release Date

07/24/2020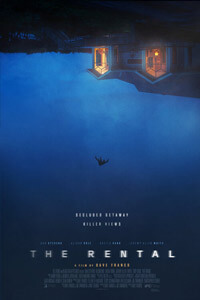 While Dave Franco's paranoid thriller, The Rental, might do for Airbnb what Alfred Hitchcock's Psycho did for roadside motels, it's more memorable for creating four natural characters than for how it terrorizes them. Franco makes his directorial debut with a screenplay he wrote alongside Joe Swanberg, whose roots in mumblecore and low-budget horror converge here. The cast of millennials, acted by a talented foursome, seem to inhabit another of Swanberg's understated, talky dramedies like Drinking Buddies (2013) or his Netflix series Easy for two-thirds of the expertly crafted film. The last third plays more like You're Next (2013), which co-starred Swanberg, complete with creepy POV shots of someone watching from a distance and breathing heavily, followed by a gradual descent into masked slasher territory. The initial setup proves so effective that, when Franco pulls a fast one and adjusts the genre, the surprising new direction feels somewhat underwhelming. 
With the smart first scene, Franco implants doubt about the nature of the two central couples. Mina (Sheila Vand) hangs over the shoulders of Charlie (Dan Stevens), while they look at a gorgeous rental home for the weekend. We assume they are together until Charlie's brother Josh (Jeremy Allen White) arrives. It turns out Mina and Josh are dating, whereas Charlie has been married to Michelle (Alison Brie) for the last ten years. Both Josh and Michelle are aware that Charlie and Mina have a curiously close friendship, stemming from their business partnership in an emerging startup. But everyone seems cool with the strange dynamic, even though we can sense there are some unspoken sexual tensions beneath the platonic surface. Doubtless, something will come of these currents when the quartet heads to a luxurious cliff-side rental home, gorgeously filmed in textured colors by cinematographer Christian Sprenger.  
Almost immediately upon their arrival, tensions arise around race and class. Mina reveals that she tried to reserve the property but was denied by the renter (Toby Huss), presumably because of her Middle Eastern name. Charlie, a white male, was approved instantly. At the same time, Mina can hardly believe the rugged-looking guy owns such an impressive property overlooking the ocean (he doesn't, actually; he just manages the place for his brother). Some petty resentments exist within the group as well, such as Charlie's sense of superiority over his brother, who drives Lyft for a living. Charlie doesn't believe his brother is good enough for his business partner, whom he considers "the full package." The awkwardness continues into the evening when three-fourths of the crew, except Michelle, decides to take ecstasy and dance away the night. All the while, the viewer cannot help but worry about what fate will befall Josh's pug. This is the sort of film that makes every dog-lover more concerned about the animal than its human counterparts. 
Franco nods more than once to John Carpenter's Halloween (1978), not only in its slow-burning tension but the sheer amount of runtime it spends developing these characters. Every once in a while, he injects a brief scene of someone watching the group from afar, or he cuts to a scene of the couples being recorded. The Rental implants all sorts of suspicions about Huss' property manager, though frankly, he never seems like the real threat. Maybe it's because I will forever associate Huss with his brief role on Seinfeld, where Elaine had trouble recollecting exactly where she knew her boyfriend's face from, until she remembered him as "The Whiz," a goofy spokesperson ("Nobody beats him"). In any case, his ability to enter the home and leave whenever he wants raises some concerns about the extent of their privacy, not to mention Mina's apprehensions about his prejudices. Unfortunately, these characters tend to behave like they're in a horror movie. They fail to see what are apparent warning signs, which would incite any rational person to leave and ask for a refund, and instead remain on the property to become standard victims. 
Underneath this scenario is a commentary about our absurd willingness to trust strangers on online marketplaces. Franco has admitted to his distrust of Airbnb vendors as the inspiration here, and for a good reason. A quick search online will give you hundreds of horror stories about renter experiences that turned into nightmares. Due to poor oversight and loopholes in user agreements, you might find yourself staying in a home owned by a scam artist or voyeuristic psychotic, or worse. Franco and Swanberg's screenplay might have used these anxieties to enrich his characters, using the claustrophobic situation in the same way as Roman Polanski so often does (in Repulsion, The Tenant, etc.), to reflect the psychological damage of his protagonists. To be sure, there's a moment when the four characters make a point-of-no-return decision, and the situation seems to take a step toward Danny Boyle's Shallow Grave (1994). But just as The Rental begins to say something about how we too often take things for face value—more than just our trust in Airbnbs, but our personal relationships as well—Franco turns the film into a nightmare scenario that curtails how his characters might have grown or changed. 
In terms of its horror, Franco has crafted a memorable experience, with a few genuine shocks and bluntly violent moments that demonstrate The Rental means business. He shrouds tense sequences in darkness or fog, imbuing a sense of confusion and uncertainty. Still, he has done his characters a disservice by treating them as disposable. I kept hoping that the film would turn out to be something like Baghead (2008), the Duplass brothers' pre-mumblegore project about two couples at a cabin in the woods who are visited by someone lurking outside their window with a bag on their head—a false-scare-of-a-movie more interested in relationships than another genre exercise. Franco delivers a confident first feature that hits every mark it intends to, even though The Rental is less than it could have been. At the very least, it will burn a place in your mind and cause you to hesitate the next time you think about renting someone else's home for the weekend.