Director

Cast

Rated

R

Runtime

103 min.

Release Date

03/18/2016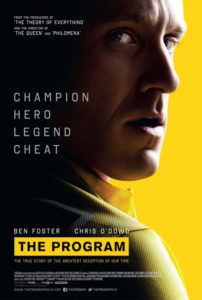 When sports reporter David Walsh goes to his editor with a hunch that cyclist Lance Armstrong has been using performance-enhancing drugs, his editor refuses to allow him to pursue the story. "Why?" asks Walsh. "Because Lance Armstrong, handsome young cancer survivor, the inspirer of millions, cannot possibly be a cheat, because that would reveal the world to be a great pile of shit?" His editor confirms that, yes, that's the reason Walsh will not be allowed to pursue the story. Indeed, people love a hero, so much so that they're willing to ignore any suspicion that their heroes may be false idols. An idol is exactly how Armstrong sees himself in Stephen Frears' The Program, a damning and unsympathetic portrait of Armstrong, the commercial industry of sports, and the public's need to believe there are still true heroes.
Though not as comprehensive as Alex Gibney's doc The Armstrong Lie (2013), John Hodge's screenplay was informed, according to the end credits, by Walsh's 2012 book Seven Seven Deadly Sins: My Pursuit of Lance Armstrong and the USADA Reasoned Decision document ("the most comprehensive investigation into sports doping ever produced"). The film proceeds less like a biopic about a duplicitous sports figure than a docu-drama, complete with several news telecasts and a detached tone. We see staged scenes, most of them designed to deliver just the facts, following Armstrong's rise from an average competing bicyclist to a champion who's finally called out as the ringleader of "the most sophisticated doping program in the history of the sport". But we already received an emotionally removed version of Armstrong's story with Gibney's doc, so why do we need another one?
Among the first scenes in The Program involves Walsh (Chris O'Dowd) interviewing Armstrong (Ben Foster) during the cyclist's first Tour de France in 1993. "My mom didn't raise a quitter," says Armstrong, who goes on to perform without distinction. By the time he's struck with a testicular cancer diagnosis in 1996, he already tried various performance-enhancers on his own. But after he recovers, Armstrong aligns himself with Michele Ferrari (Guillaume Canet), who designs a complex drug and training regiment that turns Armstrong into a bicycling machine. You already read above what Walsh thinks of Armstrong's sudden superior performance. Walsh "has no interest in going up a mountain to watch chemists compete," he says at one point. But audiences love a winner and a success story, sparking Armstrong's international celebrity.
The Program briefly touches on the height of Armstrong's popularity; editor Valerio Bonelli constructs several montages that suggest what a cultural icon Armstrong had become for cancer victims and athletes alike. Armstrong's heyday feels glossed over—his Livestrong Foundation, his numerous sponsorship deals, and those bracelets everyone used to wear. Meanwhile, his team sells bikes to pay for their drugs and narrowly passes drug test after drug test. The film touches on his Tour de France wins and the rigorous scheming he undertook, using his team to shape him into a winner. Rushed are the arrest of Ferrari and Armstrong's bullying other cyclists to keep their mouths shut about the doping scandal. "It was a mistake to testify against Ferrari," he tells a cyclist during a race. Then, like a cartoonish villain, Armstrong gives an unintentionally funny threat: "I have the money and power to destroy you."
Foster plays a pompous, entitled, and thoroughly unsympathetic version of Armstrong. The actor is much more effective in smaller supporting roles (see 3:10 to Yuma or Alpha Dog). It's a fine portrayal, to be sure, but Armstrong consists of one dimension throughout The Program: he's driven to compete, stay in shape, and win. Any biographical insight as to what compels Armstrong's drives remains unknown, as Hodge avoids speculating with fictionalized scenes. Does Armstrong feel any sense of moral conflict over what he's done? Frears and Hodge don't explore this point much at all, leaving the audience to ponder and feel indifferent to the film. Instead, Armstrong seems as much the target of this film as the entire sports system, corrupted by doping athletes. Armstrong's U.S. Postal Service teammate Floyd Landis (Jesse Plemons) has the only real dramatic arc in the film, going from a purist biker to a drug-using athlete, and finally to a morally weighted human being seeking absolution.
Structurally, The Program feels uneven, as though it couldn't decide whether to be a dramatically reenacted exposé of Armstrong's lies or a standard drama. Walsh, the reporter trying to tell an unpopular story about a publicly adored cancer survivor, would have made a more compelling protagonist. But the film shrinks away from telling this story on any emotional level, including trying to justify why Armstrong began doping in the first place. No other reason besides "I want to win" is offered, leaving the slate rather blank and unaffecting. Frears' direction represents professional filmmaking, as always, but his cold and factual approach lends no insight into its subject that wasn't already expounded in Gibney's doc. It's a story we've all heard or read about, but The Program doesn't provide us with any unique angles, nor does it even try to explore the mindset of its main character.