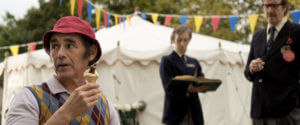 Patreon Exclusive
The Phantom of the Open
3.5 Stars
Director

Cast

Mark Rylance

,

Sally Hawkins

,

Rhys Ifans

,

Jake Davies

,

Christian Lees

,

Jonah Lees

,

Mark Lewis Jones

,

Johann Myers

,

Ash Tandon

,

Tim Steed

,

Steve Oram

Rated

PG-13

Runtime

106 min.

Release Date

06/03/2022
Note: This review was originally published for the 2022 Minneapolis St. Paul International Film Festival. Sony Pictures Classics will release the film theatrically in Minnesota on June 18.
In The Phantom of the Open, Maurice Flitcroft, a shipyard crane operator played by Mark Rylance in his latest unassuming and affable performance, flips through television channels late at night. Before landing on a game of golf, which will become his destiny, Maurice briefly glimpses a scene from John Schlesinger's Billy Liar (1963)—the classic wherein Tom Courtenay stars as a young working-class nobody who loses himself in elaborate fantasies. The inclusion signals Schlesinger's film as an evident source of inspiration for director Craig Roberts when Maurice, hilariously entranced by a game of golf, loses himself in a reverie: The backdrop turns into a swirling Van Gogh dreamscape and the moon into a golf ball. Maurice climbs steps straight out of A Matter of Life and Death (1956) that lead to an elaborate tee, and once there, an enormous club swings and launches him on a journey around the planet. Roberts returns to this imagery to tell the surreal true story of how Maurice, a man who, in his late forties, having never shot a round in his life, found his way to competing in the 1976 British Open.
---
The full review is currently posted on Patreon. Join Deep Focus Review's Patron community, and you'll receive exclusive access to this review and many others published on Patreon first.
Patrons also get access to:
• Exclusive weekly blog posts
• Streaming recommendations every Friday
• Polls to pick the movies reviewed on Deep Focus Review and Patreon
• Pick your own "Reader's Choice" review (at the Screenwriter tier or higher)
• Polls that decide the next entry in The Definitives