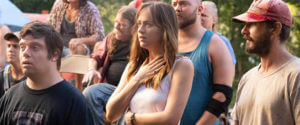 The Peanut Butter Falcon
3 Stars
Director

Cast

Zack Gottsagen

,

Shia LaBeouf

,

Dakota Johnson

,

John Hawkes

,

Bruce Dern

,

Jon Bernthal

,

Thomas Haden Church

Rated

PG-13

Runtime

98 min.

Release Date

08/09/2019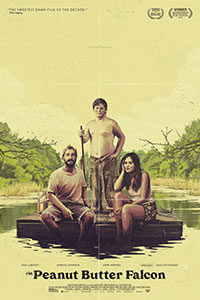 Marianne Moore described poetry as "imaginary gardens with real toads in them." This verse comes to mind when watching The Peanut Butter Falcon, an indie crowd-pleaser that blends gritty, earthbound situations with a touch of magical whimsy. The film takes place in the sweaty North Carolina backwoods, where rugged crabbers and blind preachers try to eke out a hard living. Central to the film is Zack Gottsagen, a young man with Down syndrome who plays a drop-the-c version of himself. Zak crosses paths with a stray-dog drifter, Tyler (Shia LaBeouf), the resident Huckleberry Finn, and the two of them set out on an adventure down the river, on a homemade raft no less. The writer-director team of Tyler Nilson and Michael Schwartz don't bother trying to disguise the influence of Mark Twain on their work; they mention the author by name. Although, the film has more in common with the recent mixture of Southern Gothic and magical realism found in Beasts of the Southern Wild (2012) and the work of Jeff Nichols (Take Shelter, Midnight Special).  
It should come as no surprise that The Peanut Butter Falcon is precious about its subject. It's a film that has been talked about and celebrated on the morning talk show circuit, inspiring audiences with its touching story about how one man overcomes his intellectual disability. But these perspectives overlook the film's best quality: it's a tale of two bandits on the run. Zak has been constrained to a retirement home, and he's determined to escape and realize his dream of becoming a professional wrestler. He's set on training with his atomic-throwing idol, Salt Water Redneck (Thomas Haden Church), whose promotional tape advertising a wrestling school has been through Zak's VCR countless times. One night, with the help of his roommate (Bruce Dern), Zak squeezes out of a window and makes a run for it, much to the concern of his counselor, Eleanor (Dakota Johnson).  
Meanwhile, down by the docks, Tyler finds himself in trouble with some local fisherman (headed by John Hawkes), and while making a narrow escape, he discovers Zak hiding in his boat. Fortunately, this isn't the boyish and motormouthed LaBeouf that made him a household name; it's the renegade LaBeouf—the dangerous but still-charming personality that starred in another dreamily realistic film, Andrea Arnold's American Honey (2016). Inevitably, Tyler, still reeling over the death of his brother (Jon Bernthal, seen in wistful flashbacks), forms a bond with the genial and good-natured Zak. He agrees to take Zak to Salt Water Redneck's wrestling school, and along the way, they become surrogate brothers. Tyler helps Zak train, and during a night of hard-drinking (Zak's rule number one: "Party"), they come up with Zak's alter-ego in the ring: The Peanut Butter Falcon. They're soon joined by Eleanor, who tracks them down on the Outer Banks and reluctantly agrees to oversee their unlikely trip to a backyard wrestling den. 
While following the map laid out by The Adventures of Huckleberry Finn, the film achieves universality through specificity, an essential indie method of storytelling. The filmmakers developed the story after meeting Gottsagen at an acting camp for people with disabilities, where he expressed his desire to become an actor. Nilson and Schwartz wrote the story in hopes of creating awareness that people with Down syndrome have few opportunities to act. And if LaBeouf is the film's Huck Finn, then Gottsagen serves as Jim, who must avoid going back to the care facility that is determined to relegate him somewhere far worse than a retirement home. Gottsagen is perfect in the role opposite LaBeouf, who is a force of energy and must rely on improvisation and spontaneity to keep up with the precocious, unpredictable personality supplied by his costar. To be sure, the best moments of The Peanut Butter Falcon find these two men together relating as brothers, performing their secret handshake, and sharing in their unspoken, heartwarming dynamic.  
Rooted in unaffected performances, the film nonetheless takes a predictable trajectory, filling out its 98-minute runtime with familiar situations and big emotions, sometimes at the peril of its characters. For instance, Eleanor's sudden willingness to drop her professional responsibilities to join Zak and Tyler on the river seems undermotivated. Likewise, the romance that emerges between Tyler and Eleneaor feels like an obligatory screenwriting device more than a natural progression for the characters. Regardless, the rousing climax inside the wrestling ring douses the viewer in tears of happiness. It might all seem unlikely and overly endearing, but that hardly matters; none of this is meant as pure realism. Just watch the work by cinematographer Nigel Bluck, which establishes a kind of authenticity in its roving, really-there camerawork, while the situations sometimes prove fantastical. 
Many critics today use the word "sentimental" as a pejorative (I'm probably guilty of this myself). This is not a new trend. Aesthetic theorists have long objected to sentimentality as a lower form of expression; however, it's not an innately negative characteristic, even if it's often associated with pandering and reassuring emotions. Most cinema is, after all, about gratifying its audience. The Peanut Butter Falcon makes a strong case for the value of sentimentality. It's an earnest and warm experience that benefits from the two leading men forming a natural relationship onscreen. Gottsagen makes it easy to root for Zak, and while contrived, the romance between LaBeouf and Johnson's characters somehow works to transform the entire trio into a makeshift family. Even though you can feel the screenplay by Nilson and Schwartz working you over, the film leaves us helpless to its feel-goodness.