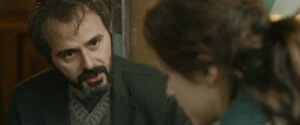 Reader's Choice
Reviews commissioned and selected by Patrons
Director

Cast

Rated

PG-13

Runtime

130 min.

Release Date

05/17/2013
In a familiar technique by Asghar Farhadi, the opening shots of The Past use loaded symbolism to establish the film's thematic framework. Marie (Bérénice Bejo) picks up her husband Ahmad (Ali Mosaffa) at the airport after a four-year absence. He has returned from Tehran to Paris to finalize their divorce. When they first spot each other, they appear separated by soundproof glass, a clear symbol for the walls of communication between them. Then they run to the car in the rain, and she asks if there's enough room to back out. Ahmad says there is, just before shouting, "Stop! What are you doing?" Marie immediately hits the breaks, just in time to avoid an accident. The scene might warn not to go through life backward, thinking about old relationships and why they failed. That's certainly one philosophy shared with Ahmad—a friend advises him to cut ties with Marie completely. Unfortunately, the advice proves easier offered than followed, given the complexity of the relationships and human emotions on display. Even so, why did Ahmad give Marie the all-clear at first? Should Marie be at fault for trusting Ahmad to be her eyes, or should she have turned around and checked herself? Farhadi doesn't show us the circumstances of the near-accident in total, but he reveals how this soon-to-be-divorced couple communicates.
Although most of the Iranian auteur's films have been called thrillers, The Past resembles an almost Sirkian melodrama. The story features a secret affair, generational conflict, a surprise pregnancy, a spouse on life support, and outbursts of lofty acting. Still, the story structure functions similarly to Farhadi's other features—starting with a simple problem that simultaneously disentangles and works itself into an increasingly knotty set of circumstances. Farhadi's handling of the material doesn't overemphasize the heightened elements of his screenplay; rather, his treatment is subtle, quiet, and immersive. Mahmoud Kalari, who served as director of photography on the director's previous film, the breakout A Separation (2011), tosses out the handheld, neorealist aesthetic found in most of Farhadi's work. Instead, there's a polished and meditative quality to visually textured scenes, reflecting the interiority of characters who don't readily confess to their feelings and motivations. This is also Farhadi's most colorful picture to date, full of earthy hues and splendid light captured in the French setting.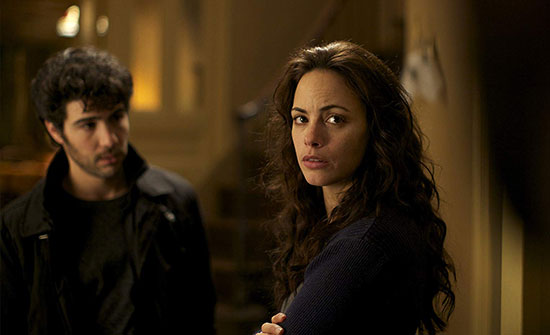 Immediately upon arriving at Marie's fixer-upper in a Paris suburb, Ahmad feels ambushed, even as he cannot help but reinsert himself into his former home. Along with Léa (Jeanne Jestin), Marie's young daughter from a previous marriage, there is a young boy, Fouad (Elyes Aguis), living there. Fouad belongs to Marie's fiancé, Samir (Tahar Rahim), and the boy's anger over the family situation that continues to unfold can be read in his perpetual scowl. Inside, Ahmad looks over the in-progress renovations, remarking that he prefers the original paint color and asking where the shelf with his books has gone. Did he expect nothing to change in four years? However briefly, Ahmad and Marie find themselves in their old patterns of poor communication and passive-aggressive behavior, bickering over missed emails and awkward sleeping arrangements. Meanwhile, Marie's life has become entangled with Samir, whose past isn't done with him. Although Ahmad believes he's ready for closure, he somehow finds himself drawn into their lives.
From a certain perspective, The Past is about children who must contend with their unreliable parents. As outsiders to the situation, we cannot help but think about how the children will process what's happening around them, even if Farhadi doesn't center scenes from their perspective. Consider Marie's other daughter, the teenage Lucie (Pauline Burlet), who refuses to live in the same house as Samir. However, it's not merely a matter of resentment over her mother's future husband. Her avoidance of Samir goes far deeper, involving his current wife, Céline, who lies unresponsive in a coma after a suicide attempt—prompted, Lucie believes, when she forwarded secret emails between Marie and Samir to Céline. Lucie's crushing guilt is no concern to Marie, whose self-centered behavior includes lashing out at her daughter in a disturbing scene when she discovers what Lucie did. Ahmad, displaced from the situation between Marie, Samir, and everyone in-between, acts as a calm and rational presence, hoping to abate the tension.
Although Farhadi's film exists firmly in the realm of a drama, much of the emotional energy swirls around the question of why Céline committed suicide—recalling similar questions about a missing person in About Elly (2009) or an attacker's identity in The Salesman (2016). It's the central question that fuels Lucie's guilt, explains the floundering romance between Marie and Samir, and raises doubts about Marie's readiness to move on from Ahmad. Samir, who runs a dry cleaning shop, believes an altercation between Céline and his illegal immigrant employee (Sabrina Ouazani) may be the cause. Marie chalks Céline's suicide attempt up to her depression, but then Marie tends to blame everyone else for their problems and selfishly refuses to accept responsibility for her actions—illustrated by her smoking while pregnant with Samir's child. Marie and Samir both rely on each other to fill the gaps in their lives, serving as alternates to Ahmad and Céline. Of course, their relationship isn't that simple, but Farhadi never shows them in the heat of passion. If the above paragraphs are any indication, Farhadi packs The Past full of plotting and personal histories to uncover, but the film always feels compelled by characters and relationships. That's true of most of his work, and it's an essential trademark.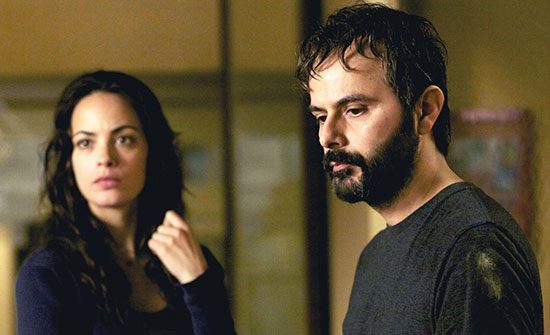 In terms of narrative, the answers rarely come in exposition dumps; instead, they unfurl through tense interactions and confrontations, giving Farhadi's actors incredible opportunities for subtlety and loaded gestures in their performances. Bejo, best known for her Oscar-nominated turn in The Artist (2011), earned the Best Actress award at the Cannes Film Festival for her volatile performance, deservedly so—she's a force of Nature here. Rahim, who starred in Jacques Audiard's A Prophet (2009), gives a nuanced turn as a blue-collar man given to petty competition with Ahmad. There's a sense of subdued masculinity in a scene where both attempt to fix Marie's leaking pipes. Neither are alpha males, yet they're not immune to petty competition. Mosaffa is excellent in his calming presence, usually balanced against more unpredictable characters, and the character uses that to his advantage. One of the film's best scenes involves the parents of Léa and Fouad becoming impatient with their respective children, demanding that they apologize to Ahmad for snooping for presents before he gives them a gift. Ahmad sits patiently, expecting no apology and knowing children will be children. Moments like this emphasize how well Farhadi finds drama and characters' definitions in the most unlikely places.
Like each of Farhadi's films, The Past begins as one kind of story and blooms—or devolves, depending on your perspective—into something else entirely. By the end, the experience pulls us through unlikely turns. Yet, Farhadi's skill as a dramatist makes the proceedings feel grounded in a remarkably realistic portrait. When the film ends on a strikingly sentimental if tragic note—complete with a single, well-placed tear rolling down a cheek, a detail shared only with the viewer—it doesn't bring the closure one might expect. Will Marie and Samir go ahead with their marriage? Can Ahmad let go of his relationship with Marie? Farhadi doesn't deliver resolutions for his characters. But he recognizes that some awareness of the past, present, and future remains essential for healthy relationships. Deny any of them, and you leave yourself open to emotional pitfalls. Even so, people remain too quick to cut ties and move on to something new, ignoring how we're all the sum of our own experiences. Whether anyone learns that lesson in The Past remains suspect, though the viewer may walk away wiser for the experience.
(Note: This review was originally suggested on and posted to Patreon on May 5, 2022.)