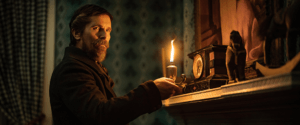 The Pale Blue Eye
2 Stars
Director

Cast

Christian Bale

,

Harry Melling

,

Gillian Anderson

,

Lucy Boynton

,

Robert Duvall

,

Charlotte Gainsbourg

,

Toby Jones

,

Harry Lawtey

,

Simon McBurney

,

Hadley Robinson

,

Timothy Spall

Rated

R

Runtime

128 min.

Release Date

12/23/2022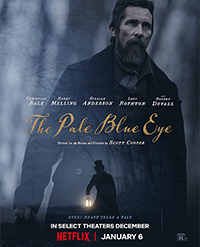 The Pale Blue Eye is a mystery. Based on the 2003 novel by Louis Bayard, writer-director Scott Cooper's adaptation is a slow-burning gothic procedural, notable for the presence of Edgar Allen Poe as a main character. The film entails a series of gruesome murders committed at the US Military Academy at West Point in 1830, leading to the discovery of black magic rituals. Although the plot is fictional, Poe did attend West Point for a brief period, and the story posits that the murder case in question fueled the writer's obsession with detective fiction and the macabre. And so, the real mystery of The Pale Blue Eye is how Cooper could have turned that compelling setup into such a slog. The filmmaker's self-seriousness and dour tonality, evidenced in most of his work—save for his Oscar-winning debut, Crazy Heart (2009)—rob the proceedings of their potential. How strange, since the film deploys stunning cinematography and boasts a terrific cast, while the case at the center holds much potential intrigue. Even so, the result somehow leaves little impression whatsoever, making for a sleepy two-hour-plus period piece that's a struggle to finish. 
The story opens with a West Point cadet found hanging by the neck, heart removed from his chest, evidently by an offender capable of surgical precision. The academy heads, Colonel Thayer (Timothy Spall) and Captain Hitchcock (Simon McBurney), enlist the help of a famous detective, Augustus Landor (Christian Bale), known for solving the most challenging cases. A widower marked by tragedy after his daughter's disappearance, Landor's moody and critical presence remains suspicious of West Point's dehumanizing regiment that crafts obedient, unquestioning soldiers. So when he meets Poe (Harry Melling), a learned cadet who doesn't think like the others, the detective enlists the published poet as an unofficial deputy. After all, they both enjoy books, the art of deduction, and the occasional overindulgence in alcohol—except that Poe has morbid interests and uses baroque language. He admits to dreaming of and communicating with his mother, who's been dead for 20 years, and his penchant for flowery speech sets him apart amongst the West Point population that bullies him.   
If the setup sounds vaguely familiar, it's because The Pale Blue Eye bears more than a few passing similarities to Tim Burton's Sleepy Hollow (1999). Both inhabit skeletal forests in nineteenth-century New York, shrouded in a mist that disguises the tenuous barrier between life and death, reality and dreams, science and dark magic. Like Johnny Depp's Ichabod Crane, Landor is haunted by memories of a now-gone loved one, though he relies on knowledge and science to decipher criminal behavior. As more victims appear, slain in the same manner, the investigation points to a cultist conspiracy and a dark family legacy. Landor and Poe suspect Artemus (Harry Lawtey), the alpha cadet son of Dr. Marquis (Toby Jones) and his proper wife Julia (Gillian Anderson, in a peculiar performance). Even so, Poe falls for the Marquis' daughter, Lea (Lucy Boynton), whose beauty and epilepsy make her a source of sympathy for the smitten poet. 
All of this may sound compelling when summarized, but the experience of watching Cooper's film proves far less enticing. The film unfolds at a brooding pace, as though Landor and Poe have no pressing need to resolve the matter. One might argue that Cooper's languid pacing amounts to him taking the necessary time to establish mood and a sense of dread, but there's no great reward waiting at the film's end. By the time our heroes uncover the dark secrets, the finale, marked by a blood ritual and fire, underwhelms and raises more unanswered questions. How curious that The Pale Blue Eye falls so flat, given the apparent technical craft on display. I spent much of the film's 128-minute runtime admiring cinematographer Masanobu Takayanagi's gorgeous, atmospheric images of the snowy Hudson Valley, textured and sometimes washed of color, save for the cadets' blue uniforms. For evening scenes, the images recall Barry Lyndon (1975) and its use of natural candlelight to illuminate interior spaces. The cast, too, boasts an impressive list of names. But look at Cooper's filmography, and you'll see a list of projects that attract major stars yet almost always manage to feel disappointing. 
A Netflix production, The Pale Blue Eye marks the third collaboration between Cooper and Bale, after Out of the Furnace (2013) and Hostiles (2017), though the actor's despairing character doesn't have many dimensions until the final few minutes—but by then, it's too late for Landor to feel thoroughly developed. Alarmingly gaunt, Melling looks the part of Poe and applies the character's Virginia accent unsparingly and inconsistently, but his ostentatious physicality tends to feel like stage acting. On the periphery, Robert Duvall and Charlotte Gainsbourg appear in roles of modest significance, suggesting Cooper and editor Dylan Tichenor omitted some of their scenes in post-production. Unfortunately, along with Howard Shore's lofty and overactive score, Cooper's direction never quite instills a sense of urgency or suspense, leaving the fine cast and promising story to feel underserviced by the script and its execution.