Director

Cast

Rated

R

Runtime

101 min.

Release Date

02/04/2011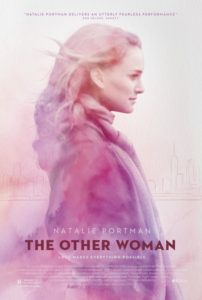 The Other Woman spends the majority of its runtime wallowing in despair along with its protagonist, Emilia, played by Natalie Portman. Emilia lost a newborn baby girl three days after her birth and can't seem to shake the grief she feels, taking it out on everyone around her. Her new husband Jack (Scott Cohen) remains patient with Emilia's cold behavior, while her young stepson William (Charlie Tahan) refuses to even attempt an amicable connection. As she digresses, it becomes increasingly difficult to identify with her, until all should be forgiven when suddenly she realizes her folly. Except, neither writer-director Don Roos nor Portman have the capacity required to render the kind of overriding last-minute warmth the audience is supposed to feel after subjecting us to such a downer.
The story is based on a book by Ayelet Waldman, but it's adapted in a style unsuitable for the heartfelt motion picture it wants to be. Roos treats the material with complete trust in his star, leaving the emotional impact of this otherwise affecting narrative in Emilia's arc. But he does a better job creating Emilia's self-absorption than he does her redeeming qualities, if any. The problem is that Emilia isn't very likable. She was formerly Jack's mistress, and he left his ex-wife (Lisa Kudrow) once Emilia was pregnant. Emilia tore apart William's family and received a form of poetic justice for her moral crime. She treats the boy like dirt and doesn't try to be a role model or even a reasonably responsible guardian. So when she reaches her emotional epiphany, which is hardly the devastating breakthrough it should be, the audience wonders why they should care.
Another actress may have been able to convey Emilia's diverse characterization with more sympathy. Portman excels at capturing Emilia's aloofness toward the world, her dejection and overbearing sadness. She does dark and complex very well, as we've seen with Brothers and V for Vendetta. This helps us identify with Emilia's anguish, but because Portman can't convey the necessary redeeming humanity, the film simply doesn't work. The other players are serviceable and fill their roles well—especially Kudrow as a top-notch bitch—but the success of this picture depends on the leading lady. And no matter how popular Portman may be right now, she was miscast.
IFC has chosen to finally distribute Roos' drama, which has been sitting on the shelves since its completion in 2009, to take advantage of the current whirlwind of Natalie Portman projects and news out there. With the arrival of last fall's top award contender, Black Swan, Portman earned herself a Golden Globe nomination and likely an Oscar nomination (both probable wins). She's in several upcoming films, including No Strings Attached, Hesher, Your Highness, and Thor. And news of her recent pregnancy and engagement fill the tabloids. She risks overexposure, but we're just at the launch of this growing Portman craze, so it's easy to tolerate her presence everywhere (for now). In another five months after an award to two, and after a few more of her movies, her presence may not prove so unobjectionable.
Available through video-on-demand services after January 1, 2011 and opening in limited theatrical release on February 4, The Other Woman makes fine casual home viewing. But it's no wonder the film sat on the shelves for so long, given its lack of emotional payoff in the finale. Roos has assembled an impressive looking Lifetime original with high production value and gorgeous location shooting in New York City, but it never quite satisfies or justifies itself for theatrical release. Nevertheless, IFC made a smart move by distributing the title now, while audiences want more Portman, as opposed to a few months from now when they'll no doubt want less.