Director

Cast

Rated

R

Runtime

87 min.

Release Date

09/25/2009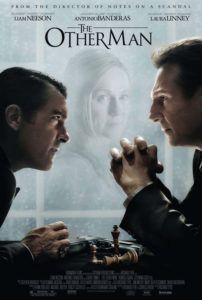 The Other Man is a romantic mystery that desperately wants to be either a grown-up drama or a very tricky thriller, but it fails to achieve either designation. The film has all the elements of a compelling story, but has no idea how to involve us. With its trio of attractive, talented stars and beautiful European backdrops, the sexuality should be beading off the screen with all the potency of the cinema's most steamy love scenes, but it doesn't. The suspense should have us gripping our seats, but it doesn't. And after its all-too-brief running time, the film's failure to make a connection leaves the audience indifferent, if not frustrated over the missed opportunity at the center of the production.
Based on the short story by Bernhard Schlink, the tale follows heartbroken Londoner husband Peter (Liam Neeson) as he uncovers the sordid past of his wife Lisa (Laura Linney), who recently passed from cancer. Peter discovers a cryptic note left for him by Lisa that reads only "Lake Como." What does it mean?  While looking through her things to determine the origin of the reference, he finds hidden emails on Lisa's computer, all signed by someone named Ralph. Peter asks his company's computer security specialist to track Ralph's email address. Meanwhile, already fuming with resentment and frustration, Peter unlocks a file named "Love" on Lisa's computer; inside are all manner of bedroom photos taken of Lisa and Ralph together.
Now, the name Ralph doesn't sound intimidating on its own, but when it's pronounced "Raif" and he looks like Antonio Banderas, it's enough to send Peter on a jealous rage. Peter talks about getting a gun and killing this stranger. He tracks Ralph to Milan and spies on him, learning his habits. Ralph likes chess, so one day Peter arranges to sit at Ralph's chess table. Peter invites him to take a seat. Conversation ensues, and Peter probes to make Ralph talk about his affair with Lisa. All the while, Ralph is oblivious to the fact that he's boasting about his escapades with the woman's husband. Ralph, you see, doesn't know that Lisa is dead.
First, the movie wants us to believe Peter is going to kill Ralph. Peter toys with him, sends him emails from Lisa's computer, texts from her phone. But the story slowly calms as Peter does, and then it peters out completely. An hour or more of building suspense leads to nothing. The metaphor where Peter and Ralph meet again and again to match wits and chess pieces is transparent as can be, and it goes nowhere. The only one scheming, as it turns out, is Peter. Ralph was just playing chess for the fun of it.
British filmmaker Richard Eyre directed the film and adapted the story, and after his last picture, 2006's Notes on a Scandal, the result is more than disappointing. His cinematographer Haris Zambarloukos (Sleuth, Venus) captures the beauty of the European setting, but Eyre failed to effectively adapt Schlink's story for film. We have barely a sense of these characters, and the responsibility to communicate who they are feels placed entirely on the shoulders of the actors: Neeson makes Peter more interesting than the character has any right to be; this actor plays a lot of characters like that (see Taken). Banderas plays a sexy Italian with a Spanish accent, which for him isn't a stretch. And Linney appears primarily in vague flashbacks. The tone feels uncertain and the production overconfident that its stars will tell the story. No Mr. Eyre, that's your job.