Director

Cast

Jim Carrey

,

Virginia Madsen

,

Logan Lerman

,

Danny Huston

,

Corey Stoll

,

Mark Pellegrino

,

Bud Cort

,

Rhona Mitra

Rated

R

Runtime

95 min.

Release Date

02/23/2007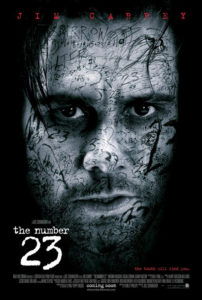 With The Number 23, Jim Carrey once again works under director Joel Schumacher to create a nauseatingly absurd film (their previous picture together was the overzealous Batman Forever). The film follows a dogcatcher named Walter Sparrow (Carrey) whose wife Agatha (Virginia Madsen) buys him a used book entitled The Number 23 on his birthday. The book tells the story of a detective named Fingerling who Walter believes to be uncannily similar to himself. Walter investigates the similarities through the mathematical phenomenon of 23, introduced to him in the pages of the novel.
There's a profusion of creepy real-life coincidences related to the number; most of them are mathematical tricks. When you add the numbers 9/11/2-0-0-1, they equal 23 (but that's only if you count 11 as 11 and not as 1 and 1, as it forces you to do with 2001). Hundreds of name, number, alphabet, and historical associations behind the number link to create an unsettling set of coincidences. The film's skeptic, a college professor played by Danny Huston, explains that when people want and need to find a connection between two things, they usually do. Beyond that, the film offers no explanation to the number 23 phenomenon, or its relevance, other than it's a creation of the mind. The plot strays, and by the end, the number is just a symptom of a greater disease.
Walter becomes increasingly fanatical with the book. First Agatha reads it and shrugs it off as nonsense (which is how I felt about this movie when the end credits began to roll). Then Walter and his son Robin read it over the next week or so. Walter immediately identifies with the Fingerling character, finds truth in the number 23 coincidences, and begins to seek out their meaning. He sees parallels between characters in the book and people in his own life, and then he attempts to understand the meaning of those parallels. Schumacher places two-thirds of his film in reality and the other third in the book's reality—a hazy, gothic paradise.
Derivative of Darren Aronofsky's Pi, The Number 23 explores numerical obsession and insanity; though unlike Pi, Schumacher's film approaches the subject in the most commercializing way possible. With dark photography, seedy industrial music, and squalid interiors resembling a Nine Inch Nails video, this movie so badly wanted to be Se7en it made me sick. Even the opening title sequence was plagiaristic in style.
Schumacher's career is a maggot-ridden apple—putrid bugs surrounded by a few, but rare, inadequately sweet spots. In one of the worst ideas in comic-to-film history, Schumacher took the "dark" out of The Dark Knight, making Batman Forever and Batman & Robin over-the-top explorations of Batman's colorful side (they were one campy step above of the 1960's Batman TV show). Oh, and then there's the Chris Rock-Anthony Hopkins vehicle Bad Company, which if I discuss, my head will explode. Schumacher's work on Falling Down, Flatliners, and Tigerland was ample enough for a moderate recommendation, but in sum Schumacher's work never exceeds the common.
With The Number 23, the director's randomness hurts the already wandering plot and brings little form to Carrey's misdirected (pun intended) character. Subplots abound: Walter seeks out the writer of his book, hoping to get some answers; he finds a connection to a dog that bit him on the forearm; he writes speculative ravings on his living-room walls; he begins having nightmares about killing his wife; he suspects Agatha of having an affair with Danny Huston's character; his wife worries whereas his teenage son thinks it's intriguing; all the while Walter loses pieces of himself to his mania. Through these ever-changing plot developments, the number 23 remains constant. That is, until the end, when Schumacher unveils the "twist."
The Number 23's secret is one we've seen time and time again in recent movies, so really, there's no shock at all. I won't ruin the "twist" here, because it would be unfair of me to steal from you the same sense of disgust I felt when it was revealed to me. Needless to say, there's no revelation, only a loathing exhalation by the audience as a long, groanful, "Ughhh." Jim Carrey has proved to us with Man on the Moon and Eternal Sunshine of the Spotless Mind that he's capable of much more as an actor than comedic roles. New dramatic or serious performances by Carrey are welcome, but I'm really at a loss to explain why he would associate himself with such crud. Wait a minute… if you look at the numbers corresponding to the letters in "crud" in the order in which they appear in the alphabet, you get 3, 18, 21, and 4. If you add those numbers you get 46. Divide 46 by 2 you get 23. The movie was right after all!