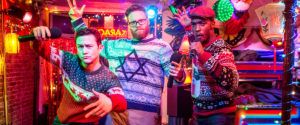 The Night Before
1.5 Stars
Director

Cast

Joseph Gordon-Levitt

,

Seth Rogen

,

Anthony Mackie

,

Jillian Bell

,

Lizzy Caplan

,

Michael Shannon

,

Mindy Kaling

,

Tracy Morgan

Rated

R

Runtime

101 min.

Release Date

11/22/2015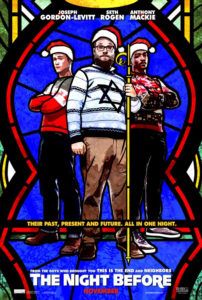 Up all night, fueled by drugs and alcohol, three dudes party until they find a Christmas miracle in The Night Before, a raunchy party movie that lacks the requisite laughs or heart to make it a holiday classic. Joseph Gordon-Levitt and Seth Rogen reteam with their 50/50 director Jonathan Levine, whose cancer dramedy seems like high art in comparison to this, while Anthony Mackie makes it a trio. Reminiscent of the trippy experience of 2011's A Very Harold and Kumar 3D Christmas, the story contains all manner of gross-out humor and story clichés, and despite Tracy Morgan's bookend narration, it won't make anyone's list of favorite holiday movies. Levine penned the script along with co-writers Kyle Hunter, Ariel Shaffir, and Evan Goldberg, but the vulgar bromance comedy suffers from a lack of holiday spirit and an overreliance on random sex acts, drugs, and dick pics.
Another in a long line of comedies about young men who must give up their partying lifestyle in order to grow up, The Night Before finds each of our heroes faced with an awakening of sorts. After Ethan's (Gordon-Levitt) parents died in a car accident years ago, his friends Isaac (Rogen) and Chris (Mackie) treated him to a night on the streets of New York. They visited the tree at Rockefeller Center, played a floor keyboard at  FAO Schwarz like Tom Hanks in Big, sang Run-DMC's "Christmas in Hollis" at a karaoke bar, and played the Nintendo 64 videogame GoldenEye at Chris' mom's house. They've maintained this tradition for fourteen years, each of them wearing a bad holiday sweater to commemorate the occasion. But this year is different. Isaac has a child on the way and Chris' football career has taken off, so they won't have time for Ethan in the future. Knowing this is their last Christmastime spree, they plan on going out with a bang—Ethan has scored tickets to a mythic party called the Nutcracker's Ball, which they've only heard about and have never been able to get into.
Also, Isaac's wife Betsy (Jillian Bell) provides him with a small box of every drug in the book. And when his 'shrooms prove too much, he tries to balance the psychedelics with cocaine (not a good idea). As Isaac sweats and freaks throughout the night, Chris works on his "social media game" by promoting Red Bull in shameless videos (and in-film product placements). Meanwhile, Ethan remains a downer, saddled by the memory of his parents and Diana (Lizzy Caplan), the girl-who-got-away; or rather, the girl he wouldn't commit to, so she dumped him. Realizing he made a mistake, he tries to get Diana back. Through it all, Isaac's increasingly paranoid reactions remain funny if ridiculous, Chris' self-involvement becomes annoying (especially given the early revelation that he's using steroids to boost his career), and Ethan's sad-sack routine is desperate and embarrassing. Worse, Miley Cyrus shows up.
Because its story isn't interesting enough, The Night Before parades cameos from start to finish. Michael Shannon appears in an ongoing subplot as a drug dealer who puts A Christmas Carol up in smoke, offering each character a glimpse of their past, future, or present through a THC-fueled hallucination. Shannon is expertly weird and uncomfortable in his scenes, which culminate with an absurd flight. James Franco also cameos (because he and Rogen must be in every movie together) as a would-be hookup for Diana's friend Sarah (Mindy Kaling), who inadvertently exchanges phones with Isaac. And so, Isaac, more open-minded than usual thanks to the evening's substances, begins a bi-curious text exchange after receiving a couple snapshots of Franco's enormous male genitalia (or that of his penile double).
Shock humor comes pretty standard throughout this movie, including a scene where Isaac vomits during a Christian midnight mass and runs out spouting how the Jews didn't kill Jesus—a hilarious moment otherwise spoiled by the trailers. With a soundtrack comprised of holiday classics and on-location shooting in New York, the holiday surroundings in The Night Before are unmistakable. But the selfish and occasionally mean-spirited characters aren't involving enough to maintain our interest, regardless of how appealing Gordon-Levitt, Mackie, and Rogen are elsewhere. Many of the elements needed for a joyous holiday season escape are here, but occasional laughs and moments of sweetness cannot overcome the stupidly raunchy and ugly parts.