Director

Cast

Ralph Fiennes

,

Anya Taylor-Joy

,

Nicholas Hoult

,

Hong Chau

,

Janet McTeer

,

Judith Light

,

John Leguizamo

,

Rob Yang

,

Arturo Castro

,

Mark St. Cyr

,

Paul Adelstein

,

Aimee Carrero

,

Reed Birney

Rated

R

Runtime

106 min.

Release Date

11/18/2022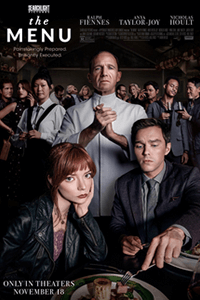 The Menu is a dark, barbed comedy set on a remote island, the home to Hawthorne, an exclusive haute cuisine restaurant. The brainchild of world-renowned chef Julian Slowik, played with a sharp intensity by Ralph Fiennes, the cuisine doubles as conceptual art. For instance, Chef Julian serves a bread course with no bread. He tells mega-rich patrons, who pay $1,250 per person for over four hours of fine dining sensations, "Do not eat… taste, savor, be mindful." The committed staff has sourced everything from the island, including freshly harvested seafood, aged protein, island-grown produce, and natural sweeteners from resident beehives. But between the blindly devoted kitchen crew and the way their chef demands absolute control over every detail of his gastronomic innovations—along with a mounting list of other eerie details—there's something unseemly beneath Hawthorne. Watching the proceedings become ever more twisted is part of the fun. However, The Menu is best when it keeps the viewer guessing about what the chef would call its "ephemeral nature," but it proves less compelling once it answers our questions.
The film opens with know-it-all foodie Tyler (Nicholas Hoult) getting on the boat to Hawthorne with his date, Margot (Anya Taylor-Joy), and mansplaining the "flavor profiles" and "mouth feel" of an appetizer. The restaurant's maximum of 12 guests travel to the small island, where sandy beaches and a forest interior conceal an ecosystem of food production. The tour, guided by Chef Julian's right hand, the politely stern Elsa (Hong Chau), shows the diners how Hawthorne works. At the same time, the film introduces us to the others: Lillian Bloom (Janet McTeer), a pretentious restaurant critic who launched Julian's stardom, and her sycophantic editor (Paul Adelstein); a once-famous actor (John Leguizamo) who brags to his assistant (Aimee Carrero) that he knows the chef; a wealthy couple (Judith Light, Reed Birney), one of which seems to know Margot; and a threesome of business douchebags (Rob Yang, Arturo Castro, Mark St. Cyr) who work for Hawthorne's primary investor. 
Unfortunately, most of these characters are just who they appear to be, except for Margot. Tyler brought her along after his original date canceled, and both Elsa and Chef Julian remark on her presence: "You shouldn't be here." They have an intentional menu for the evening, structured around their select clientele, and Margot doesn't fit. Once seated in the minimalist dining room, which looks right into the open kitchen, the guests listen to Chef Julian tell them, "You'll eat less than you desire and more than you deserve." It's a chilling line that many chalk up to the authoritative chef and his trenchant manner. The film also adheres to the chef's structure, announcing with on-screen titles the contents of each course, with occasional commentary embedded into the descriptions. Eventually, the evening's many eccentricities reach a macabre point of no return that, initially anyway, the guests can't decide whether it's part of the evening's curated experience or something more demented.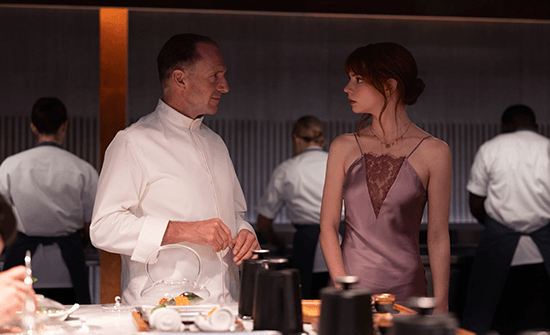 The Menu boasts several comedy-centric people behind the camera, so it's no wonder the film has an acidic sense of humor. Screenwriter Seth Reiss has written for Late Night with Seth Myers and Comedy Bang! Bang! His co-writer Willy Tracy writes for The Onion and Last Week Tonight with John Oliver. The credits list Will Ferrell and Adam McKay among the producers. But the film could hardly be mistaken for a comedy. Instead, director Mark Mylod (Games of Thrones, Succession) offers a grim satire of class, while also commenting on the commodification of art and the joylessness of intellectualizing what should be a purely sensory experience. Cinematographer Peter Deming shoots Ethan Tobman's coolly spare production designs in shades of bluish gray, offset only by the orange of the dining room's fireplace. Much of the food, sometimes arranged in colorful microcosmic landscapes, never looks all that appetizing (which, as it turns out, is the point). By design, all life has been drained from these spaces and morsels in service of the film's agenda. 
Just as the guests attempt to figure out the evening's theme, the viewer must guess what's really happening in The Menu. Along the way, Fiennes is excellent as the severe artist who has built a cult of personality around him. But the extent to which his staff remains devoted servants raises some questions of credibility. Later in the evening, more than one of his crew notes his obsessive or inappropriate behavior, yet they never question his orders and would ultimately die for him in a curious turn. The film eventually reveals that he seeks to punish his guests for how they caused him to make compromises in his culinary art. But his reasons, and those of his staff, never quite congeal or justify his end action. The filmmakers have likely chosen to sacrifice plausibility in service of their Buñuelian takedown of the upper class, along with elitist art and taste making—and those who perpetuate and support them. 
Moviegoers known to spend hours watching the Food Network or steeped in celebrity chef worship may appreciate the milieu, which plays as though torture porn had been introduced into The Trip series. But The Menu doesn't offer much to think about beyond its obvious "eat the rich" theme. The talented cast, especially Fiennes' methodical and maniacal chef, keep the viewer invested in the 106-minute runtime. And it doesn't much matter that the most complicated characters have two dimensions at most, not when the likes of Chau and Taylor-Joy play them. But the film presents the kind of mean-spirited satire that teen boys grow out of, before finding something equally entertaining and sophisticated, such as The Exterminating Angel (1967). The film plays like one of Chef Julian's many courses, which Margot finds empty and unsatisfying—it has a clear intention and conceptual foundation, but ultimately, it leaves the viewer yearning for something more.